Category archive:

HorseRacing
BALTIMORE, MD -- Word in the press box regarding all new shooters for Saturday's 137th running of the Preakness Stakes: they've got no shot. Word in the press box is usually right. It has long been noted that horses wheeling back from a Kentucky Derby start dominate Pimlico's 1 3/16-mile event. This year, they're 8-5 morning-line favorite Bodemeister, 5-2 second-choice
I'll Have Another
, who also happens to be the winner, Went the Day Well (6-1), Creative Cause (6-1), Daddy Nose Best (12-1) and Optimizer (30-1). The most recent horse to win the Preakness without starting in the Derby was Rachel Alexandra in 2009, but of course, she was the winner of the Kentucky Oaks. Last colt to win the Preakness without a Derby run was Bernardini in 2006. He came into the race following an April 29 victory in the Grade 3 Withers Stakes the same year Kentucky Derby winner Barbaro suffered his eventually fatal breakdown. Plenty of disparaging statistics have been bandied about in the days leading up to this year's Preakness regarding horses who did not make a Derby start. Over at the
Daily Racing Form
, Jay Privman noted that new shooters have won the Preakness only seven times in the past 40 years, dating to Bee Bee Bee upsetting Derby winner Riva Ridge in the 1972 running. But in horse racing, there's always hope -- so meet the new guys.
Tiger Walk (Post 1, 30-1 odds, trainer Ignacio Correas IV, jockey Kent Desormeaux):
You've gotta root for a runner representing Sagamore Farm, the historic Maryland operation brought back to health and prominence by Under Armor CEO Kevin Plank. Still, this son of Tale of the Cat presented no real threat to the winners while hitting the board in his past three starts in graded stakes -- the Withers, Gotham, and Wood Memorial -- and hasn't won since a Dec. 14 allowance score at Laurel Park. Comes from behind, and is expected to take back even starting from the 1-hole. "Most likely, Bodemeister is going to set the pace, and somebody is going to be out there, but it's not going to be us," Correas said. "That's not our style."
Teeth of the Dog (Post 2, 15-1, Michael Matz, Joe Bravo):
With only one victory under his belt, Teeth of the Dog jumped up to the big-time when he last started in the Wood Memorial at odds of 53-1. He ran third but was solidly trounced by the top two, Gemologist and Alpha. Gemologist was 16th in the Derby, Alpha ran 12th. That's not exactly flattering form.
Pretension (Post 3, 30-1, Chris Grove, Javier Santiago):
Pretension ran ninth in the Illinois Derby, which really bummed me out because I liked him before that race off a bad trip and a fifth-place finish in the Gotham. Was glad to see him recover from yet another bad trip at Hawthorne to get the win in the Canonero Stakes here at Pimlico on May 5, but not convinced his victory by a neck over Brimstone Island, who did not enter the Preakness, is enough to merit serious consideration here.
Zetterholm (Post 4, 20-1, Rick Dutrow Jr., Junior Alvarado):
This colt was the second Preakness contender to arrive at Pimlico, showing up May 12 and working May 13 over the track. He won a stakes race going a mile in state-bred company at Aqueduct on April 6, his third straight, climbing the ranks from maiden and allowance company. That's great. This is a Triple Crown Classic, and Zetterholm is no Big Brown.
Cozzetti (Post 11, 30-1, Dale Romans, Jose Lezcano):
Hasn't raced since an April 14 fourth-place finish in the Grade 1 Arkansas Derby. With superior stablemate Dullahan headed to the Belmont Stakes, it seems as though 2011 Preakness winner Romans is just looking for a free crab cake or two. The horse is still a maiden winner dating back to a five-length score Nov. 16 at Churchill Downs. He ran third in the Grade 2 Tampa Bay Derby, so maybe you want to include him in your exotic wagers for a price. One saving grace is that he worked lights out at Churchill on May 14 before shipping to Baltimore.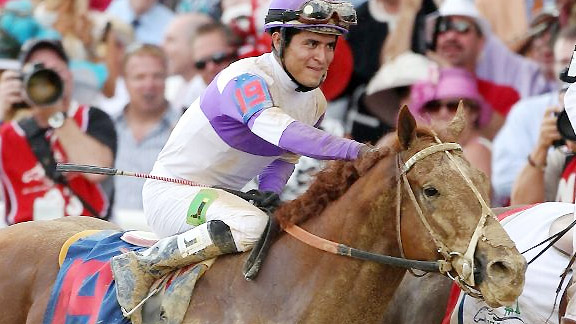 Getty ImagesMario Gutierrez and I'll Have Another are Kentucky Derby champions.
LOUISVILLE, Ky. -- Make sure you know how to pronounce Gutierrez, and memorize how to spell it, too. You haven't heard the last of a young jockey with that name, one who rode at Churchill Downs for the first time in his life on Saturday and won the Kentucky Derby. "I wasn't going to come here and melt down," Mario Gutierrez said after perfectly piloting 15-to-1 shot I'll Have Another to a 1.5-length Derby victory. "The horse is so professional, so I prepared myself to be at the same level as the horse." Now 25 years old, this shy, young rider grew up riding quarter horses as the son of a jockey on a small farm in Veracruz, Mexico. In 2005, he started racing thoroughbreds at Hipodromo de las Americas, and the next year he immigrated to Canada to ride at Vancouver's Hastings Racecourse. He didn't speak a word of English -- his old agent Wayne Snow joked to The Vancouver Sun that the first phrase he taught the jockey was, "Nice horse, wanna ride him back?" -- but his riding did the talking for him. In 2006, he was the track's leading apprentice with 91 winners, and he morphed that success into a riding title as a journeyman there in 2007, and in 2008 he lost it on the last day of the meet. In 2011, Gutierrez made his first trip to Southern California after cutting his teeth at Golden Gate Fields in the North. It was at Santa Anita that owner J. Paul Reddam saw him win a race. He was looking for a rider for I'll Have Another, who was not considered one of the top 3-year-olds at the time, in his season debut in the $250,000 Robert Lewis Stakes at Santa Anita. "Paul said, 'Let's give the kid a chance,'" trainer Doug O'Neill recalled. "Thank you, Paul, because this kid can really ride." Three races later -- they won the Lewis at odds of 43-1 before taking the Santa Anita Derby at odds of 4-1 -- the rest is history. "When we asked him to come work the horse -- and he worked brilliantly -- he told his agent, Ivan Puhich, on the way home, 'I will never ride that horse again,'" O'Neill said. "Ivan said, 'Why did you say that?' And Mario told him, 'That's a runnin' son-of-a-gun, there's no way they're going to put me on him.'" Gutierrez, who fittingly won the Derby on Cinco de Mayo, said he knew few people believed he would win heading into the Derby. He didn't talk to the other jockeys much, didn't really ask for advice. He kept his focus and prepared for the races, and when those gates sprang open he kept his cool. "Pretty much all my life I've been riding horses, but nobody knows where I spend my six years of riding in Vancouver," Gutierrez said, his voice breaking a little at the end. "Top trainers, top owners, of course they're not going to know anything about me. But I'm glad this happened to me. I think we all need the opportunity and great things can happen."
LOUISVILLE, Ky. -- They've run the Kentucky Oaks for 138 years. It only took Rosie Napravnik two to get it won. Last year, Napravnik became the third woman to ride in the Oaks when she finished second aboard St. John's River. Only two other women have given it a try -- Julie Krone, third on Quinpool in 1993, and Gretta Kuntzweiler, seventh on Rugula in 2005. She's one cool customer, this 24-year-old rider of racehorses. Knowing no other female jockey had ever grasped the victory bouquet of lilies, she headed to the gate aboard a fleet-footed filly named Believe You Can in front of a crowd of 112,552 at Churchill Downs Friday, thinking that she could. "The expectations were that no one's ever done it before," Napravnik remarked. "I can only do better than that." Cruising along behind veteran reinsman John Velazquez on the front-running Broadway's Alibi, the youthful rider kept 13-1 Believe You Can in perfect position and set down for the drive as the field came running down off the final turn. One moment she was neck-and-neck with one of the best in the business, urging her mount toward the finish line. Then they were drawing ahead, coasting under the wire three-quarters of a length in front, pumping her fist in victory. "Turning for home I thought,
This is it, we're either going to get it or not
, and she just got a little lower and a little faster," she said. "This is what [it] feels like, your dreams coming true." A blanket of lilies across her lap and a bouquet almost bigger than her body in her arms, Rosie posed for pictures and accepted the trophy. Then she went out and rode another race, the last at Churchill Downs on the day. She won that one, too. "I don't know what her super strong suit is that makes her so good, but she just is," trainer Larry Jones remarked. "She's so totally cool, she's confident. She just transfers that confidence onto those horses and they believe they can and they do."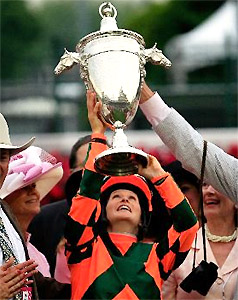 Getty ImagesRosie hoists the Kentucky Oaks trophy.
"To be honest with you, I had a great feeling today," Napravnik remarked. "I felt like,
I think I'm really going to win this race!
I've always had confidence in this filly; she's all talent and all heart and she showed it today." You'll read all about her when the papers run tomorrow morning, and sooner online as stories pour in. Tales will be told of her career accomplishments (first woman to win a riding title at Fair Grounds Race Track in New Orleans, first woman to win the Louisiana Derby in 2011), of her runner-up finish aboard St. John's River in this same race last year, and of her disappointment when the same connections -- owner Brereton Jones, trainer Larry Jones -- decided not to race her other mount, Mark Valeski, Saturday in the Kentucky Derby. You might even read of how she rode before she was born, daughter of a longtime horsewoman who didn't give up her time in the saddle although she was pregnant ["I was riding in the womb," Napravnik said]. You might read of the progression to ponies as a youngster and racehorses as a teen. Here's what you should also know of Napravnik, as solid and determined a young rider as they come. There's no push for publicity, no desperate grasping for attention. She is polite to members of the media because she understands it's part of the job, but all she wants to do is win races. She lets those victories put her name into the headlines. In a month when one of her peers appeared nude aboard a racehorse in a photo spread in Vanity Fair, Rosie kept her clothes on and made history. "It's great for all the women in the industry and in the world and I'm just happy to represent that," she said. "She is the coolest customer I've ever seen ride a horse and she never, ever gets flustered -- at least I've never seen her that way," remarked Brereton Jones. "She doesn't look hard enough, she doesn't look tough enough, she just looks like a wonderful, pretty young lady, and then you watch her ride." Oh, Rosie's tough. She's battled back from multiple injuries since she became a jockey in 2005 and she's proven herself against the best boys in the business and she just got her first Grade 1 victory in the world's most prestigious race for fillies. "When you're first starting out, people are a little skeptical," she said. "Are you strong enough, are you going to be able to do your job well? But I think the whole female jockey versus male jockey issue really comes down to talent. If you're talented, it's really not going to matter what sex you are."
LOUISVILLE, KY -- She sat tall in the saddle, the girl we know simply as Hope. It had been a busy Wednesday morning at Churchill Downs, with visits to top Kentucky Derby contenders and conversations with leading trainers. But
here was the highlight
-- perching atop Lava Man outside Doug O'Neill's barn, the California trainer standing by. "Have you ever sat on $5 million before?" O'Neill asked. The crowd of bystanders laughed as she shook her head, her smile growing wider while the champion racehorse stood stock-still. Lava Man, winner of more than $5.2 million throughout his career, retired to become a stable pony for Team O'Neill. He chaperones horses to and from the track and acts as a mentor of sorts, experienced, teaching the younger runners what to do. Guests have been known to climb aboard his back to tour the shedrow, and when Case Clay of Three Chimneys Farm brought Hope by the barn -- a child enrolled with the
Make a Wish Foundation
-- there was no doubt in O'Neill's mind that she deserved to sit on the back of the one who once raced to multiple graded stakes victories. "You can see people's eyes light up when they get around these beautiful animals," he said. "They're so big and powerful and yet they're so kind, and Lava Man is a perfect example. He's such a cool, giving horse, and it's great to share that with people." This is the time of year when stakes are high and stress levels are higher, when every step heading into Saturday's race must be perfectly placed. Santa Anita Derby winner I'll Have Another would be leaving the barn in minutes for his morning gallop, three more days to go before the big one. But for a moment at Barn 3 there was only this -- a little girl who had a wish, a runner who fulfilled it, and people who took the time to care. "You see the strength of a girl like Hope, it's unbelievable," O'Neill remarked. "And the smile -- it's incredible." Lava Man stood still while Hope sat aboard, only flicking his ears when she reached down to pat his shoulder. "When she got on Lava Man I could see her heart kind of pumping, she was smiling and loving it but it was a challenge at the same time," O'Neill said. "It was cool, I can't even explain the way it felt." Hope is 11, facing a terminal illness. Her wish was to go to the Kentucky Derby and Kentucky Oaks. She loves horses -- she's obsessed with horses. Her favorite movie is the "Black Stallion," favorite toys are Breyers sculptures; if it's a horse, it's awesome. Her Derby pick is Hansen. Tomorrow, she'll visit Three Chimneys for a chance to see Big Brown. Jen Roytz, the marketing director there, sits on the Make a Wish Foundation's board for the surrounding states and whenever a wish is horse-related, the Lexington farm helps make it come true. This weekend, it's a box at the Oaks and Derby. This weekend, it's pretty much whatever Hope wants to do. "It meant so much," O'Neill said. "I told Case 'thank you' over and over for bringing her out. She gave me and the crew so much 'oomph,' just having her around, seeing how strong she is and what a fighter she is." Lava Man
is
the man. He has a special connection with I'll Have Another, gets along very well with the son of Flower Alley. "It's very special to have him around. And if horses talk to each other, he's got a lot to say," O'Neill said. I'll Have Another drew a tough post, 19, at Wednesday's draw at Churchill Downs. O'Neill said he knows that isn't ideal, but being one of the last to load will give his horse less time to stand in the gate, and sitting outside all the speed will hopefully give him an opportunity to tuck into a good position. "It's such a wide-open race this year; there's a lot of horses that deserve a lot of respect and I think we're one of them," he said. "Now we've just got to perform on Saturday. I'm very happy with where we are right now, but again, we've got to keep this going and have him ready to rock and roll."
HOT SPRINGS, Ark. -- Sunday morning on the backside, and Bodemeister was standing in the same stall we found him in Saturday at the same time -- but now he's the Arkansas Derby winner, which elevates him greatly in our estimation. The dark bay colt with the sideways blaze was bright-eyed and cold-legged and curiously greeted a few straggling well-wishers. For the moment, as far as media attention was concerned, he might as well be just another horse in just another barn on just another backside on a quiet morning. To go from maiden winner to champ of a key Grade 1 prep for the Kentucky Derby changes things, sure, but it takes a while for horses to notice that. They may be born with greatness in their veins, but picture posing and the strut of a champion and the buzz of celebrity takes a little time to build. Bodemeister is off to a great start in that direction after his impressive 9 ½-length victory for Zayat Stables on Saturday, and once the Bob Baffert trainee rolls off the plane in Louisville Monday, the hype will begin. It starts slowly, week before the week before the first Saturday in May, as photographers ship into town and video crews begin filming. By April 27, the Friday before the Oaks, out-of-town reporters will be arriving on the grounds and anticipation will be mounting and the spotlight will shine on the ones we expect to run well, horses whose prior performances indicate they're something special. This one made the grade. Welcome to the big leagues, kid. Earlier this week at Oaklawn, a television crew set up near the barn in which Baffert's runners were stabled. With right-hand man Jimmy Barnes leading up the invasion (the boss stayed at home), eventual Apple Blossom Handicap winner Plum Pretty was headed to the track. A nearby horseman complained about the camera lights, but the 2011 Kentucky Oaks victress didn't seem bothered by the attention -- in fact, she rather relished it, striding up to the oval past cameras with the poise of a supermodel. "Don't worry," Barnes told members of the media. "Our horses are TV-camera-broken." For Bodemeister, who had been known to get a little wound up heading over to the starting gate before a race, a decision by Baffert to remove his blinkers and give the big colt a chance to settle seems to have done wonders in the afternoons. Although the way he'll handle the crowds and drama of the big day in Louisville remains to be seen, all but the highest-strung runners are able to adapt and handle the backside buzz leading up to Derby. Because the excitement builds gradually, the horses have time to acclimate, to adjust to their new roles. In spite of all the unknowns around Derby time, one thing's for sure. If Bodemeister runs anything like he ran here when he breaks in that field of 20 runners at Churchill, the other horses will have some tough competition to beat. Lightly-raced -- the Arkansas Derby was only his fourth start -- the big bay could be peaking at just the right time. "This is a special horse," Baffert told members of the media Saturday. In three weeks, we'll find out just how special he really is.
STICKNEY, IL -- The guys were lost. They were looking for directions. First time to Hawthorne Race Course and where's an owner supposed to park the car, pick up some programs? Gotta find the box, figure out the fastest route to the winner's circle. An intrepid reporter picked up on the angle. "Who's your horse?" "Done Talking." Stranger things have happened. You look back at a race winner and remember all the little interactions in the week -- or hours -- leading up to that start, and sometimes you can't help but smile. Things like a horse taking a peaceful siesta in the barn, getting hooves cleaned out by a groom, a polka-dot blanket and early morning breakfasts from an overstuffed net of hay. Done Talking said nothing to me all week about his plans to win the Illinois Derby. Or did he? Horses that fly under the radar are almost always still on somebody's mind. For Willie White and Robert Orndolf, who eventually found their box on Illinois Derby Day and their way to the winner's circle a few hours later, it was the biggest win of almost 20 years in partnership together with longtime pal Lou Rehak (who was watching from home). The Maryland-based Skeedattle Stable uses local trainer Hamilton Smith to condition their runners -- Smith modestly said he's won a few big races in his home state, but "We haven't won too many like this, that's for sure." Is it on to the bigger Derby, the one they run on the first Saturday in May? Hamilton is gung-ho, and with $300,000 of the $500,000 purse going into his bankroll, Done Talking should make the 20-horse field. But what about the Preakness, which would mean a lot to three local boys who always loved racing and just found themselves on the Triple Crown trail? They'll figure it out. Discussions are underway. As for Done Talking, he said everything he needed to say on the racetrack this afternoon -- without uttering a single word.
March, 22, 2012
03/22/12
4:39
PM ET
It is a well-known fact among horsemen at Fair Grounds Race Course that one of the season's most talented 3-year-olds has yet to make his second start. Bourbon Courage is that contender's name, and if he delivers a performance half as impressive as his first one when he runs in the tenth race in New Orleans on Saturday, partners of Bourbon Lane Stable could find themselves on the Triple Crown Trail.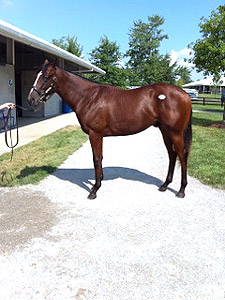 Bourbon Courage was purchased for $15,000 as a yearling at the Fasig-Tipton July Sale in 2010.
He's a colt with the highest Beyer speed figure of any active sophomore, a 103 earned in brilliant fashion at Fair Grounds on Feb. 3. Algorithms, who ran the highest Beyer to date (105 for Starlight Stables in Gulfstream's Jan. 29 Holy Bull Stakes), is recovering at J.J. Pletcher's farm in Ocala, FL after undergoing surgery on a fractured splint bone in his right front leg and will be out at least until fall. Bourbon Courage, on the other hand, could springboard a $50,000 allowance win into a shot at glory. Saturday marks a big day for Bourbon Lane Stable, whose principals Mike McMahon and Jamie Hill (on twitter @mcmahonandhill) were the subject of
an ESPN.com feature
last September. In addition to Bourbon Courage, trainer Kellyn Gorder will send out Hard Bourbon at Fair Grounds, while Bourbonstreetgirl tries Polytrack for the first time for Gary Contessa in the Bourbonette Stakes. But most attention will be on the colt who broke his maiden with a flash of raw talent last month, a bay son of Lion Heart bred in Kentucky by Oscar and Eloise Penn. When Bourbon Courage drew off to a 4 ¼-length victory over a field of 10 other maidens going six furlongs in 1:09.28, "the first offer came through literally two minutes after he crossed the wire," said Hill. All said and done, the connections turned down $850,000 for a horse purchased for $15,000 as a yearling at the Fasig-Tipton Sale in July of 2010. "Aren't we smart?" joked McMahon. "For us business guys it was hard not to take that offer, but our partners' answer to us was, 'All we're going to do with the money is go buy two or three other horses we hope are as good as this one,'" Hill remarked. "We believe this horse is very special." McMahon and Hill expected Bourbon Courage to cost anywhere from $75,000 to $100,000 when they saw him as a yearling. They came into the ring with a $50,000 budget and their fingers crossed. They made one bid -- and took him home. "The July sale is traditionally about big, strong colts and big, strong fillies," said Hill. "He wasn't a big horse and he just didn't fit that category. He was correct and well-balanced with a good walk but he didn't blow you away at first glance. Who wants to spend their money on a horse that may not end up big enough or strong enough when you still have a lot of sales to consider for the rest of the year, especially Keeneland in September? But if you're buying athletes for a racing partnership and you're on a budget, that's what you do." After Bourbon Courage was started at Calumet Farm, he shipped to Saratoga for a potential 2-year-old debut. When the connections decided he needed more time to develop before making his way to the gate, they sent him back to Gorder at Keeneland Race Course. Gorder kept him there for a while, then moved him to Fair Grounds with the rest of a string he keeps in New Orleans. That's when the colt really took off. "At Keeneland he was a nice horse but he really didn't have the 'pop,'" said Hill. "All the sudden when you see him hit the dirt track at Fair Grounds, it's like 'bullet, bullet, bullet,' these phenomenal works, and jocks coming back saying, 'There's something serious about this horse.'" Off at odds of 15-1 in his debut, Bourbon Courage ran greenly at the end (he ogled the infield video board and took a few steps out in the stretch while spooking away from it slightly) but overcame what he lacked in seasoning with sheer ability. "We thought he'd run well, but did we think he'd run like that? No way," said Hill. "We're really excited to see what he does on Saturday." Detractors will question the connections' decision to leave Bourbon Courage in the allowance and shorter distance ranks without stepping up sooner to the big leagues, but McMahon said the Bourbon Lane principals are looking for Saturday's six furlong sprint to lay the groundwork for an entire career.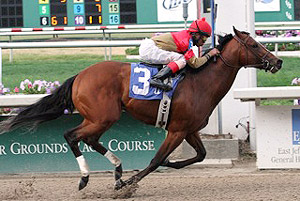 Bourbon Courage turned heads in his first win at Fair Grounds.
"The big challenge at Fair Grounds is that the next race up from a six-furlong sprint is not a one-turn mile or seven furlongs; it's a mile and a sixteenth," he explained. "When they take these horses straight to the Lecomte and Risen Star, they graduate by fire, and with this horse in particular, we didn't want to just throw him into that. We really didn't want to ship; we wanted to have the home track advantage for our second start. Also, Kellyn told us he's more comfortable making the second race an allowance and getting in some seasoning, and he's a really astute horseman." Gorder said the colt's late start determined the route of more natural progression. "He ran that huge race first time out, but it was already pretty late if we were going to try to get on the Derby trail," the trainer explained. "We were behind the eight ball and I've just seen a lot of horses ruined or not make it when they get pushed onto that trail without enough seasoning. He's obviously a talented horse, but we thought it was too much to ask him to jump right into a stakes race or try to stretch out right off. We originally planned on running him back in another sprint before we tried to stretch him out but that race didn't fill. I think we're in good shape now and he's worked well coming into this race." In a hypothetical world the question begs to be asked -- should Saturday's effort prove successful, would Bourbon Courage pop up on the mainstream radar? He isn't nominated to the Triple Crown races, but his connections wouldn't be averse to writing that check. "I could see this horse, if he ran good Saturday, being the type you'd take to the Derby Trial and then to the Preakness," Gorder said. "But we're not going to try to force him onto the Triple Crown trail. He'd have to take us there." "It's more important to us to have a good horse than to have a seat [at the Derby]," said McMahon. "The nice thing about it is that a lot of guys who had the graded black type with their 2-year-olds last year have been thinking Derby, Derby, Derby, and we never had those aspirations. We've just been thinking about how to help the horse succeed to the best of his ability." Regardless of Saturday's outcome, it is perfectly clear that this colt holds a special place in the history of the young racing stable. McMahon and Hill love to tell the story of exercise rider Julia Helbling, who came back from a training session with this glowing report: "If I could ride Bourbon Courage all morning long, that would make my day!" "He relaxes nice and just gallops and he's aggressive but not too aggressive," Gorder said. "He wants to do a lot, but he'll listen to the rider and if it's just supposed to be an easy day, he's not going to try to run off. He's got so much natural speed and he's just a really nice horse to train. He's right up there with anything I've been around, and I've been around some super nice ones. I guess the biggest question is, how far can he go? But I have a feeling he's going to be more than just a sprinter."
March, 10, 2012
03/10/12
4:27
PM ET
LEXINGTON, KY -- He was born as a full moon shone over the bluegrass, and those who anxiously awaited his arrival thrilled at the news, finally here -- this little prince, son of Zenyatta.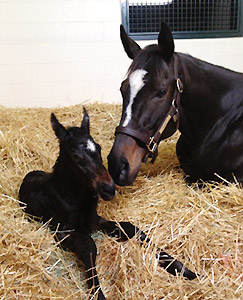 Ann Moss/Zenyatta.comChampion Zenyatta welcomes her first foal on the evening of March 8, 2012.
The dark bay colt with the small white star could be seen resting on a fresh bed of straw in a video and photos shared by his connections shortly after his birth around 10:10 a.m. on March 8 at Lane's End Farm. Racing fans in search of a glimpse flooded the website Zenyatta.com (where an official diary is "written" by the 2010 Horse of the Year in first-person) and crashed it with a traffic surge when the news was announced around midnight -- but not before copies of the photos and video were widely distributed via Twitter and Facebook. "He has polka-dots on his feet, Zennie, just like you!" Ann Moss could be heard saying in the background of the short clip. "My adorable foal weighed in at 130 pounds, has a white star on his forehead& and some white on his feet," the diary read. "All went very well with the foaling. I must say& I did it like a CHAMP! My foal is absolutely precious." The Paulick Report was one of the first websites to carry a news item on the colt's arrival and the unique way his birth became public knowledge.
"Rumors of the foaling first hit Twitter shortly after the colt was born, with Central Kentucky breeder John Mulholland (@Ruffian1981) sending out a Tweet saying 'Word on the street is Zenyatta just foaled. I hope it went well,'" Ray Paulick wrote. "Shortly thereafter, Daisy Farish (@daisyfarish), the granddaughter of the Lane's End owner, tweeted, 'ZENYATTA JUST HAD HER BABY! Boy!' This isn't the way the racing press is used to reporting on first foals of champion mares. In the not too distant past, trade magazines dutifully waited for press releases to be sent from farms once management felt confident the time was right to make the announcement. But with Facebook, Twitter, text messaging and digital images (and, yes, diaries written from the first-person perspective of a horse) those conventional ways of communicating are out the window."
Fans were quick to point out the "logical" explanation for the time of the colt's birth "He was born at 10:10 because he and his Mom are 'perfect tens,'" one wrote and noted the fact that the racemare who defeated males to win the 2009 Breeders' Cup Classic had her foal on International Women's Day. With royalty in his Thoroughbred bloodlines, the son of the three-time champion mare and hot young sire Bernardini (Champion 3-year-old colt in 2006 when he won the Preakness Stakes) will doubtless hold the attention of the racing industry as he grows. We wish him and his connections the very best.
Good News for Racing Fans
Pretty much every sports fan knows the meaning of March Madness. But what about #theothermadness? That's the name of a digital marketing campaign that launches next week to promote horse racing and the road to the 2012 Kentucky Derby. "Long before Naismith hung the peach basket, horse racing had already created the notion of 'favorites' and 'longshots,'" a media information sheet from The Jockey Club read. "Many sports are defined by emotional moments for actual participants and fans, and human connections in Thoroughbred racing owners, trainers, riders, and the fans that follow racing have a highlighted level of excitement during the road to the Kentucky Derby. While we coincidentally share the same time period on the sports calendar with the NCAA Basketball tournament, leave no doubt about it, our madness is deeply entrenched in the history and heritage of America." If the hashtag doesn't float your boat, The Jockey Club is also unveiling a newly rebranded and fan-centric website featuring
"America's Best Racing"
complete with video sharing, social network integration and games, and an introduction to America's best horses, races, tracks, jockeys, trainers, and owners. A splash page goes live at 12:01 a.m. on Sunday, March 11th where racing fans may enter a sweepstakes to win the "Ultimate Racing Weekend," a VIP Trip for eight to the Breeders' Cup World Championships at Santa Anita. The new site launches Wednesday, April 4. They're calling it the "rebranding of Thoroughbred racing." Remaining relevant has been a challenge for horse racing, especially in the past 40 years or so. It's not easy to modernize a sport that has existed for so long, especially one with an image problem. For every piece of historical Americana -- Seabiscuit inspiring hope during the Great Depression, Secretariat bearing down the Belmont stretch after Vietnam, Smarty Jones or Funny Cide and the "Sackatoga Six" in a school bus -- images of OTB parlors and dense cigarette smoke and questions over animal welfare and integrity cloud the picture and taint the beauty of pure athletic performance. A fancy new website won't fix all the issues racing faces today. But it will give fans better access, provide more meaningful information to horseplayers, and offer an up-to-date introduction to newcomers. I'd say that's a fine start in the right direction in an area that has been outdated far too long.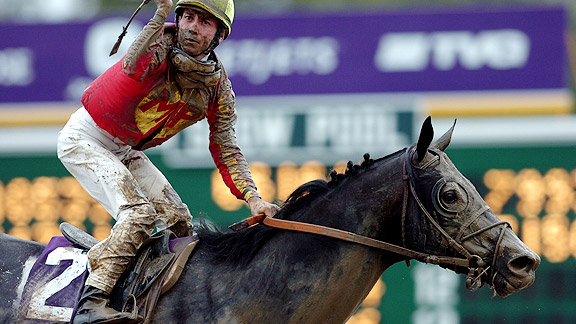 Breeders' Cup/Weasie GainesGarrett Gomez sprints to a Breeders' Cup victory in 2007 aboard Midnight Lute.
ARCADIA, Calif. -- How did Bob Fletcher come to dedicate his life to a nonprofit called the
Winner's Foundation
? Here's a simple answer: He was too scared to go anywhere else. "Without the Winner's Foundation, I don't know if I would have stayed clean," he said. "I really don't think so. It's just a wonderful haven for someone struggling with addictions. It was the safest place I knew." Twenty-one years ago on the 15th of February, a co-worker took Fletcher -- who worked as a department supervisor in operations on the frontside at Santa Anita -- to the California nonprofit for help getting sober. Last Thursday, Fletcher celebrated that anniversary and 11 years spent at the helm of the organization founded in 1984 by Oak Tree Racing Association co-founder Lou Rowan. Winner's Foundation staff members are a priceless resource to the people of every racetrack in California, connecting grooms, hotwalkers, exercise riders, jockeys, trainers and frontside workers -- anyone who asks, really -- with recovery programs and confidential drug and alcohol counseling. A large referral base ensures the help of community-based services like anonymous 12-step groups, city and county assistance agencies, detoxification centers and hospital treatment programs for mental health issues like depression. The program also helps with gambling addictions. It is geared to best support an individual's desire to change his or her life for the better. Running it is a 24/7 job, 365 days a year. "During the course of a five-day workweek here, one of us is usually at just about every open racing venue," Fletcher said. "We handle Hollywood Park and Santa Anita, plus Pleasanton and Golden Gate when they're open. We can't turn anybody away if they want to save their own life." The past year has been a tough one for the Winner's Foundation. Since the program was started by Rowan -- himself a recovering addict -- the Oak Tree Racing Association was one of its strongest supporters for more than 20 years. When Oak Tree lost fall racing dates in California in 2011 (for the first time in 42 years), the Winner's Foundation lost about a third of its overall support. "We're in the process right now, like pretty much every other organization in California and across the country, of restructuring what we do here," Fletcher explained. "This year it's really difficult and painful, but we've had to cut the salaries of all of our employees this year. Like just about everybody else in the industry, we're making sacrifices. There are only five of us to cover the entire state, but by the beginning of 2013, if things stay the way they are, we'll have to look to going part time with the potential of having to cut some positions completely. In three years, if things don't change, we could be down to two employees." According to Fletcher, the organization's main source of support is now income from private donors and California Horse Racing Board-mandated charity days at the racetrack -- when income from all operations during the card, less expenses, is divided between charitable organizations in the state, 60 percent of them related to horse racing.
"

An alcohol problem, a temperament problem, it doesn't matter. Once you go to Winner's Foundation, they'll find a mainstream source to help you with whatever kind of problem you have.

"

-- Jockey Garrett Gomez
Fletcher said one difficulty in attracting donors is the anonymity many participants choose to maintain, making it difficult to put a face with the organization's mission. "If we were raising money for cancer, if we were raising money for retired thoroughbred horses, those are real big, easy-to-get-behind, popular causes," he said. "But there's an epidemic of substance abuse in our industry, and as an industry we need to do more. It's distressing, and it's a hard thing to deal with." Jockey Garrett Gomez is helping out with publicity and has been a vocal supporter of the program that helped him get clean when he made his comeback in 2005. A portion of funds from his upcoming book with Rudy Alvarado,
The Garrett Gomez Story
, will benefit the charity, for which he has also organized a
golf tournament fundraiser on April 9
where players may team up with well-known riders like Rafael Bejarano, David Flores, Alonso Quinonez, Joel Rosario and Joe Talamo. "It's a good program, and I've been trying to get ahold of some people that might have a big name out there to try and help the program out and be a part of it," the jockey explained. "A lot of these backstretch workers are people who don't know where to go. An alcohol problem, a temperament problem, it doesn't matter. Once you go to Winner's Foundation, they'll find a mainstream source to help you with whatever kind of problem you have. The only way to keep it up and going is to continue funding it through donations." Fletcher, who was instrumental in Gomez's recovery, said he's excited about the release of the jockey's book, which he has already read. "I told Rudy one day, the horse racing parts are really cool, but I just kept getting the feeling they were just word bridges," he remarked. "At the beginning, it was between each dirty, nasty escapade, and then as he got into the recovery portion, the racing stories were just bridges between every plateau of growth. Garrett worked really, really hard at his recovery, and it's nice that he's willing to connect his name to the organization and stand up as a figure who was helped by us. It gives me some hope, and it's nice that he thinks so much of us, that we're doing some pretty good work here."
January, 31, 2012
01/31/12
4:39
PM ET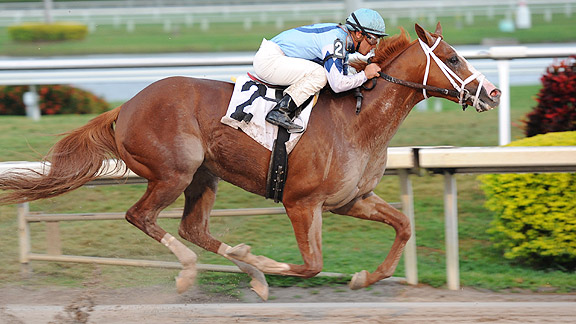 Will El Padrino's Gulfstream victory this weekend be the start of a Triple Crown run?
"The road to the Kentucky Derby is like NCAA basketball," Bryan Sullivan remarked one morning after El Padrino's solid Gulfstream allowance score. "The goal is to survive and advance -- to run good enough to move to the next level." Their 3-year-old colt having done just that, Sullivan (35) and Kevin Scatuorchio (30) of Let's Go Stable were pleased with the progress of what they've termed the "Derby Dreams Fund," $1.3 million raised by about 15 partners with the clear objective of winning the 2012 Kentucky Derby. El Padrino is the poster child of the group, a rangy chestnut son of Pulpit out of a Giant's Causeway mare whose easy season debut for trainer Todd Pletcher -- a two-length victory in a 1 1/16-mile event on Jan. 29 -- indicates good things to come. "Even though we think he's been exceptionally talented all along, it was like the light-bulb went on in that race," said Sullivan, a managing partner at LGS. "This horse is so laid-back, I think he never just quite understood what he's supposed to do -- and yesterday was the first time he really validated himself to us. Up to yesterday, I'd been hoping, 'is this guy going to show up for me?' And he finally did." Racing fans will recognize the younger figure at LGS from the last name -- horses owned by Kevin's father, Jim Scatuorchio, tore up the track in the late 90s through 2007, when English Channel capped an Eclipse Award-winning season by taking the Breeders' Cup turf by a record seven lengths, and beyond. The elder Scatuorchio, also a LGS partner, was represented by runners like More Than Ready, a Grade 1 winner who finished fourth in the 2000 Kentucky Derby and fifth in that year's Breeders' Cup sprint, Ready's Image, who won the Sanford and Tremont in 2007, Icy Atlantic, who earned more than $900,000, Scat Daddy, a three-time Grade 1 winner, and others. Earlier in his ownership ventures, he was part of trainer John Forbes' New Jersey-based Phantom House syndicate that owned Tale of the Cat, who was sold for $12.9 million to Ashford Stud following his racing career. "We were all spoiled," the younger Scatuorchio remarked. "He had a run there for a while where it was a few years of just Grade One winner after Grade One winner, a Champion with English Channel, a couple of Derby trips and then the stallion experience with More Than Ready … we'd go to these races not knowing how tough it was to get there to begin with -- I was in high school during More Than Ready's two-year-old campaign -- and I didn't really get it. I was like, 'Great, we've got a horse, he's running in a stakes race, that's awesome,' and later on it was like King's Bishop winner, Breeders' Cup winner …" All that success led these young partners to develop skills they needed to launch their own syndicate. "Being able to experience racing at that level and see what was going on behind scenes was probably the most important part for me," Scatuorchio said. Also brothers-in-law (Sullivan is married to Scatuorchio's sister, Courtney), the duo founded Let's Go Stable in 2006, with their best horse to date being 2008 Belmont Stakes contender Ready's Echo (he was third in that classic and showed up in several other graded stakes, including a runner-up finish in the 2009 Breeders' Cup Dirt Mile). In 2010, they came up with the idea of the Derby Dreams Fund, a hedge fund concept for racing that resulted in the purchase of six contenders including El Padrino. "He was such a great walker and a good mover," Sullivan recalled. "As big as he was, when he walked he just looked so smooth. We were prepared to pay a lot more than he went for -- we got him for $210,000, but thought he was a $300,000, $400,000 horse." "You look at a lot of horses at a sale but a few of them really stick out and he was one of those for us," Scatuorchio said. "Getting him for $210,000 was a gift." When J. J. Pletcher took El Padrino down to Payton Training Center in Florida, it wasn't long before the team got a good report. On the track, his movement was effortless. When he wasn't training, the big horse ate and slept and ate and slept some more -- energy-conserving traits he maintains to this day. "When J. J. was breaking him he was so easygoing, he never had a hiccup, responded well to everything," Scatuorchio said. "The first time J.J. saw the horse breeze, just three-sixteenths to stretch his legs a bit, he called us and said, 'This is a great mover; he covers a lot of ground and moves fantastic for his size.' We had some chuckles the other day about how we thought then this might be our Derby horse." The colt moved to Todd Pletcher's stable by the end of February or early March last year. "Baby stuff with his shins" caused the trainer to back off for 45 days before his debut, but there wasn't a rush to get him to his maiden. "J. J. always told us, 'Guys, this is a two-turn horse, you won't be biting your nails on the Triple Crown trail saying can we get a mile and a sixteenth, get a mile and an eighth?'" Sullivan remarked. "He's only going to get better as races get longer." That's why they started El Padrino going seven furlongs on Aug. 20 at Saratoga, a maiden race he missed by three quarters of a length. Next time out at Belmont Park was a different story -- going a mile resulted in a 12 ¾-length victory on Oct. 29. A third in the 1 1/8-mile Remsen Stakes at Aqueduct Nov. 26 was a bit of a disappointment "after kind of going to sleep down on the rail," Sullivan said, and instead of sending the colt to compete in the Lecomte Stakes at Fair Grounds or in Gulfstream's early Derby prep, the Holy Bull, the team looked for a confidence-booster in the allowance race last weekend. "The main goal is to keep him around two turns, and this win puts us in a position with a lot of options," Sullivan explained. "The Fountain of Youth [Feb. 26 at Gulfstream], the Gotham [March 3 at Aqueduct], and the Risen Star [Feb. 25 at Fair Grounds] are all in play. The tough thing now is, we have to get the graded earnings and we only have a few chances to get that done." With just $20,000 in graded earnings for the third in the Remsen, El Padrino will have to step up his game to make the Derby field. "There are options out there and we're not excluding any," Sullivan said. "With this kind of horse at this time of year, things can change in the blink of an eye. He came out of the race great we're really just enjoying having a good horse -- they don't come around that often, and it's such an exhilarating feeling when you have a horse on the Derby trail." The past few years haven't been only smooth sailing for the LGS team -- Sullivan and Scatuorchio recalled a $630,000 son of Candy Ride who raced only once and had to be retired through the New Vocations Thoroughbred Adoption program -- and they launched their partnership right before a severe dip in the thoroughbred market. But the concept of their Derby Dreams Fund worked with El Padrino stepping up to the mark (they have high hopes for another one of the horses purchased by the fund, Dixie Dice, but he has yet to break his maiden). "That's why we designed the fund," Sullivan said. "You know in this game not all six going to make it, but at least this way you increase your odds of getting there." Although their syndicate is small -- just nine horses on the roster right now -- these young men have solid plans for the future. "We're trying to grow a business," Sullivan said. "You see so many guys in this game get way ahead of themselves. Were trying to build slowly, and the best advertising for us is a horse like El Padrino."