Barba brings "Music" to New York
June, 1, 2010
06/01/10
10:45
PM ET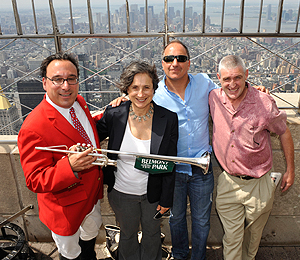 Bugler Sammy Grossman, trainer Alexis Barba and assistant trainers Richard Baltis and Andy Durnin enjoy the Empire State Building tour during Belmont Stakes week.
ELMONT, N.Y. -- It is Tuesday morning, and high atop the Empire State Building, Alexis Barba surveys the city of New York. The lights of this historic landmark are scheduled to glow white and green on Friday in honor of the Belmont Stakes. Less than 24 hours later, the California trainer will know whether her name is the talk of the town.
With Make Music for Me, a well-bred son of Bernstein whose grandfather sired 1994 Belmont Stakes winner Tabasco Cat and 2006 runner-up Bluegrass Cat, Barba could become the first female trainer in 142 runnings to win the Belmont. The visit to the Empire State Building is just one of many activities scheduled on this whirlwind tour of The Big Apple, her first trip to New York with a Belmont contender. Her most important activity, however, has been keeping that Belmont contender safe and sound.
Barba, 52, does the job well. A self-described "horse nut," she keeps a hands-on approach with a modest stable of nine contenders, a far cry from today's megastables run by the likes of Todd Pletcher and Steve Asmussen. Amazingly, however, that simple stable includes this colt, fourth in the Kentucky Derby last time out.
Although the soft-spoken Barba has cut a relatively low-key figure this season, her horse has been anything but. He's a legitimate runner who finished third twice to Preakness winner Lookin At Lucky at the beginning of their 2-year-old campaigns this past fall and earned his most recent victory in the March 6 Pasadena Stakes over the Santa Anita turf. That win came while closing four-wide down the center of the stretch -- just the kind of final kick you'd like to see from a Belmont contender -- and the colt's late run in the Derby, after getting pinched back and closing with an eight-wide trip, had him just 4 3/4 lengths back from the wire.
After breezing Make Music for Me over the main track nine days ago, Barba took her Belmont hopeful over the training track Monday morning for a change of pace. She had been surprised with the timing of the May 23 work, a mile in 1:43.65, and also wanted to get the colt's attention with a more focused drill on the smaller oval. So Monday, Make Music for Me went five furlongs in 1:01.21, fastest of 10 at the distance.
"That's not fast by California standards, but they told me it was fine here," Barba said with a smile. "He had been galloping off the bridle, just looking around a little, and the main track here is so big. On the training track he was definitely more on the muscle."
For Barba, the entirety of the experience she's living has yet to sink in. Morning at the Empire State Building, lunch at Madison Square Garden. It's "all so overwhelming," she said. And between the hustle and bustle of activities paired with the early-morning anxieties of training this week, it's easy to get worn out. But connections from the New York Racing Association assured her that attending at least one event could be worthwhile.
Last year, of all the Belmont contenders, Summer Bird's trainer, Tim Ice, was selected to make the Empire State Building tour.
His horse won.
For more comprehensive information on horse racing, visit Helloracefans.com and Horseracingnation.com, and be sure to follow Claire Novak on Facebook and Twitter at @ClaireNovak.