Eminent, beloved rider "Mig" retires
June, 2, 2010
06/02/10
4:48
PM ET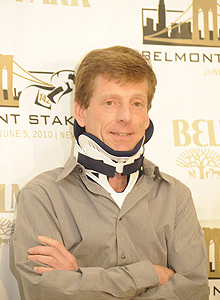 Jockey Richard Migliore announced his retirement Wednesday in Elmont, N.Y.
ELMONT, N.Y. -- He still wakes up at 4:30 a.m., habit born from 30 years of experience. Doesn't really know why he does it, except for the fact that it's hard to sleep with a brace strapped around your neck. He walks a couple miles, and that's all. Can't pick up anything heavier than five pounds. Has to turn his entire body to see beyond his peripheral vision. And if jockey Richard Migliore could tell you one thing, it's that he didn't want to go out this way.
No star athlete does, of course. They want to walk off the field having scored that last touchdown, leave the court after slam-dunking a final basket, or depart the green off a hole-in-one. They want to ride into the sunset on that one last winner, basking in the glow of a final victory. As is the case far too often, however, that choice was not Migliore's to make.
Announcing his retirement during a news conference held at Belmont Park on Wednesday, just three days before the running of the 142nd Belmont Stakes, the Brooklyn native was moved to tears at the thought of leaving the game he'd made his life since he became a professional rider in 1980, at the age of 16. While recovering from May 4 surgery to fuse fractured vertebrae in his neck and spine, during which doctors also inserted two plates and eight screws into his neck, Migliore made the decision to hang up his tack last Wednesday after doctors told him that riding again could be threatening to his life.
"The surgery was rough, they really carved me up pretty bad this time, and I knew I was going to be a long shot to make it back, but I still was holding out hope," Migliore said. "I said, 'You don't understand me, I've come back from injuries most people don't come back from.' They told me three other times my career was over. So I said, 'I know I'll work hard, I can come back.' But when the doctor explained to me, 'Guys with a Level-2 fusion have to retire. You have a Level 4,' then I realized that I had to be responsible to myself and to my family and turn the page."
The man who is affectionately known by racing fans as "The Mig" retires with 4,450 wins from more than 30,000 mounts and earnings of more than $160 million. From those winners, 3,959 crossed the wire at the New York Racing Association's tracks of Aqueduct, Belmont and Saratoga.
"I'm proud of the fact that I always rode with the best and for the best, on the best," Migliore said. "My numbers were all in the big leagues and I'm proud of that, I don't take that lightly."
Migliore began riding at the age of 10 and was inspired to become a jockey at 12, when Forego won the 1976 Marlboro Cup under legendary Willie Shoemaker. By 1981 he was the nation's Eclipse Award-winning apprentice, and in spite of multiple injuries over the years -- including a fractured neck when he was 24 -- he never looked back.
"I dropped out of the ninth grade and came to the University of Belmont Park, but I feel like I'm leaving with a doctorate," he said. "I'm a good horseman, but I have to learn to do it more from the ground now. This is what I know and I have to continue to rely on what I know and have confidence in that."
One of the last jockeys to ride under contract to a specific stable, Migliore was brought into the game by old-time horseman Stephen DiMauro. Riding under contract, an outdated practice in which a rider rode specifically for one stable, taught him to handle himself with dignity and class. Years of experience and the opportunity to mellow didn't hurt.
"Stephen DiMauro taught me that, and also never to feel like you're bigger than the game," he said. "There's so much that goes into getting a horse to the races -- and certainly to the winner's circle -- that for me to think what I do is more important than any one link of the chain was never an acceptable idea. I learned every aspect of the game, so that you appreciated that somewhere right now someone is planning a mating of some mare to some stallion and it goes on and on, to who handles the foal and who breaks them and who grooms them. I'm just one link in the chain, so I think that was always something close to my mind."
He's still wrapping that mind around the changes that will be made in the coming months -- first recovery, then adaptation to a new way of life.
"It's a lot of new things, like eating when you're hungry, drinking when you're thirsty," he said. "In 30 years, I'd just have a sandwich for lunch [to maintain riding weight]. So it feels odd, I've got to get used to a lot of things."
But there's one idea he doesn't have to get used to, because he already knows -- the career he closed the door on was, in a word, wonderful.
"I got to do so many great things because I could ride a horse," Migliore said. "I got to travel the world, I got to see things I could have never imagined seeing. So I just feel like I'm a really lucky guy. In my head, I always knew there was going to be a day it was going to end. But in my heart, I wished it could go on forever."
For more comprehensive information on horse racing, visit Helloracefans.com and Horseracingnation.com. You can follow Claire Novak on Facebook and Twitter at @ClaireNovak.