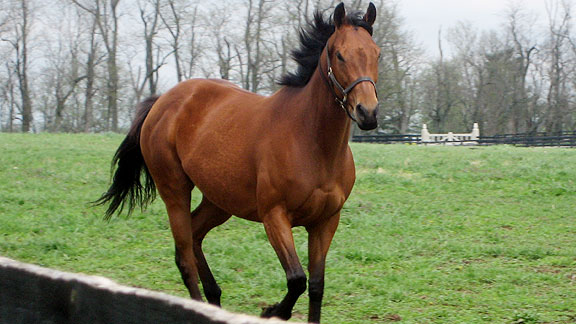 LEXINGTON, KY -- On a mostly grey day in the Blue Grass, a brilliant bay filly stood outside a modest barn about 15 minutes away from Keeneland Race Course. She never raced over that historic oval, but she was trained by Mike Puype, who stopped by before winning the Beaumont Stakes on April 17 with Turbulent Descent. Everyone loves to visit Surfer Girl. The list includes Puype, jockey Alex Solis, and, of course, owner Jim Rome, who is equally at home on the racetrack as he is in
The Jungle
. Clones may or may not follow the progress of Rome's stable, but most industry insiders are aware of his passion for the game. I got to know a little more about Rome's racing interests when we chatted for an exclusive HorsePlayer Magazine interview (it comes out in their Derby issue, but
you can get a special online view here
). I was impressed by his love for horses and by his genuine enthusiasm where the game is concerned. Before I knew it, I was headed out to visit his only broodmare (he maintains a bigger string of racing stars, but decided to take it slow with the Thoroughbred breeding operation). Surfer Girl is big, bold, and beautiful. A six-year-old daughter of Wild Event out of the Group 3-placed Australian Girl, she is a half-sister to Group 1 winner Refuge Cove and a full sister to stakes-placed winner Queen Australian. She was Group 1-placed in her native Brazil but failed to win in the U.S. in five attempts for Rome's Jungle Racing, although Puype trained her to a pair of runner-up efforts in allowance races. A little-known fact is that the mare came down with a severe case of pneumonia and recovered from it to continue racing. She's filled out well since she came off the track, but still has the look of a maiden mare about her -- no big baby belly yet. The folks at Sheltowee Woodford Farm, which horseman Mike Evans owns in partnership with Three Chimneys, are working on getting her in foal to Pulpit. She likes to eat jelly beans as a snack.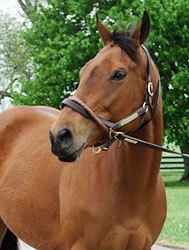 Surfer Girl may soon be in foal.
"We try to do whatever makes them happy when they first come off the track," said Evans. "With her, she was perfectly content being by herself for a little while, and after she decided this was her home, we got her out in the small paddock. Now she's turned out with four other mares and she's having a good time." Surfer girl comes in every morning to eat breakfast, and she gets a few supplements as well. She's turned out at 10:00 a.m. and spends the day in the paddock with her buddies, comes up in the afternoon to eat inside, and is turned back out overnight. After life at the racetrack, it's an idyllic existence. Todd Fisher oversees the former racemare's care. He said her personality is definitely more of the gregarious sort. "She's a little spoiled and a little pushy," Fisher remarked. "If she has a baby next year, that'll change her outlook on life." According to Jen Roytz, Three Chimneys' Marketing and Communications Director, the best part of interacting with Rome about his broodmare is the sincerity with which he safeguards her welfare. "I love how enthusiastic he is about it, and it's nice because he's so genuinely concerned about his horses and if they're happy doing what they're doing," she said. "He's always making sure that they have the best of everything and it's nice to deal with an owner who is just concerned for their well-being and happiness." Evans said Rome has learned to love the horses, and that should set him up to weather the highs and lows of the game. "He loves the horses and obviously you're going to have to get used to the fact that you're not going to have everything go your way all the time," he said. "He's getting seasoned and it's good for the game to have him involved -- he's a public figure that people listen to and we need people like that who are going to promote the sport. It's nice to see his mare adjusting well. You can tell she's happy and healthy and her coat glistens and she's got some dapples. Hopefully this time next year she has a baby and she'll look even better. I'm sure she'll be a good mom."