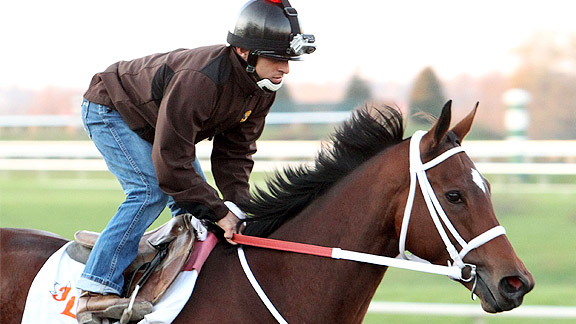 Keeneland/Coady PhotographyGabriel Saez sports a GoPro camera while working Havre de Grace.
LEXINGTON, KY -- Gabriel Saez perched in the saddle aboard leading Breeders' Cup contender Havre de Grace on a brisk autumn morning at Keeneland Race Course. The 4-year-old filly was about to turn in her next-to-last work before a potential start in the Breeders' Cup Classic, and Saez was the expert who would guide her through her paces. "Good morning, everyone!" the affable young jockey called as he rode past a string of onlookers along the rail. "How's everyone doing this morning, okay?" Along with the glossy sheen of Havre de Grace's coat and the smooth and easy strides with which she took to the track, observant bystanders noticed an odd-looking contraption fitted to Saez's helmet. Back at the barn after a solid five furlongs in :58.60, the jockey reviewed footage captured by his GoPro "helmet cam," a video recording device that provides a view from the pilot's seat and is popular in other action sports like motocross, skiing, and surfing. Hardcore racing fans aren't strangers to the bobbing neck and flicking ears of a thoroughbred racehorse as seen from the rider's vantage point. Joel Rosario
wore a video camera
strapped to his helmet at Del Mar last summer, and thousands of fans viewed
this footage
of Zenyatta working under Mike Smith in the spring of 2009. ESPN got on board for the 2010 Breeders' Cup Turf Sprint, when Patrick Valenzuela wore a camera aboard Quick Enough (who wasn't, they finished 9th). But the camera worn by Saez is different, part of an initiative started by two seniors at the University of Arizona's Racetrack Industry Program. David Matt and Kenleigh Hobby are partners and founders of
EquiSight
, a company with a mission to revolutionize the way horse racing is shown by giving fans the ability to "ride the race" with interactive technology, providing a view that is like seeing a race through the jockeys' goggles. The project gets more interesting because EquiSight is working with the University of Arizona's College of Engineering program to create a "smart helmet" prototype with a built-in camera that will feed live video to viewers' computers. Racing fans would be able to change the shot from horse to horse in the middle of a race because all jockeys would be equipped with the immersive system. "This is a project we just started over the summer," Matt said. "We've been using the GoPro cameras and did some demonstrations at tracks like Turf Paradise and Colonial Downs, but you can only go so far with it in races right now due to safety concerns. So we've been more focused on the training aspect of things while we're working toward our end goal of having the camera embedded in the smart helmet." In early December, EquiSight hopes to exhibit a working prototype of the "smart helmet" to over 600 racing and gaming executives at the 38th annual Racing and Gaming Symposium in Tucson, Arizona. The goal is for the manufactured "smart helmet" prototype to have passed the safety and impact tests necessary in order for it to be utilized in actual race riding by the school's 2012 Engineering Design Day next spring. The EquiSight Camera System is patent pending. The Breeders' Cup isn't allowing cameras on helmets at all for the two days of the Nov. 4-5 event, not even on the racetrack in the morning. But EquiSight will be there with Havre de Grace when she ships to Churchill Downs this Saturday, and her morning outings will be captured and available for viewing through the company's website and youtube account every day through Nov. 3. That includes her Oct. 31 planned work over the oval, her final tune-up before a likely start in the Classic. "She has the feel-good story behind her, the filly potentially going up against the boys," Matt said. "While we're in Louisville we're hoping to get a few more Breeders' Cup contenders to wear the camera, but she's our lock -- [owner] Mr. [Rick] Porter and [trainer] Larry Jones have been great to work with and really supportive of what we're doing." According to Matt, footage of Havre de Grace's pre-Breeders' Cup moves will be available the morning they happen at Churchill Downs. The students are flying to Kentucky and will be onsite to manage the day-to-day recording. "As soon as she gets done and we get the memory card, we'll sit down right there at the barn and get them uploaded," he said. For more information and to track Havre de Grace's road to the Breeders' Cup, view EquiSight's Youtube Channel and follow on Facebook or Twitter.
Note: Video of Havre de Grace's 10/24 work at Keeneland will be slightly delayed and is expected to appear on the site on 10/25.