Portantina lands in right spot
December, 10, 2011
12/10/11
9:03
PM ET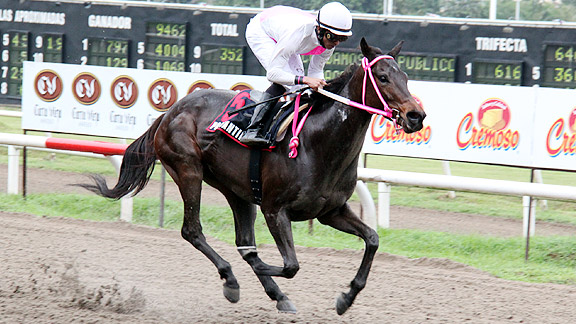 Courtesy Codere, Hipodromo Presidente RemonPortantina wins the Dama Del Caribe under jockey Jose Lezcano.
JUAN DIAZ, PANAMA -- "I've had some very good horses," owner Augusto Boyd remarked from his seat in the Fernando Eleta Salon at Hipodromo Presidente Remon, "but I love this one the most." The 3-year-old filly in question, a striking bay named Portantina, had just won the Dama del Caribe -- the female version of the Clasico del Caribe -- by six lengths on Saturday afternoon. Boyd, 64, said he knew she was something special from the time she was a foal. "She's a very secure filly," Boyd explained. "The way she looks, the way she walks -- she's like a super model. There's just something that tells you she's better than the other fillies. She's always been that way. She'd run with her tail in the air; she just looked like a champion." Portantina could have run in the Clasico del Caribe, and Boyd was tempted to start her there after she ran second and third against males in her past two races (on Nov. 6 she was second to Clasico contender Predathor and beat another Clasico starter, Desbocado, and on Oct. 9 she ran third behind Provenzzano and Desbocado). But the lightly-raced filly had just three previous starts (all wins against female company), and her owner was convinced she was much the best heading into the Dama. The decision was the right one -- Portantina pressed pacesetter Luzzita from the beginning, just a head back in second, then drew off to a three length advantage as the field came off the final turn. She cruised in to victory with jockey Jose Lezcano chilly in the irons, much the best. "I was interested in going to the big race, but the other horses have been in competition much longer than her, many of them 10 races or more," Boyd said. "I decided to give her something a little easier, and I'm very happy. I bred her mother and her grandmother as well, so it's been a good job in that respect." Boyd is the head of the Peruvian Breeders' Association and the owner of Haras San Isidro, where he keeps about 30 broodmares and four stallions, including the recently-acquired Tiz Blessed, a son of Tiznow who won Woodbine's 2010 Display Stakes for Gary and Mary West and trainer Chad Brown before suffering a career-ending injury. The former speedboat pilot, who competed in international competitions against the best drivers in the world as a young man, now owns 20 horses in training between Carlos Perez, who conditioned Portantina for her victory, and Alberto "Droopy" Paz Rodriguez. "I would say I like competition," Boyd remarked, "and to win this race -- an international, well-known event among the Caribbean brothers, is very important." The victory was Boyd's first in the Series del Caribe, a two-day event with five races of varying conditions and importance. He has been involved in the sport since obtaining his first racehorse when he was 15, and is the nephew of respected breeder and statesman Carlos Eleta, whose Haras San Miguel (now owned by Eleta's daughter, Raquel Eleta) is one of the top breeding farms in Panama. Lezcano, a Panamanian who now maintains a successful career in the United States, flew in to ride the daughter of Di Stefano -- La Chinchilla (Tonel). Boyd's daughter, Daniela, saw Lezcano at the Breeders' Cup on Nov. 4 when he won the Grade 1 Ladies' Classic with Royal Delta and told him she had the winner of the Dama for him if he was interested in making the trip. According to Boyd, Portantina will race in 2012 as a 4-year-old at Presidente Remon. "Then I have a date for her with Tiz Blessed," he said with a smile.
Local Horse wins Copa Velocidad
Feliz Aplauso, whose name means "Happy Applause," received just that when he returned to the winner's circle at Presidente Remon after winning the Copa Velocidad (Caribbean Sprint) on Saturday. The runner is trained by Luis Salazar, son of Presidente Remon general manager Carlos Salazar. Jockey Camilo Pitty was in the irons.
Venezuelan Contender takes Copa Confraternidad
In the Copa Confraternidad, American bloodlines were represented as a son of Thunder Gulch, Tato Zeta, gave the Venezuelans their first victory in the 2011 Series del Caribe.