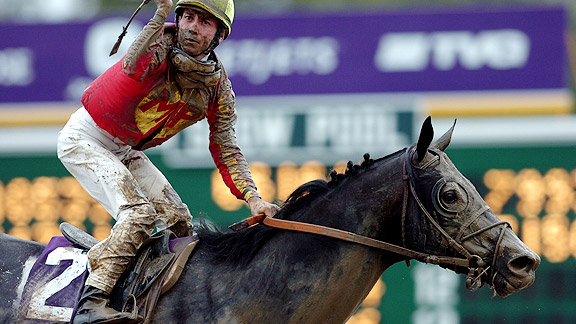 Breeders' Cup/Weasie GainesGarrett Gomez sprints to a Breeders' Cup victory in 2007 aboard Midnight Lute.
ARCADIA, Calif. -- How did Bob Fletcher come to dedicate his life to a nonprofit called the
Winner's Foundation
? Here's a simple answer: He was too scared to go anywhere else. "Without the Winner's Foundation, I don't know if I would have stayed clean," he said. "I really don't think so. It's just a wonderful haven for someone struggling with addictions. It was the safest place I knew." Twenty-one years ago on the 15th of February, a co-worker took Fletcher -- who worked as a department supervisor in operations on the frontside at Santa Anita -- to the California nonprofit for help getting sober. Last Thursday, Fletcher celebrated that anniversary and 11 years spent at the helm of the organization founded in 1984 by Oak Tree Racing Association co-founder Lou Rowan. Winner's Foundation staff members are a priceless resource to the people of every racetrack in California, connecting grooms, hotwalkers, exercise riders, jockeys, trainers and frontside workers -- anyone who asks, really -- with recovery programs and confidential drug and alcohol counseling. A large referral base ensures the help of community-based services like anonymous 12-step groups, city and county assistance agencies, detoxification centers and hospital treatment programs for mental health issues like depression. The program also helps with gambling addictions. It is geared to best support an individual's desire to change his or her life for the better. Running it is a 24/7 job, 365 days a year. "During the course of a five-day workweek here, one of us is usually at just about every open racing venue," Fletcher said. "We handle Hollywood Park and Santa Anita, plus Pleasanton and Golden Gate when they're open. We can't turn anybody away if they want to save their own life." The past year has been a tough one for the Winner's Foundation. Since the program was started by Rowan -- himself a recovering addict -- the Oak Tree Racing Association was one of its strongest supporters for more than 20 years. When Oak Tree lost fall racing dates in California in 2011 (for the first time in 42 years), the Winner's Foundation lost about a third of its overall support. "We're in the process right now, like pretty much every other organization in California and across the country, of restructuring what we do here," Fletcher explained. "This year it's really difficult and painful, but we've had to cut the salaries of all of our employees this year. Like just about everybody else in the industry, we're making sacrifices. There are only five of us to cover the entire state, but by the beginning of 2013, if things stay the way they are, we'll have to look to going part time with the potential of having to cut some positions completely. In three years, if things don't change, we could be down to two employees." According to Fletcher, the organization's main source of support is now income from private donors and California Horse Racing Board-mandated charity days at the racetrack -- when income from all operations during the card, less expenses, is divided between charitable organizations in the state, 60 percent of them related to horse racing.
"

An alcohol problem, a temperament problem, it doesn't matter. Once you go to Winner's Foundation, they'll find a mainstream source to help you with whatever kind of problem you have.

"

-- Jockey Garrett Gomez
Fletcher said one difficulty in attracting donors is the anonymity many participants choose to maintain, making it difficult to put a face with the organization's mission. "If we were raising money for cancer, if we were raising money for retired thoroughbred horses, those are real big, easy-to-get-behind, popular causes," he said. "But there's an epidemic of substance abuse in our industry, and as an industry we need to do more. It's distressing, and it's a hard thing to deal with." Jockey Garrett Gomez is helping out with publicity and has been a vocal supporter of the program that helped him get clean when he made his comeback in 2005. A portion of funds from his upcoming book with Rudy Alvarado,
The Garrett Gomez Story
, will benefit the charity, for which he has also organized a
golf tournament fundraiser on April 9
where players may team up with well-known riders like Rafael Bejarano, David Flores, Alonso Quinonez, Joel Rosario and Joe Talamo. "It's a good program, and I've been trying to get ahold of some people that might have a big name out there to try and help the program out and be a part of it," the jockey explained. "A lot of these backstretch workers are people who don't know where to go. An alcohol problem, a temperament problem, it doesn't matter. Once you go to Winner's Foundation, they'll find a mainstream source to help you with whatever kind of problem you have. The only way to keep it up and going is to continue funding it through donations." Fletcher, who was instrumental in Gomez's recovery, said he's excited about the release of the jockey's book, which he has already read. "I told Rudy one day, the horse racing parts are really cool, but I just kept getting the feeling they were just word bridges," he remarked. "At the beginning, it was between each dirty, nasty escapade, and then as he got into the recovery portion, the racing stories were just bridges between every plateau of growth. Garrett worked really, really hard at his recovery, and it's nice that he's willing to connect his name to the organization and stand up as a figure who was helped by us. It gives me some hope, and it's nice that he thinks so much of us, that we're doing some pretty good work here."