Enjoying 3-year-old 'Bourbon'
March, 22, 2012
03/22/12
4:39
PM ET
It is a well-known fact among horsemen at Fair Grounds Race Course that one of the season's most talented 3-year-olds has yet to make his second start. Bourbon Courage is that contender's name, and if he delivers a performance half as impressive as his first one when he runs in the tenth race in New Orleans on Saturday, partners of Bourbon Lane Stable could find themselves on the Triple Crown Trail.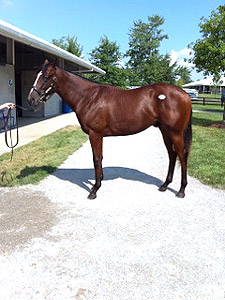 Bourbon Courage was purchased for $15,000 as a yearling at the Fasig-Tipton July Sale in 2010.
He's a colt with the highest Beyer speed figure of any active sophomore, a 103 earned in brilliant fashion at Fair Grounds on Feb. 3. Algorithms, who ran the highest Beyer to date (105 for Starlight Stables in Gulfstream's Jan. 29 Holy Bull Stakes), is recovering at J.J. Pletcher's farm in Ocala, FL after undergoing surgery on a fractured splint bone in his right front leg and will be out at least until fall. Bourbon Courage, on the other hand, could springboard a $50,000 allowance win into a shot at glory. Saturday marks a big day for Bourbon Lane Stable, whose principals Mike McMahon and Jamie Hill (on twitter @mcmahonandhill) were the subject of
an ESPN.com feature
last September. In addition to Bourbon Courage, trainer Kellyn Gorder will send out Hard Bourbon at Fair Grounds, while Bourbonstreetgirl tries Polytrack for the first time for Gary Contessa in the Bourbonette Stakes. But most attention will be on the colt who broke his maiden with a flash of raw talent last month, a bay son of Lion Heart bred in Kentucky by Oscar and Eloise Penn. When Bourbon Courage drew off to a 4 ¼-length victory over a field of 10 other maidens going six furlongs in 1:09.28, "the first offer came through literally two minutes after he crossed the wire," said Hill. All said and done, the connections turned down $850,000 for a horse purchased for $15,000 as a yearling at the Fasig-Tipton Sale in July of 2010. "Aren't we smart?" joked McMahon. "For us business guys it was hard not to take that offer, but our partners' answer to us was, 'All we're going to do with the money is go buy two or three other horses we hope are as good as this one,'" Hill remarked. "We believe this horse is very special." McMahon and Hill expected Bourbon Courage to cost anywhere from $75,000 to $100,000 when they saw him as a yearling. They came into the ring with a $50,000 budget and their fingers crossed. They made one bid -- and took him home. "The July sale is traditionally about big, strong colts and big, strong fillies," said Hill. "He wasn't a big horse and he just didn't fit that category. He was correct and well-balanced with a good walk but he didn't blow you away at first glance. Who wants to spend their money on a horse that may not end up big enough or strong enough when you still have a lot of sales to consider for the rest of the year, especially Keeneland in September? But if you're buying athletes for a racing partnership and you're on a budget, that's what you do." After Bourbon Courage was started at Calumet Farm, he shipped to Saratoga for a potential 2-year-old debut. When the connections decided he needed more time to develop before making his way to the gate, they sent him back to Gorder at Keeneland Race Course. Gorder kept him there for a while, then moved him to Fair Grounds with the rest of a string he keeps in New Orleans. That's when the colt really took off. "At Keeneland he was a nice horse but he really didn't have the 'pop,'" said Hill. "All the sudden when you see him hit the dirt track at Fair Grounds, it's like 'bullet, bullet, bullet,' these phenomenal works, and jocks coming back saying, 'There's something serious about this horse.'" Off at odds of 15-1 in his debut, Bourbon Courage ran greenly at the end (he ogled the infield video board and took a few steps out in the stretch while spooking away from it slightly) but overcame what he lacked in seasoning with sheer ability. "We thought he'd run well, but did we think he'd run like that? No way," said Hill. "We're really excited to see what he does on Saturday." Detractors will question the connections' decision to leave Bourbon Courage in the allowance and shorter distance ranks without stepping up sooner to the big leagues, but McMahon said the Bourbon Lane principals are looking for Saturday's six furlong sprint to lay the groundwork for an entire career.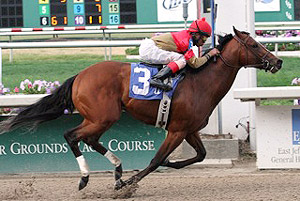 Bourbon Courage turned heads in his first win at Fair Grounds.
"The big challenge at Fair Grounds is that the next race up from a six-furlong sprint is not a one-turn mile or seven furlongs; it's a mile and a sixteenth," he explained. "When they take these horses straight to the Lecomte and Risen Star, they graduate by fire, and with this horse in particular, we didn't want to just throw him into that. We really didn't want to ship; we wanted to have the home track advantage for our second start. Also, Kellyn told us he's more comfortable making the second race an allowance and getting in some seasoning, and he's a really astute horseman." Gorder said the colt's late start determined the route of more natural progression. "He ran that huge race first time out, but it was already pretty late if we were going to try to get on the Derby trail," the trainer explained. "We were behind the eight ball and I've just seen a lot of horses ruined or not make it when they get pushed onto that trail without enough seasoning. He's obviously a talented horse, but we thought it was too much to ask him to jump right into a stakes race or try to stretch out right off. We originally planned on running him back in another sprint before we tried to stretch him out but that race didn't fill. I think we're in good shape now and he's worked well coming into this race." In a hypothetical world the question begs to be asked -- should Saturday's effort prove successful, would Bourbon Courage pop up on the mainstream radar? He isn't nominated to the Triple Crown races, but his connections wouldn't be averse to writing that check. "I could see this horse, if he ran good Saturday, being the type you'd take to the Derby Trial and then to the Preakness," Gorder said. "But we're not going to try to force him onto the Triple Crown trail. He'd have to take us there." "It's more important to us to have a good horse than to have a seat [at the Derby]," said McMahon. "The nice thing about it is that a lot of guys who had the graded black type with their 2-year-olds last year have been thinking Derby, Derby, Derby, and we never had those aspirations. We've just been thinking about how to help the horse succeed to the best of his ability." Regardless of Saturday's outcome, it is perfectly clear that this colt holds a special place in the history of the young racing stable. McMahon and Hill love to tell the story of exercise rider Julia Helbling, who came back from a training session with this glowing report: "If I could ride Bourbon Courage all morning long, that would make my day!" "He relaxes nice and just gallops and he's aggressive but not too aggressive," Gorder said. "He wants to do a lot, but he'll listen to the rider and if it's just supposed to be an easy day, he's not going to try to run off. He's got so much natural speed and he's just a really nice horse to train. He's right up there with anything I've been around, and I've been around some super nice ones. I guess the biggest question is, how far can he go? But I have a feeling he's going to be more than just a sprinter."