LOUISVILLE, Ky. -- They've run the Kentucky Oaks for 138 years. It only took Rosie Napravnik two to get it won. Last year, Napravnik became the third woman to ride in the Oaks when she finished second aboard St. John's River. Only two other women have given it a try -- Julie Krone, third on Quinpool in 1993, and Gretta Kuntzweiler, seventh on Rugula in 2005. She's one cool customer, this 24-year-old rider of racehorses. Knowing no other female jockey had ever grasped the victory bouquet of lilies, she headed to the gate aboard a fleet-footed filly named Believe You Can in front of a crowd of 112,552 at Churchill Downs Friday, thinking that she could. "The expectations were that no one's ever done it before," Napravnik remarked. "I can only do better than that." Cruising along behind veteran reinsman John Velazquez on the front-running Broadway's Alibi, the youthful rider kept 13-1 Believe You Can in perfect position and set down for the drive as the field came running down off the final turn. One moment she was neck-and-neck with one of the best in the business, urging her mount toward the finish line. Then they were drawing ahead, coasting under the wire three-quarters of a length in front, pumping her fist in victory. "Turning for home I thought,
This is it, we're either going to get it or not
, and she just got a little lower and a little faster," she said. "This is what [it] feels like, your dreams coming true." A blanket of lilies across her lap and a bouquet almost bigger than her body in her arms, Rosie posed for pictures and accepted the trophy. Then she went out and rode another race, the last at Churchill Downs on the day. She won that one, too. "I don't know what her super strong suit is that makes her so good, but she just is," trainer Larry Jones remarked. "She's so totally cool, she's confident. She just transfers that confidence onto those horses and they believe they can and they do."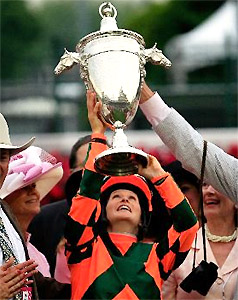 Getty ImagesRosie hoists the Kentucky Oaks trophy.
"To be honest with you, I had a great feeling today," Napravnik remarked. "I felt like,
I think I'm really going to win this race!
I've always had confidence in this filly; she's all talent and all heart and she showed it today." You'll read all about her when the papers run tomorrow morning, and sooner online as stories pour in. Tales will be told of her career accomplishments (first woman to win a riding title at Fair Grounds Race Track in New Orleans, first woman to win the Louisiana Derby in 2011), of her runner-up finish aboard St. John's River in this same race last year, and of her disappointment when the same connections -- owner Brereton Jones, trainer Larry Jones -- decided not to race her other mount, Mark Valeski, Saturday in the Kentucky Derby. You might even read of how she rode before she was born, daughter of a longtime horsewoman who didn't give up her time in the saddle although she was pregnant ["I was riding in the womb," Napravnik said]. You might read of the progression to ponies as a youngster and racehorses as a teen. Here's what you should also know of Napravnik, as solid and determined a young rider as they come. There's no push for publicity, no desperate grasping for attention. She is polite to members of the media because she understands it's part of the job, but all she wants to do is win races. She lets those victories put her name into the headlines. In a month when one of her peers appeared nude aboard a racehorse in a photo spread in Vanity Fair, Rosie kept her clothes on and made history. "It's great for all the women in the industry and in the world and I'm just happy to represent that," she said. "She is the coolest customer I've ever seen ride a horse and she never, ever gets flustered -- at least I've never seen her that way," remarked Brereton Jones. "She doesn't look hard enough, she doesn't look tough enough, she just looks like a wonderful, pretty young lady, and then you watch her ride." Oh, Rosie's tough. She's battled back from multiple injuries since she became a jockey in 2005 and she's proven herself against the best boys in the business and she just got her first Grade 1 victory in the world's most prestigious race for fillies. "When you're first starting out, people are a little skeptical," she said. "Are you strong enough, are you going to be able to do your job well? But I think the whole female jockey versus male jockey issue really comes down to talent. If you're talented, it's really not going to matter what sex you are."