Category archive:

HorseRacing
BALTIMORE, Md. -- It's been a long time between drinks for me at the Preakness, but I remember like it was yesterday: Prairie Bayou, 1993, my first Triple Crown Classic win. It'd be extra special to get it again -- not only because I've been pretty close in the last few years, but since it's a chance for Bodemeister to redeem himself. I've hit the board in the past three years. Astrology and Jackson Bend were third in 2011 and 2010, while Mine That Bird closed for second in 2009. Giacomo was third in 2005, Lion Heart was fourth in 2004 and Proud Citizen was third in 2002, so I've definitely gotten a fair share of the action -- but just the one win in 13 attempts. Someone asked me about the difference between track surfaces at Oaklawn Park and Churchill Downs, and which one is more like Pimlico. I'd have to say that Oaklawn resembles Pimlico more -- and that could be a good thing, since Bodemeister won the Arkansas Derby at Oaklawn by 9½ lengths. He ran extremely well there and earned the highest Beyer speed figure of his career. Churchill is more of a clay-based track, it doesn't have as much substance to it. Although it's very kind, at times it can get just a little bit cuppy. Pimlico is a little bit deeper. When a horse like Bode gets a hold of it, he could be just a little bit better -- he can get into the dirt a little more. Someone else asked what the hardest part was to riding Bodemeister in the Derby. There wasn't necessarily a hard part to riding him, but one thing I wish was different was the outcome, of course. I wish we could've gotten away with a little easier pace in the middle of the race. The first part I knew was going to be really fast -- the first quarter. After that, I was hoping at some point to get a good breather, and I didn't really get a chance to. People think I'll have a bull's-eye on my back, but there actually might be a few more bull's-eyes in this race. Some horses came out of the Derby with some rough trips that ran extremely well, Went the Day Well being one of them. People are obviously going to respect I'll Have Another a whole lot more. So I'm not necessarily going to be the only bull's-eye. As far as Bodemeister is concerned, he's always pretty forward. There's nothing we want to change compared to the Derby, really, other than hopefully at some point we'll get a breather. The pace is still going to be quick, you know; he's not going to get away with splits of 24 seconds and 49 seconds. He's going to run fast because he is fast. What I believe he needs to do is run his race again. If he does that, he's going to be very difficult to run down. The Arkansas Derby and the Kentucky Derby are the only two times I've been on this horse. I know that he was a bit aggressive earlier in his career. He seems to have grown up from that. Even in the Derby, he was so calm and collected. He stood in the gate extremely well, and we hope he does that again. It's just a matter of him getting his opportunities. He's a good horse and he's going to be tough to run down.
May, 5, 2012
05/05/12
10:42
PM ET
Before today's Kentucky Derby, I thought Bodemeister was a very good horse. Now? I think he's brilliant. Sure, we lost. And I'm obviously very disappointed to come so close to winning the biggest race in the world. But at the same time, I'm just so proud of him. A lot of people thought it was a given that Trinniberg, the sprinter, was going to make the lead. But, as I've told you, Bode is such a free-running horse that I couldn't take that away from him. I was going to let him run. Sure enough, he broke beautifully, and within three strides we were already in front -- I mean bam, now we're on the lead. I thought if he made the lead comfortably, I'd be able to take advantage of it. But the 45:1 half-mile got to us, no doubt about it. The fractions were taxing. There was a lot of debate about whether or not the presence of Trinniberg helped us. In the end, I'd say it definitely hurt. I was hoping that Trinniberg would catch a flyer and clear me, but we just opened up such a quick lead that there was no turning back. If Trinniberg wasn't in the race, I think Bodemeister would've won by a few lengths -- but hey, that's racing. At the eighth pole, I thought I had it. But then I saw I'll Have Another coming after me and I knew we were in trouble. Sure enough, he got us. But Bode just ran so hard. He never quit on me. That type of effort and toughness from a horse who's run only five times before is absolutely incredible. Bodemeister didn't finish first, but he's still a winner in my book, and when I walked back to the paddock to talk to Mr. Zayat and Bob, I told them to let me know what's next for him when they decide. I definitely think he has a bright future ahead of him.
We're getting down to it now, aren't we? Two days left until Kentucky Derby 138. I was at the post-position draw Wednesday, and was pleased with the results. Bodemeister is going to break from Post 6 on Saturday afternoon, and I think it's a pretty darn good spot. Ideally, I would've liked it if some of the other speed horses, like Trinniberg, had drawn inside of us. But the key is that we're far enough off the rail that we have room to breathe.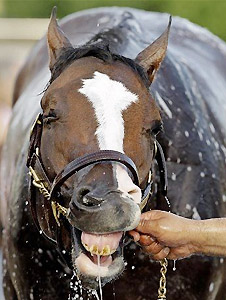 Getty ImagesBodemeister gets a bath after a Derby work at Churchill Downs.
Having room to operate is critically important for a horse like Bodemeister. He's a free-running horse who is naturally quick. That's his style, and we're not going to take it away from him. I feel like Bodemeister will put himself where he wants to be. He's got the tactical speed to work out a real comfortable trip -- whether we're right on the pace, or perhaps a little off of it. One thing's for sure, though: We will be forwardly placed. Thursday has been a hectic day, as I've been busy trying to get the ticket situation in order for my friends and family. I have eight people coming on Saturday to root me on, and getting them squared away has been my top priority today. Come tomorrow, though, my friends and family know that they're on their own. It's time for me to go to work! On Wednesday, we got a chance to go out to Lane's End Farm to visit Zenyatta and her brand-new baby. It was great to see them. Mom looks great. I hadn't seen her since I came down for the Breeders' Cup in November. She just looks fantastic. The baby has a lot of personality. He really loves attention. He doesn't want to share the spotlight with his mom. If you go over to get close to Zenyatta, the little guy comes running over. He wants you to spend time with him. That's a personality trait they definitely have in common. They're both hams, to a certain degree. The other thing that struck me about him is just how big he is. He's only two months old, but he already stands pretty tall. He's going to be a big boy, for sure. I don't know if he's going to be as big as Zenyatta -- who stood 17½ hands -- but then, very few are. Now, it's down to business. These next two days are just so special. Beyond the Derby, I've got a couple of other mounts in big races that I'm really excited about. I'll be riding Sacristy in the Kentucky Oaks for Wayne Catalano on Friday. And on Saturday, I reunite with Amazombie -- who won the Breeders' Cup Sprint the last time he raced beneath the Twin Spires. But, of course, everyone's got Derby fever right now, and I can't say that I'm immune. The chance to ride the morning-line favorite in the Kentucky Derby comes along only every so often. I'm anxious to get out there to see if I can take advantage.
The more I think back to Bodemeister's performance in the Arkansas Derby, the more I'm looking forward to riding him in the Kentucky Derby. Bodemeister was just super in Arkansas, he really was. I knew that we couldn't afford to leave anything to chance that day -- he needed to win the race to secure enough graded earnings to make the Derby field. When we turned for home, and I took a quick look back and saw Secret Circle about a length and a half off of us, I asked Bodemeister for run. His acceleration was instant and powerful. We quickly opened up that huge lead, and as you know he ended up winning by 9 ½ lengths. His time of 1:48.71 was more than a second faster than Alternation ran in winning the Oaklawn Handicap 30 minutes earlier. Pretty impressive, if you ask me. So now it's on to Kentucky. I'm glad I got the chance to ride this horse before the Derby. I've gotten to know him a little bit now, and that's always a plus. He's pretty straightforward, though. He's not very quirky. That's a huge credit to Bob Baffert. Bob's horses are always prepared when they walk into the gate. I don't ride for Bob a whole lot, but when I have, we've usually been successful. We've always enjoyed a great working relationship. Earlier in the year, I was asking him, "When do I get to play, coach?" He told me, "Sit tight for a little bit." I did, and it paid off. I came right from the bench into the winners' circle of a Grade 1 race. There's been a lot of talk about the pace in this Derby, and how Bodemeister figures into it. All I can say is that he's a naturally quick horse. Of course, we'd love it if the first half-mile is run in 48 seconds or so. But I don't know if that's going to happen. There are a number of really fast horses in here. A lot of it is going to depend on where we draw. It's been seven years since I won the Derby on Giacomo in 2005. But Bodemeister definitely represents my best chance to take home the Roses since then. If you can believe it, my desire to win the Derby has actually grown over the past seven years. Right now, I'm kind of thinking that I'd like to ride at least five more years. Still, I know I won't be able to ride forever. And chances to win the Derby only come along every so often. I'm going to do my best to take advantage. Tuesday, I have a very special day planned to kind of kick off an exciting Derby week. I'm going out to see Zenyatta's baby boy at Lane's End and I'm very excited -- I haven't had a chance to get out there to see him yet. They still haven't named him, and I'm anxious to find out what that will be. I'll check back in with you after my visit.
November, 5, 2011

11/05/11

9:20

PM ET

LOUISVILLE, Ky. -- Last year I sat here just devastated, thinking my life was over. What a difference a year makes. The loss on Zenyatta in the Breeders' Cup Classic will always hurt, but winning this one with Drosselmeyer sure helps, it really does. As soon as I found out I was riding Drosselmeyer, I kept praying about it. Like wow, this could really take the sting away. I was extremely excited. I had ridden him once, a win in the Belmont Stakes, and to get a chance to ride him back in the Classic, I don't know, I just got this good feeling as soon as I found out. Then I was watching the TVG works and saw the way he was training, and everybody was talking about the way he was training out there. He was telling everybody going in that he was going to run big, and sure enough, he did. I was telling Bill Mott, from the first jump out of the gate, I felt very confident. I know it's kind of hard to say when you're way back there in last, but it was kind of Zenyatta-like, as far as the ones that she won. He just felt confident. He was in a great rhythm. He was doing everything I asked him to do. Going into the far turn, he took a deep breath, and I knew he was loaded again. Although we were far back, he was really happy. He was running well. He was getting there. He was doing everything I asked. Every time I'd move, he'd move. I felt confident that he was going to run big. It was just a matter of if I was good enough to get there. I was able to even save ground going into the last turn. Once you get him moving, one of the big tricks with him is you don't want to tap on the brakes. Once you get him moving, he likes to keep on moving. Sometimes you forfeit a little ground, but it works for him. Like Bill said, he likes to run a mile and a half. So I went ahead and went wide so he thought it was a mile and a half. He gave me a real good turn of foot when I asked him to, and I just wanted to keep him going forward. Everyone asked me what it felt like to beat Chantal, but I didn't know who it was in front of me at that point. All I knew was I was moving forward, and I wasn't going to stop pedaling until I hit the wire. It just happened to be her. She should be very proud. Her horse ran great. She ran an awesome race, but what can I say? I was on Drosselmeyer today, and he was the best today, and now I feel very happy and content. I can't wait to celebrate. Just to come back and have a day like I did today and to win the race that I got beat by a nose in last year, it's just amazing. Thank God.

* * *

When I got on Amazombie in the paddock today at Churchill Downs, he took a big, deep breath and was cool, calm and collected. He's a big, powerful horse. I think he actually broke out in front of the field, but then he settled. I was really sitting loaded. I cut the corner with him and then got out, and then I became concerned. When this horse hits the front too soon, he tends to really wait. So I was trying not to hit it too soon but not let him idle at the same time. It worked out, although if you watch the replay, you'll see me have to get after him a little bit. Luckily, the wire was coming up. Once Force Freeze got up to his neck, he dug back in. I felt comfortable he wasn't going to pass me. This is a great horse. He's pretty smart, man, he's brilliant. He's got a tremendous turn of foot. Trainer Bill Spawr's got him going so good right now. He's teaching him to do the right thing. Trust me, he's going to be around a long time, this guy. His last race in the Ancient Title, he ran huge. Bill has done an amazing job getting this horse better and better and better. When he got back to Santa Anita, he ran the prep he needed to run. Today he just knocked it through the wall, really. In 1994, I won the Breeders' Cup Sprint here at Churchill with Cherokee Run. I sat behind a ton of speed, then made my move in the stretch. Ironically, this race was very similar. You watch that Breeders' Cup race and this one; they're almost identical. I was able to cut the corner with Cherokee Run and get out the exact same way. It was a little shorter margin but pretty much the same strategy. Another great thing to come out of this win was the opportunity to wear the logo for Jeff Ruby's Steakhouse. Every time I wear this logo in a Breeders' Cup race, Jeff Ruby donates $10,000 to the Permanently Disabled Jockeys' Fund. The fund supports a lot of disabled riders; some are paraplegics and hurt in many different ways. They have families. They're not able to support their families, pay their bills. This does all of that. Jeff Ruby is the man that agreed to donate $10,000 every time. With my two other mounts, he donated a total of $30,000 to disabled riders. Earlier in the day, I told Jerry Bailey I was coming for him. He holds the record for Breeders' Cup wins, and now we're tied. Number 15 was just as sweet as the first. Winning races like this never gets old.
Louisville, Ky. -- I got into town Tuesday evening for the Breeders' Cup World Championships and really haven't done much since. I went to eat at Jeff Ruby's, went over to a jockey charity event on Tuesday evening, rested all day yesterday and then came over to the track Thursday morning. I got on Amazombie, watched Mr. Commons train along with a few others, saw Drosselmeyer … and all is well. There's a lot less pressure than there was last year when I was riding Zenyatta in the Classic, that's for sure. I miss Zenyatta but I'm coming into this year's Breeders' Cup with some horses that I'm really, really excited about. I'm looking forward to a big weekend; I just hope they get the opportunity to run their races. My mounts on Friday are Jake Mo in the new race, the Juvenile Sprint, and a filly called Hard Not To Like in the Juvenile Fillies Turf. The filly is from Canada and she beat the boys twice, so she could jump up and win it for sure. Amazombie is one of my best mounts on Saturday and he has a great shot in the Sprint. It was nice to get on him this morning; it's always good to see how they feel getting over the track, especially this track. It's very important that they get over it well, and he got over it great. This horse won the Ancient Title Stakes on Oct. 8, beating Irrefutable and The Factor as well as some others. He's grown up a lot. Early on in his career he was a bit aggressive in the paddock and in the race, but now he's just a smooth, laid-back, neat guy. He's really nice to ride and they've got him doing things really, really easy now. He does everything on a long-line hold and relaxes well, but he has some turn of foot. I mean, when you ask him, he's loaded. That's a very good feeling. John Shirreffs and I will partner up with Mr. Commons in the Mile. He's a really sound colt. Our only knock would be that the other contenders are older than we are; he's only a 3-year-old and we're going up against the best milers in the world, really. So we're up against it in the age and experience aspect, but where talent is concerned, he's second to none. We've been unlucky the past few times but he's training very well now, he's acting a lot better. He's acted up in the starting gate the past few times so they schooled him a lot and he's acting really good now. If he can get just a little lucky, I wouldn't be shocked at all if he jumped up and ran a big race. He's a beautiful, beautiful mover but sometimes he's been his own worst enemy. He's young, he's learning, and he's doing a lot better at it. I really think a lot of this horse, both in this race and for next year. On Saturday, I'll share some thoughts on my Classic contender, Drosselmeyer, who I also won the Belmont Stakes with in 2010. For now, I hope all of you have a great Breeders' Cup Friday -- wherever you are!
LOUISVILLE, Ky. -- Losing on Zenyatta hurts more than I can explain, just because it was my fault. She should have won, and it hurts. It wasn't very good at all in the beginning. We got away just a little slow, and I was just having a rough time of it going underneath the white wire the first time. She wasn't leveling out like I wanted to, the combination of the dirt, of course, hitting in her face was a lot of it. She just wasn't used to that part. It just left her with too much to do. You know, it was just coming back in her face. Although she has run on dirt twice, they were really short fields and she really never got anything in her face before. It was coming back -- you can tell by my goggles; I went through all six. I mean, it was certainly coming back. It just took her awhile to get used to it. Like I said, maybe I should have done a few things differently. If I had to do it all over again, I would have, you know. Down the backside, she picked it up. It was just a wall of horses. So I couldn't let her pick it up quite like I wanted to. I guess I could have swung out and maybe done it, but then I would have to be way out wide and commit myself to staying wide. After the sluggish start and the way she handled the first part of the race, I felt I needed to cut some corners somewhere. So that's what I tried to do. When I got her out, like I said, it was a gallant effort on her part. She made up a whole lot of ground. To only come up a nose short, it's pretty tough to swallow. I truly believe I was on the best horse today, and if I had to "blame" anybody, it would be me. But my hat's off to Blame, as well. He ran an incredible race. He didn't fold, and I needed him to fold just a little bit. But he didn't. He hung in tough. Zenyatta is my everything. She's simply amazing. I just wish I would have been in the race a little earlier because I think the outcome would have certainly been different. You know, again, I believe she ranks up there with the greatest of all time. If I'd have won this, you could arguably say she was. To come up a nose short is just -- it's too hard. It's hard.
LOUISVILLE, Ky. -- Nervous energy is good for me. I love it. The more pressure, the better I seem to perform. I guess you can use that kind of energy in different ways, can't you? That kind of energy's very powerful. It can ruin everything or it can perfect everything. It just depends on how you use it. For me, everything slows down. The more pressure, the more I focus. I just take a deep breath, and I can see everything -- the way it's going to unfold. You could feed that energy, and everything is going so fast anyway, you can imagine how much faster you'd start pushing and trying. So it's dangerous energy, but it's good energy if you use it the right way. You just get in the zone and relax and have fun and enjoy the moment. The hard part is sitting right here and writing about it, because now I have no control. But once I get on, then I'm part of it; I'm part of that energy and I can feel it. Riding Zenyatta is like having magic in your hands, knowing she can do this and it's up to you to just get it done right. I just slow everything down and let her find herself and let her get into her rhythm. And once I can feel her moving and I can hear her breathing and I know she's getting her air, I know she can do anything. She can move mountains. If she shows up in a pocket or anything, it's such energy, it's just like
WHOOSH
, get out of her way. It's wild. And the great thing about riding her is that she's so big and powerful that if someone wanted to lay on you, she'd lay back and in one jump just shove them out of the way. It's wicked. Her strength is unbelievable. But she's so kind around the barn. I could even tell you situations in a race, where she's moved a horse sideways three lengths, four lengths, easy, like it was nothing. She intimidates them, it's the energy around her -- which is pretty good to have if we ever get into one of those situations where they're trying to box her in. Hopefully we won't, I try to keep everything good and easy when I'm riding her. We'll just see what kind of trip that we're allowed to have on Saturday. Whatever it is, as long as we're in a flow and in a good rhythm, she can do it. To everyone who loves her like I do, I just want to say thank you for the support, for the cards and letters, for all your prayers. Say another one, and another one, and another one. Because she's sent from heaven, I really believe that. She's sent for a reason. This is no coincidence, this is no freaky thing. You can see it, you can feel it. She's helped so many people and so many retired horses; she's done a lot for our industry, for people that are out of our industry now, kids, schools, the money she's been able to help generate for great causes. I've donated pictures to these little kids' auctions and they get big money for them. Last night someone said my goggles that I used when I rode on her last time brought $5,000 for retired horses, so they can be saved. So she does that. It's pretty neat. She's here for a reason. And we're not done yet.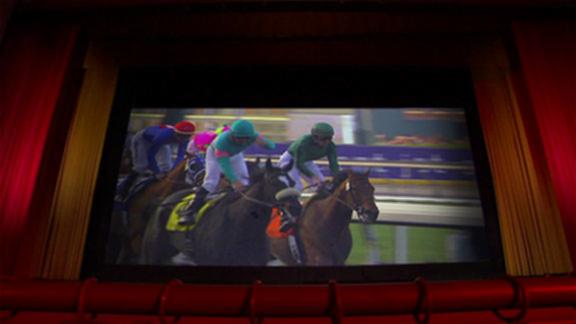 LOUISVILLE, Ky. -- It's Ladies' Classic day here at the Breeders' Cup, and although I don't have a mount in this year's edition, I certainly remember riding in 2008. That was the year Zenyatta won, and she was just starting to really hit the radar at that point. I remember being really excited about it, too, going in thinking that as long as she got the opportunity, she could do this, you know, really in a great way. And she did, she just ran phenomenal that day, she ran amazing. Cocoa Beach was the mare that was second, the Godolphin mare, and she came back a few weeks after that race to win the Grade 1 Matriarch on the grass. She had won at Saratoga before the Classic, and she won the Beldame, another Grade 1. She also had six impressive wins overseas, and while a lot of people were saying we were just beating up a bunch of local horses, here we beat this excellent mare who had raced all over the country and in other parts of the world. And then after that race we of course knew, since she'd done that, she'd get to run in the 2009 Classic. Leaving the gate with all the commotion with Quality Road having to load and re-load, she probably left there the worst she's ever broken. She probably spotted the field three to four lengths easy, if not more. She broke on her wrong lead and I thought "Oh God, oh Jesus, this is it." And then I got her to get back over to her right lead because she was running sideways, kind of looking at the grandstand. I got her back over to her right lead and when I did that, it was like a light switch went on and immediately she grabbed a hold of me and it was like, WHOOSH, and I thought "OK, man, I'm OK." But now I have to save ground, I can't spot them five lengths and circle the field. I saw Gio Ponti down on my inside and just dropped in behind him and followed him through. He split them and I went around him at the same time. I could hear the crowd roar and it was so loud and she just took off, but in taking off she was taking off with fun, she was literally pricking her ears and just rolling down the lane. When she passed Gio Ponti I was just beside myself, I could hardly believe that she'd just done what I'd just seen her do. Being in my position, having felt how she feels, being a part of doing what she does, I honestly don't get very upset about all the controversy around her. I just smile about it. I think it's kind of ridiculous. I mean, here's a mare that's done everything she's done, she's never done anything wrong. And if you're going to argue about it, it's just silly to me to even have to waste your time or your breath. It's gotten to where you don't have to speak for her anymore, she lets it be said, lets it be known. Yeah, she speaks for herself. Going into tomorrow's race as Zenyatta's rider is a great honor. No one's ever been in this situation before. I'm not quite sure how to handle it. No one's ever gone into the Breeders' Cup Classic 19-0. So she has history to make, and I'm excited about being the rider who gets that chance. And again, like I've said before, given the opportunity, I really think we can do this. I really think it would be something to see. So praying for a safe trip for all of us, everyone gets a safe trip, and we're good enough. We'll get there, if it's meant to be, the good Lord willing.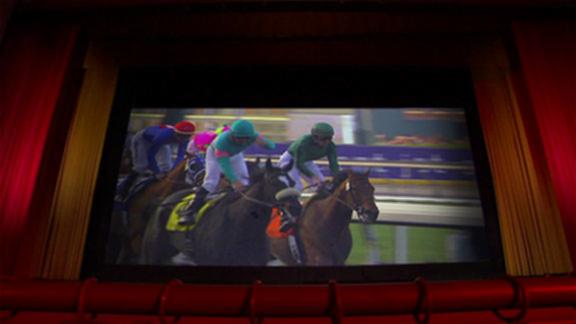 LOUISVILLE, Ky. -- The last time Zenyatta ran, in the Lady's Secret, it was magic. The other filly, Switch, tried so hard, but Zenyatta just galloped up alongside her, and I knew, "Oh, Switch turned it off." That filly had been all out; she was giving her all, and it was a gallant effort. She ran dynamite, for a 3-year-old filly. She was incredible. But we were just again starting to hit our best stride and cruising along. We won by a small margin, and, like always, Zenyatta already knew she had it won. I've always thought that she has another gear, that if I really need to ask her, she'll do something even I haven't seen yet. I've always thought that. She just seems to do what the field does. She's not a horse to open up 10, 15 lengths on the field. There's been a race or two in which she could have done that; she certainly is talented enough. But once she goes past the front horse, she gets back into that big old gallop, and she's having fun and feeling happy. She's not running all-out, as hard as she can run, and I've never felt like I've gotten to the bottom of her. I've always felt that if someone went a little faster, she'd just go a little faster than that horse. If it went slower, she'd just go a little faster than slow. It's always exactly enough. On the dirt, so far at least, the two races she's run were her largest margins of victory. With this long lane at Churchill Downs and the acceleration and stamina I know she has, I really think if we put it all together and get our trip, we could do something wild, something you've never seen. Going into this race, you're going to worry about the surface a bit, but she seems to have handled it very well in the mornings and it looks like everything is covered. We're all ready to go; we just need our opportunity. I believe we'll get it, and if that's the case, again, we could see something amazing. It's going to be fun -- it's a competitive field, a great field -- and it's no walkover by any means. She's going to have to go out there and really, really run. But she's capable, very capable. Today I went out to see her on the track again. Then I did my homework, went over everything so I could have an idea about every horse I'm going to ride. I also took a run, and that'll be the last time I work out because I like to give my body a day to rest. Friday is a big day as well, and I want to do my best for everyone I ride for Friday, and that will kind of lead into Saturday. Now I need some time to relax and just kind of shut it down, get to myself and do my thing. Tomorrow, I'll share some memories of past Breeders' Cup races with Zenyatta.