We're getting down to it now, aren't we? Two days left until Kentucky Derby 138. I was at the post-position draw Wednesday, and was pleased with the results. Bodemeister is going to break from Post 6 on Saturday afternoon, and I think it's a pretty darn good spot. Ideally, I would've liked it if some of the other speed horses, like Trinniberg, had drawn inside of us. But the key is that we're far enough off the rail that we have room to breathe.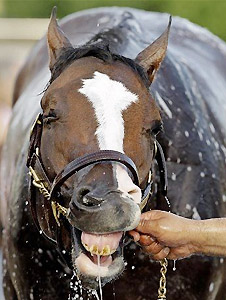 Getty ImagesBodemeister gets a bath after a Derby work at Churchill Downs.
Having room to operate is critically important for a horse like Bodemeister. He's a free-running horse who is naturally quick. That's his style, and we're not going to take it away from him. I feel like Bodemeister will put himself where he wants to be. He's got the tactical speed to work out a real comfortable trip -- whether we're right on the pace, or perhaps a little off of it. One thing's for sure, though: We will be forwardly placed. Thursday has been a hectic day, as I've been busy trying to get the ticket situation in order for my friends and family. I have eight people coming on Saturday to root me on, and getting them squared away has been my top priority today. Come tomorrow, though, my friends and family know that they're on their own. It's time for me to go to work! On Wednesday, we got a chance to go out to Lane's End Farm to visit Zenyatta and her brand-new baby. It was great to see them. Mom looks great. I hadn't seen her since I came down for the Breeders' Cup in November. She just looks fantastic. The baby has a lot of personality. He really loves attention. He doesn't want to share the spotlight with his mom. If you go over to get close to Zenyatta, the little guy comes running over. He wants you to spend time with him. That's a personality trait they definitely have in common. They're both hams, to a certain degree. The other thing that struck me about him is just how big he is. He's only two months old, but he already stands pretty tall. He's going to be a big boy, for sure. I don't know if he's going to be as big as Zenyatta -- who stood 17½ hands -- but then, very few are. Now, it's down to business. These next two days are just so special. Beyond the Derby, I've got a couple of other mounts in big races that I'm really excited about. I'll be riding Sacristy in the Kentucky Oaks for Wayne Catalano on Friday. And on Saturday, I reunite with Amazombie -- who won the Breeders' Cup Sprint the last time he raced beneath the Twin Spires. But, of course, everyone's got Derby fever right now, and I can't say that I'm immune. The chance to ride the morning-line favorite in the Kentucky Derby comes along only every so often. I'm anxious to get out there to see if I can take advantage.