DEL MAR, Calif. -- Gun Runner, who emerged as the slam-dunk favorite to be named Horse of the Year with his victory in the Breeders' Cup Classic on Saturday at Del Mar, will remain in training for the immediate future, though his plans for all of 2018 have yet to be ironed out.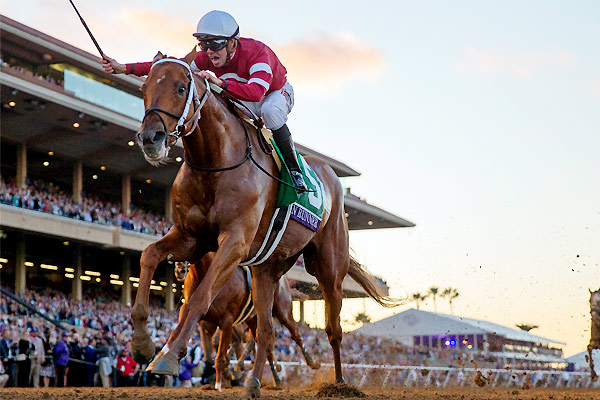 Gun Runner was to leave here on Monday for Kentucky and Three Chimneys Farm, where he will go to stud at the end of his racing career. Gun Runner will be showcased his week to prospective breeders but will then head to New Orleans with trainer Steve Asmussen's stable and be based at Fair Grounds, with the Pegasus World Cup on Jan. 27 at Gulfstream the target for his next start.
What comes after that is still to be determined, and those closest to Gun Runner - Asmussen, Goncalo Borges Torrealba of Three Chimneys, and co-owner Ron Winchell - seemed in no hurry in the hours after the Classic to decide whether Gun Runner would remain in training for all of 2018 or go to stud after the Pegasus.
On Sunday morning, Asmussen said all they wanted to do right now was admire Gun Runner "like looking at a piece of art."
"It feels wonderful standing here the day after a plan came together so well," Asmussen said. "The golden trophy, Horse of the Year. We've been very blessed. I'm very proud of this horse's accomplishments."
Gun Runner, 4, traveled far and wide in 2017, making six starts at five different tracks in four different time zones on two different continents. He won five of those races -- with the Razorback, Foster, Whitney, and Woodward preceding the Classic -- and finished second to Arrogate in his lone loss, in the Dubai World Cup. He completed his year with four straight Grade 1 victories.
The Classic was his first race at Del Mar, marked his first victory in four starts at 1 1/4 miles, and came despite setting a lively pace while toward the inside of the track, which was not the preferred position most of the week. That Gun Runner overcame all those obstacles was emblematic, Asmussen said, of how good a horse Gun Runner has become.
"Things you're scared of allow you to prove yourself," he said. "This was the stage where you need to be at your best, and he was at his best."
Having Gun Runner peak in the Classic had been the plan at the beginning of 2017, but Gun Runner had to be up to the challenge presented him, and he responded every time.
"What's amazing about Gun Runner is we could have set his training chart from January to today. He just shows up," Asmussen said. "The pressure we put on him, dialed it up, how he acts, knowing what's going to happen, that's what separates him. He did his job and came through like the champion he is."
No expense was spared in preparing Gun Runner for the Classic. Asmussen's top assistant, Scott Blasi, along with exercise rider Angel Garcia and groom Gabino Gutierrez, spent more than a month in California, first at Santa Anita, then at Del Mar, with Gun Runner. In addition, the owners purchased the older horse Gettysburg to be a workmate for Gun Runner in his final two drills at Santa Anita.
"I'm extremely proud of the whole team," Asmussen said.
Bob Baffert, who sent out four horses in an unsuccessful quest to win his fourth straight Classic, said that both Collected, who finished second, and West Coast, who was third, would remain in training and point for the Pegasus.
"Unfortunately, Gun Runner will be there," Baffert said.
Baffert said Collected "got a little tired at the end."
"He went toe-to-toe with Gun Runner," Baffert said. "For an instance, I thought he was going to put him away, but Gun Runner was too tough. Great horse that he is, he fended Collected off."
Arrogate, who was favored in the Classic but lost his third straight race, all at Del Mar, will race no more. He was to be flown on Monday to Kentucky to Juddmonte Farms, where he begins stud duty next winter.
Baffert said Arrogate "just went through the motions" in the Classic.
"He broke flatfooted, never got into it. He didn't have that fire," Baffert said. "He's sound, healthy. It's got to be something mental with him right now. The biggest disappointment was the big horse not showing up."
Gunnevera, who finished in a dead heat for fifth with Arrogate, was scheduled to fly back to Florida this week, and the Pegasus is also possible for him.
Mubtaahij, Baffert's other runner, finished eighth and will remain in training, with no race schedule yet mapped out.