Turf Wars: The biggest rivalry in sports
December, 7, 2010
12/07/10
12:00
PM ET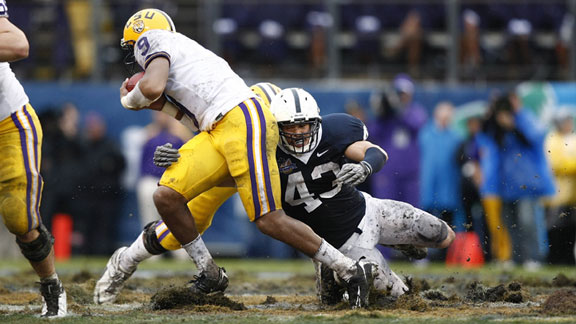 Joe Robbins/Getty ImagesAstroturf and FieldTurf look to make images like this one a thing of the past.
This story appears in the Dec. 13 issue of ESPN The Magazine.
The nastiest rivalry in sports is playing out in court, as Astroturf and FieldTurf slug it out over patent infringement. And in a $500 million industry built on making the perfect field, there is plenty of green at stake.

Last spring, Oregon State University awarded AstroTurf a $1 million contract to carpet two fields. Soon after, FieldTurf sued for patent infringement -- the latest in a series of legal skirmishes between the two sides. AstroTurf, introduced in 1966, was nudged aside as the industry standard in the late '90s after the emergence of FieldTurf, a synthetic grass that prevents turf burn. FieldTurf claimed AstroTurf stole that formula, but the companies later reached an out-of-court settlement in 2004.
FieldTurf's current lawsuit centers on a patent that spells out just the right mix of synthetic grass and rubber dirt for optimal speed and playability. AstroTurf denies wrongdoing and demands a jury trial.
AstroTurf is firing back, accusing FieldTurf of sabotage "on a consistent and continuous basis" and claiming that a FieldTurf rep contacted school officials in Albemarle County, Va., to bad-mouth a nearby AstroTurf field, saying it had "significant failures" that could injure kids. The alleged tactic didn't work; Albemarle chose AstroTurf for its new field.
In June, AstroTurf won a coveted contract with the Citrus Bowl (a.k.a. the Muddy Bowl). But FieldTurf has bragging rights to football's most recognizable field after replacing the blue AstroTurf at Boise State in 2008. At first, TV crews complained that the Broncos' new rug reflected too much light, and coaches said it was hard to review film. So FieldTurf engineered new multifilament blades to cut down the glare.