Sunday could have been Super Bowl XLVIII
February, 3, 2011
02/03/11
12:05
PM ET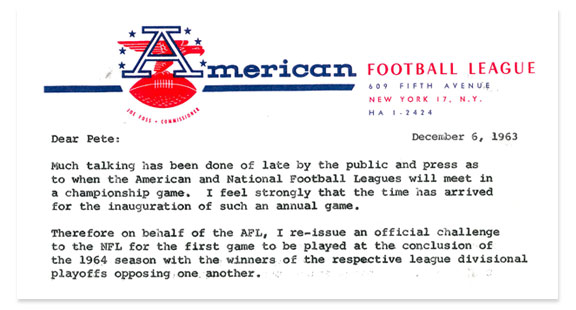 Foss issued the Super Bowl challenge in 1963. (Click image to view his entire letter.)
On Dec. 6, 1963, a Congressional Medal of Honor holder named Joe Foss lent his signature to a letter to NFL Commissioner Peter Rozelle. An innovation known as instant replay was about to make its TV debut during the Army-Navy game in Philadelphia the next day, but Foss was proposing an even bigger breakthrough for TV sports. As the head of the upstart American Football League, Foss wanted to challenge the NFL to a title game.
"Much talking has been done of late by the public and press as to when the American and National Football leagues will meet in a championship game," Foss' Dear Pete letter began. "I feel strongly that the time has arrived for the inauguration of such an annual game."

Foss had the kind of gravitas that usually made people listen to him. Besides being a war hero whose fighter squadron shot down 135 Japanese planes during four months in World War II, the 48-year-old was the former two-term governor of South Dakota and had recently run for Congress.
Rozelle, then 37, couldn't have been more different. He was a slick former PR man who had so little support among the NFL's owners when he was first named to replace Bert Bell in 1959 that it reportedly took him 23 ballots to get the job. Yet Foss was out on a limb writing to Rozelle, and he knew it.
For one thing, the NFL had 14 teams, the AFL just eight. The AFL also was coming off a defeat in a highly publicized anti-trust suit against the NFL. Even though the AFL was about to sign an eye-popping $36 million deal with NBC, the NFL's owners had no intention of legitimizing it.
In that respect, Foss was trying to beat Rozelle at his own game by writing the letter. It wasn't supposed to be a confidential communication between two rivals. "Joe's intent was to get publicity and be cocky," says Joe Horrigan of the Pro Football Hall of Fame in Canton, Ohio. "He was saying, 'We'll meet you anytime, anywhere.'"
Foss might not have conceived the idea. The AFL's brash oil-rich president, Lamar Hunt -- fresh off moving his Texas team to Kansas City and eager to one-up the NFL -- was a genius at promotion and publicity stunts. "It has all the hallmarks of a Lamar Hunt effort," Horrigan says. But the letter reflected Foss' statesmanlike tone.
"Any argument as to which team would win the initial AFL-NFL game is of secondary importance," Foss wrote. "The overriding fact is the establishment of a World Series of professional football is necessary to the continued progress of our game if we're to be true sportsmen and not merely businessmen in sports."
The letter ended with a call to arms. "I think now is the time for action rather than talk, Pete, and if you concur I'll be available to commence arrangements for the game at your earliest convenience."
Reporters were delighted when they got ahold of the missive, eagerly calling Rozelle to read it to him over the phone. Within hours, the commissioner had this statement for them:
"I understand that you intend to write me for the purpose of suggesting a championship playoff between the National Football League and the American Football League in 1964. As I have said on a number of occasions recently when queried by the news media concerning similar public requests made by you, we have no plans for such a game."
Courtesy Pro Football Hall of FameFoss had the media on his side for his pitch to Rozelle.
That didn't end the drumbeat for an end-of-the-season finale. Five months later, NBC offered to donate $500,000 to the Kennedy Memorial Library if Rozelle agreed to a championship game. (The move was a not-so-subtle reminder that the NFL played games in the wake of John F. Kennedy's assassination while the AFL did not. Rozelle often said that the move was his greatest mistake.)
The NFL still didn't bite, and it took three more years for the leagues to schedule a faceoff in January. The first world championship game was held on Jan. 15, 1967, at Memorial Coliseum in Los Angeles, with tickets selling for $12, $10 and $6. Two years later, the AFL and NFL finally merged.
All we can do today is wonder what the league might have looked like if Rozelle had warmed to Foss' proposal in 1963. For one thing, Cleveland or Buffalo could lay claim to a Super Bowl trophy today, because those are the teams that would have met in January 1964. And there was considerable irony in having them in their positions. Cleveland, after all, belonged to the rival All-America Football Conference until 1949 and was still considered by some a carpetbagger. Hardly a team to carry the NFL banner. Buffalo, meanwhile, was built like an NFL team with a dominant defense and ball-control offense (anchored by Cookie Gilchrist) -- hardly representative of the pass-happy AFL.
Horrigan, for one, thinks that it's probably a good thing the matchup never happened, "If Cleveland won that game, I don't think there would have been SB II," he says. "The NFL could have said, 'See, we told you so' and, like a heavyweight champ, avoided a rematch."
And if the Bills had triumphed? The winning coach on Sunday might have been hoisting the Lou Saban Trophy in Super Bowl XLVIII.
FILE UNDER
Dan Snyder: The thin-skinned owner of the Washington Redskins might want to pick up a copy of Mark Twain's autobiography. Last week Snyder threatened litigation against the capital's City Paper for a story on him that he claims is anti-Semitic and filled with "untruths." It's not the first time he's complained. On Nov. 24, the Redskins' chief operating officer, David Donovan, sent the newspaper this three-page letter in which he said they were "evaluating all of our options, including litigation." Twain, no stranger to being written about, wrote this when he found himself in similar straits: "It is my settled policy to allow newspapers to make as many misstatements about me and my affairs as they like; therefore I [have] no mind to contradict [them] or explain my side of the coin in any way." Hey, it saves on legal bills.
Titans v. Trojans, Part I: Finding a judge to hear the Tennessee Titans' coach-poaching case against Lane Kiffin and USC is getting harder than finding a job for Jeff Fisher. First, U.S. District Court Judge Todd Campbell recused himself because his daughter is applying to USC. Then his replacement, Aleta Trauger, had to step aside because, as it turns out, her husband spearheaded negotiations to bring the Titans to Nashville from Houston in 1997. Now, the case is in the hands of Judge John Nixon. No word on whether he has any Titans or Trojans gear in his house. The trial is due to start on Aug. 2.
Titans v. Trojans, Part II: Seriously, what's up between these two? On Jan. 24, Titans RB Stafon Johnson filed this personal injury lawsuit against USC and its former assistant strength coach, blaming both for a freak weight-room accident in which a bar holding 275 pounds fell on his neck. After several surgeries, Johnson signed with Tennessee, only to lose last season to an ankle injury.
NFL drug policy: The NFL is cracking down on the practice of issuing medical waivers to take banned drugs. Presently, players can apply to take banned drugs after their prescriptions are filled. Beginning next season, they'll have to fill out this form in advance. According to the league, 69 players applied for therapeutic use exemptions for attention deficit disorder in 2009, up about 20 percent over 2008, and 10 applied for a waiver to take diuretics to treat hypertension, about the same in the respective periods.