Is concussion testing good enough?
December, 2, 2010
12/02/10
8:21
PM ET

Skating gingerly, Marc Savard took to Boston's practice ice for the first time this season on Oct. 26, 233 long days after a savage blindside elbow by Pittsburgh's Matt Cooke knocked the Bruins center unconscious. But it was clear that Savard -- somber and out of shape -- still wasn't fully himself. And his injury has become a case study in how complicated and frustrating it can be for an athlete to come back from a concussion.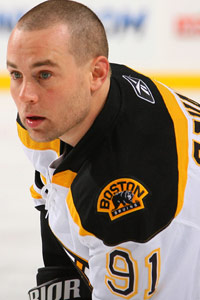 Getty ImagesBruins C Marc Savard was off the ice for almost a year after a vicious elbow from the Penguins Matt Cooke knocked him unconscious.
When it comes to the official rules governing sports concussions, we live in a drastically changing world. The most shocking shift has taken place in football. For years, the NFL had insisted there was no evidence that it was dangerous to return brain-injured athletes to the field as soon as symptoms subsided, and in the early 2000s, more than half of players who suffered concussions -- including a quarter of those knocked out -- went back into the same game, according to the NFL's own research. Then, last December, the league changed its tune: Now, a player with signs of a concussion must be kept out of that game and evaluated by an independent neurological consultant, not just the club doctor. "It's like night and day from where we were a couple of years ago with the NFL," says Robert Cantu, chief of neurosurgery and director of sports medicine at Emerson Hospital in Concord, Mass. "And other leagues and federations tend to follow the NFL's lead." This past year, the NCAA and National Federation of State High School Associations beefed up return-to-play rules. We're a long way from the days of "dings" and smelling salts.
But too many athletes still come back from concussions far too soon. For one thing, leagues, teams and school districts are increasingly investing in and relying on computerized neuropsychological tests to deal with return-to-play issues. These tests display images and strings of words or digits to grade memory and reaction time, and can quickly compare postinjury results to baseline scores. And they offer a technological answer to some tough questions surrounding brain injury. One such test, ImPACT, markets itself as "the best approach to concussion management" and is used as part of treatments by all teams in the NFL and NHL. But there's little independent evidence that ImPACT is reliable, and inaccurate or incomplete testing can be dangerous. "Neuropsychological testing is important, but it's just one part of managing concussions," says Jill Brooks of Head to Head Consultants in Gladstone, N.J., which specializes in treating young athletes. "You don't want it to give you a false sense of security."
High school trainers often administer or interpret the tests incorrectly. According to a 2009 study at Michigan State University, just half of the trainers check to make sure baseline scores are valid, and 13.5 percent of them told the researchers they would or might return athletes to play even if they scored below baseline.
More important, athletes are still pressured -- by coaches, teammates, media, fans and themselves -- to get back into games. Last spring, Savard said he felt good enough, and convinced doctors he was well enough, to return for Boston's playoff series against the Flyers. He even scored the game-winner in Game 1. But he now admits he was still suffering from concussion symptoms, particularly severe fatigue, which left him vulnerable to another injury. By late summer, Savard was beset by headaches, nausea and depression so severe that he couldn't skate. Thing is, his tale isn't that unusual. Flyers right wing Ian Laperriere says he came back too soon from a concussion so he could skate in last year's playoffs. Paul Kariya missed six games after taking an elbow to the head in December 2009. He returned for the second half of the season and is now sitting out this entire year with ongoing concussion-related problems.
Tough new return-to-play guidelines won't really have teeth until resources keep pace with rules, so that certified athletic trainers evaluate injured players in all high schools, not just in the 40 percent of schools that have them today, and all youth programs have full concussion management programs, not just testing software; until pro leagues and NCAA conferences have zero tolerance for coaches who act like TCU's Gary Patterson, who berated team doctor Sam Haraldson during a September game against SMU for keeping running back Ed Wesley out of play after a concussion; until the officials in charge of disciplining players who cause concussions act swiftly, harshly and without conflicts of interest, unlike the NHL's Colin Campbell, who called Savard a "little faker" in a 2007 e-mail and who didn't fine or suspend Penguins left wing Cooke last March; and until athletes learn that one concussion leads to another, that multiple concussions can lead to long-term brain damage and that every individual recovers differently.
Savard went through his last round of examinations to get cleared for play just before Thanksgiving, but he is still taking it slowly. "I have to get up to speed and feel what it's like to get bumped around," he said the day before the test. "I know there's still time and work to be put in."
Every shift, every check, will bring its own new test. And the only concrete results will be a lifetime in the making. Like Savard, the rest of us have come far, but we still have a long way to go.