UFC
Helwani says Hardy is 'not a UFC-caliber fighter'
Ariel Helwani joins SVP to analyze Greg Hardy's controversial fight at UFC Fight Night 143 and the overall growth of the sport.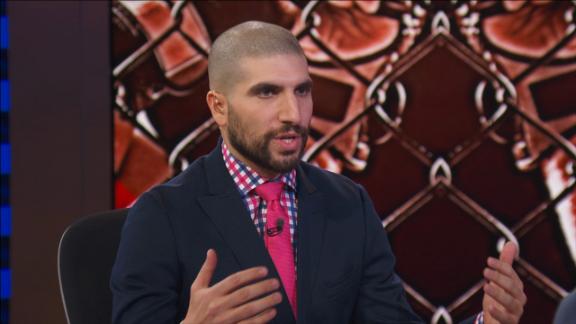 UFC
Helwani: Cejudo-Dillashaw holds major implications for UFC
Ariel Helwani joins SVP to discuss the fate of the Flyweight division with Henry Cejudo and TJ Dillashaw facing off at UFC Fight Night 143.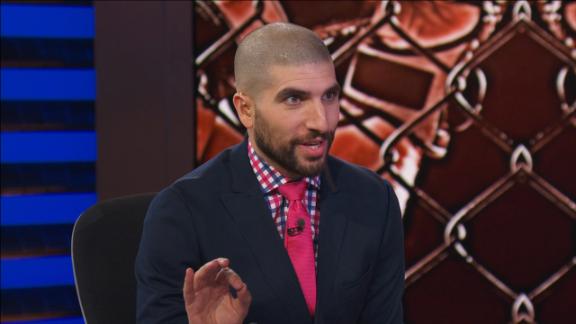 Cejudo: I'm looking forward to taking down another great
UFC Flyweight champion Henry Cejudo says he's very confident heading into his first title defense against T.J. Dillashaw.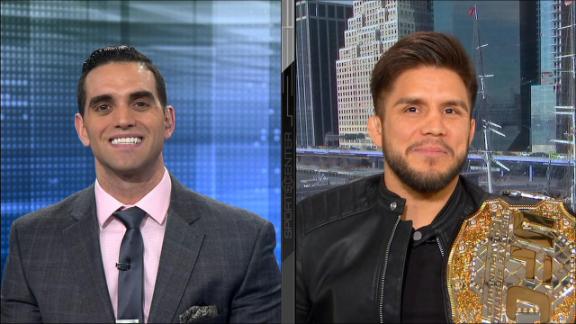 Anderson chirps champ Nunes on Twitter
Australian Megan Anderson had a strong response to current featherweight champion Amanda Nunes' comments on Twitter about being done with the featherweight division.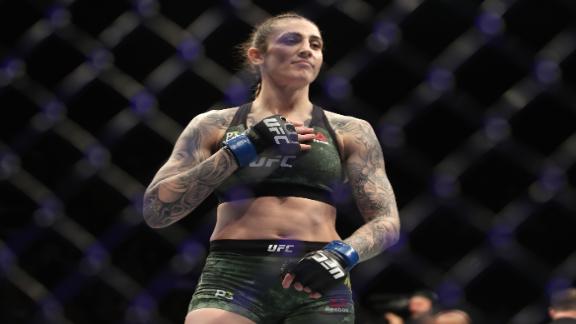 MMA
Crowder on Hardy: 'I don't think he's a very good fighter'
Allen Crowder talks about what he sees in Greg Hardy, saying that Hardy's inexperience will show in UFC Fight Night 143 when Crowder knocks him out.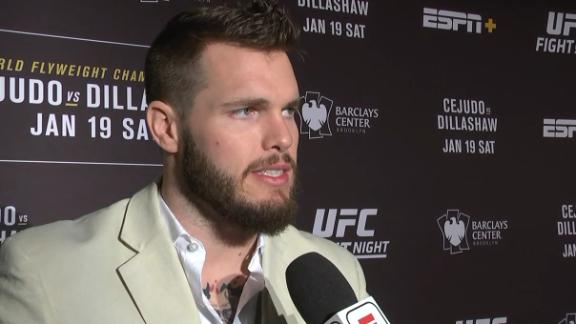 UFC
Hardy's troublesome past in the spotlight ahead of UFC debut
Jeremy Schaap chronicles Greg Hardy's troubles, which led him from being a feared All-Pro defensive end to a fighter in the UFC.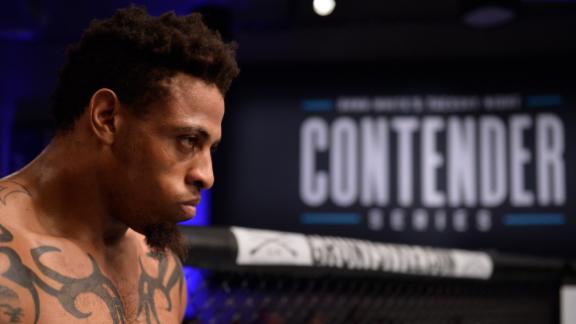 MMA
Benavidez: 'I'm ready' if Dillashaw misses weight
Joseph Benavidez comments on the possibility of fighting in the main event of UFC Fight Night 143 if T.J. Dillashaw misses weight, saying that he's ready for that scenario.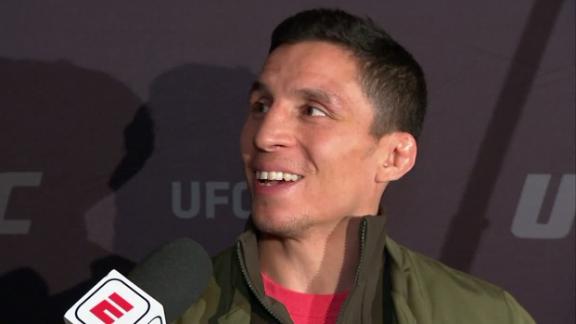 Cejudo brings out a snake to dramatic effect
Henry Cejudo whips a fake snake at the news conference for UFC Fight Night 143 in Brooklyn.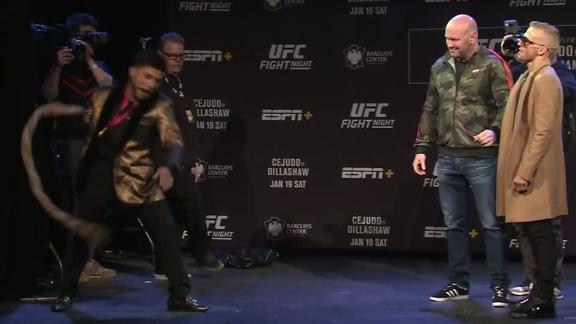 Hardy focused on positives during his UFC opportunity
Greg Hardy tells Ariel Helwani that he's not focusing on the negativity of his past and he's appreciative of his opportunity to fight in the UFC.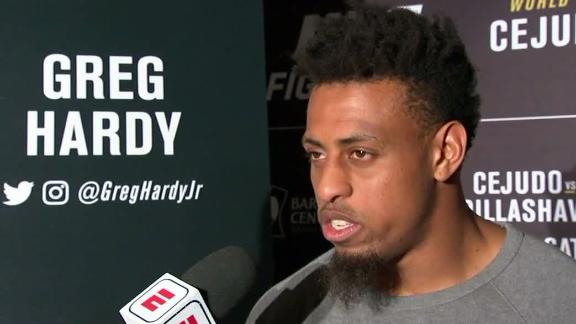 MMA
Hernandez and Cerrone trade insults
Alexander Hernandez and Donald Cerrone get heated ahead of their showdown at UFC Fight Night 143.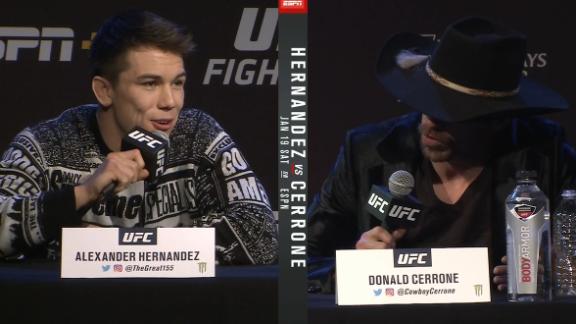 UFC
Ostovich: 'No negative feeling' towards Hardy
Rachael Ostovich details her conversation with Greg Hardy, saying that she felt strongly about reaching out and getting on the same page with him.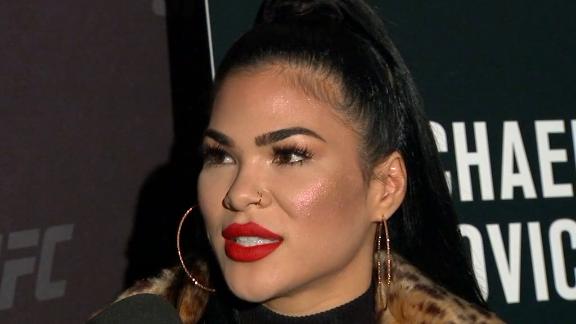 Will Dillashaw make weight, be effective?
Ariel Helwani discusses TJ Dillashaw dropping from 135 to 125 pounds in order to fight in Brooklyn and Alexander Hernandez fighting Donald Cerrone.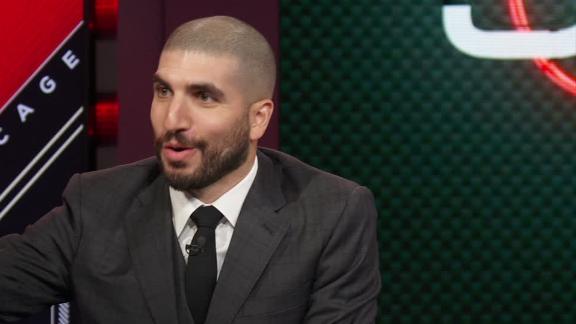 MMA
Cerrone details life on the ranch, trying to fight Khabib
Donald "Cowboy" Cerrone explains the interesting story behind the name BMF Ranch and how he wants his career to end.
Sonnen: VanZant vs. Ostovich is a must-see fight
Chael Sonnen and Areil Helwani break down why Paige VanZant vs. Rachael Ostovich is the most intriguing fight at UFC 143 that no one is talking about.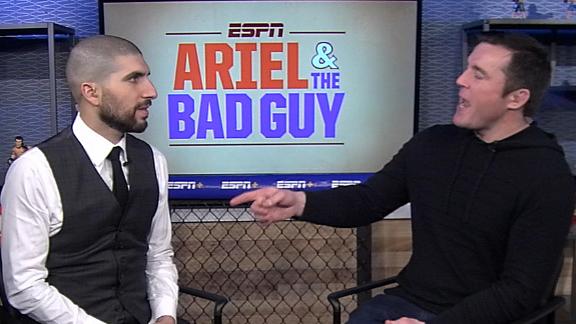 Dillashaw: Cejudo a 'stepping stone' to fight Holloway
TJ Dillashaw plans to beat Henry Cejudo at Cejudo's strength of wrestling and talks up a potential future fight against Max Holloway.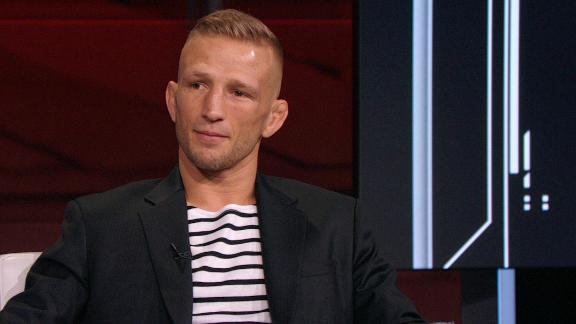 MMA
Cejudo: 'I've been competing my whole life'
Henry Cejudo explains how his previous losses have helped him for his upcoming fight against TJ Dillashaw at UFC Fight Night 143.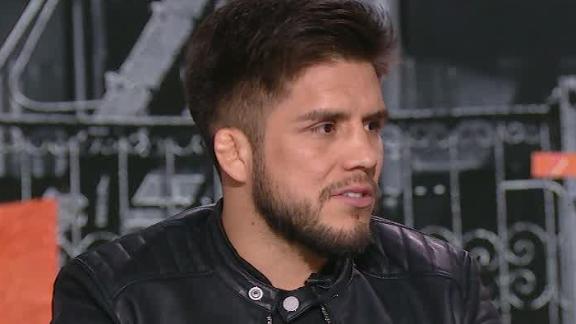 MMA
Helwani: Hardy 'hasn't earned the right' for main card fight
Ariel Helwani says Greg Hardy has fought "minor league" opponents and is shocked he's on the main card for UFC Fight Night 143.
Main events are nothing new to Smith in the UFC
Chael Sonnen breaks down why Anthony Smith is the fighter to watch in the UFC in 2019 as Smith prepares to take on Jon Jones at UFC 235.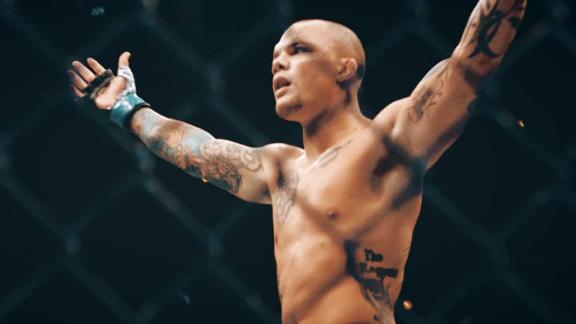 ESPN World Fame 100: Know your famous athletes
We asked fans from around the globe if they could identify athletes in the ESPN World Fame top 100.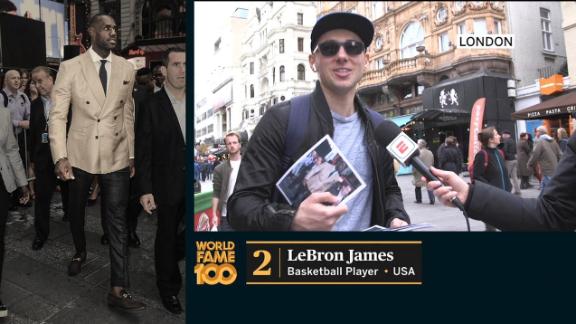 MMA
Dillashaw's best bouts
Check out the best of TJ Dillashaw's UFC career before his showdown vs. Henry Cejudo Saturday on ESPN+.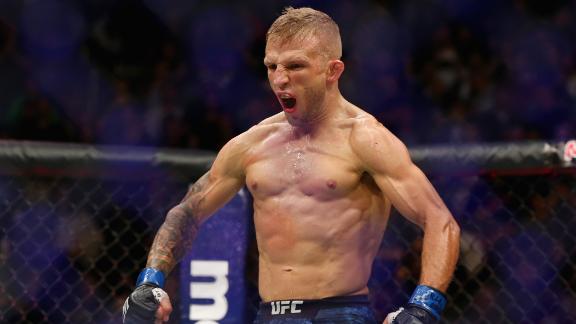 MMA
Nunes facing a big 2019
Chael Sonnen discusses what makes Amanda Nunes one of the best fighters in the UFC and has many options in front of her to make a big 2019.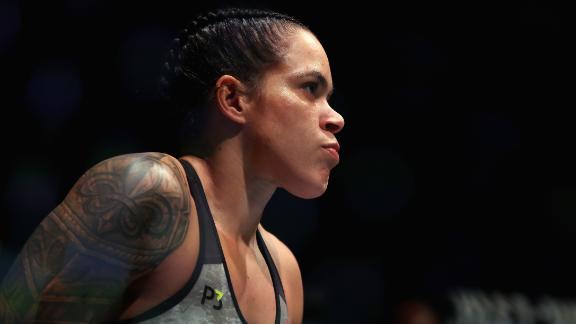 MMA
Dillashaw's pressure and wrestling make him a challenge
Chael Sonnen discusses what TJ DIllashaw does so effectively to become bantamweight champion, and now challenge Henry Cejudo.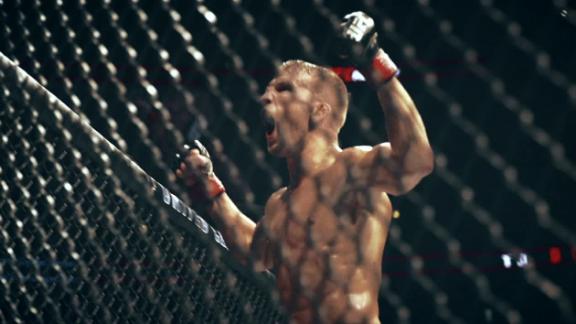 Customize ESPN
ESPN

Check out MMA writer Brett Okamoto's rankings within each division.
Josh Hedges/Zuffa LLC/Getty Images

All the UFC champions in each weight division, male and female.