"

We're the champs ... It's not anything new.

"

--Kobe on beating the Suns in triple overtime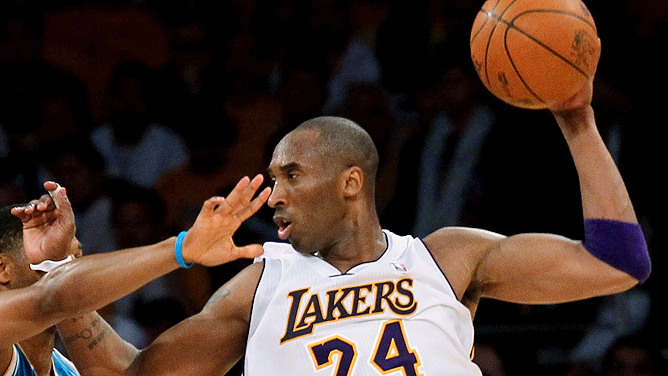 Stephen Dunn/Getty Images Kobe Bryant had a good game personally Sunday, but the Lakers lost Game 1 to the Hornets.
Our regular run-down of Kobe sightings in the digital sphere:

• The Associated Press' Jim Litke opines that Kobe didn't get his money's worth for the $100,000 fine he received from the NBA for his remarks in a game last week, arguing that the Lakers would have been better served -- or equally served, at least -- by Bryant being suspended for Sunday's Hornets-Lakers series opener. The fine may end up being halved after Bryant's appeal, but, regardless, L.A. lost Game 1 and now sits in a bad position heading into Wednesday's second game:
"Wherever the figure ends up, though, may be less important than whether it eased the frustration with some teammates that likely set off Bryant's tirade in the first place," Litke writes. "Judged on the admittedly slim evidence of the Lakers' lackluster performance Sunday at home against the Hornets, the answer is probably not."

• The Los Angeles Times' Mark Medina attempts to solve the mystery of Kobe's fall in the second quarter of Sunday's Lakers-Hornets game, calling on video replay to deduce what exactly happened when Bryant made the fallaway 16-footer with about 10 seconds to go in the first half. It at first looked as if Bryant fell into the knee of AEG president Tim Leiweke, but, per the video evidence, it's not entirely clear whether it was Leiweke's knee or a chair that Bryant hit. It's an interesting analysis.

• With the NBA playoffs in full swing, Paul Doyle of the Hartford Courant -- among other sportswriters around the country -- tackles the question of which player he'd take to shoot the last shot of a game, going against what he thinks is the popular belief that Kobe's the best choice. In fact, Doyle writes, Bryant's nowhere close to the best choice and certainly not his player of choice:
"No wonder Bryant is commonly called the league's best closer. If people (fans, media, players) say it enough, it becomes reality. Statistics, though, say otherwise. Whether it's game-winning shots or crunch-time shooting percentage, Kobe is not the NBA's best."

• On the topic of Kobe's Sunday fall, Bryant told Jill Painter of the Los Angeles Daily News that it was indeed a metal object -- the empty chair, presumably -- that he ran into on his way down, not Leiweke's knee. At halftime, Leiweke was also quoted as saying that Bryant told him he didn't think he would be OK immediately after the injury.
-- Pedro Moura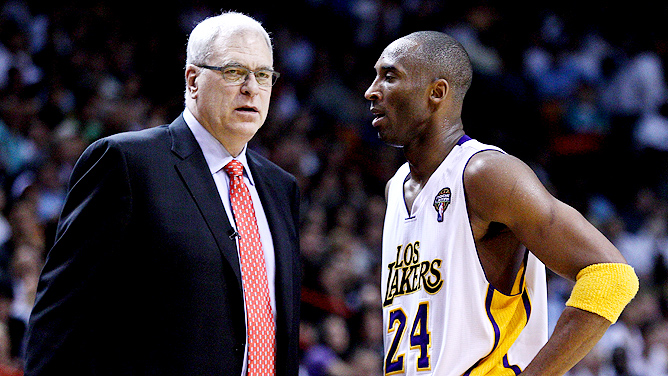 Derick E. Hingle/US Presswire Kobe Bryant has won only one MVP and Phil Jackson has won only one coach of the year award.
Our regular run-down of Kobe sightings in the digital sphere:

• ESPN.com's LZ Granderson opines that we will later regret it -- deeply regret it -- if Kobe Bryant finishes his career with only one MVP award, as he has now. Both Bryant and Lakers coach Phil Jackson possess only one of their respective best-of-the-year awards, and Granderson thinks that's ludicrous especially in Bryant's case:
"I get it, dude rubs people the wrong way," Granderson writes. "He used to take ill-advised shots. He's been accused of tanking games to make a point. He's had legal trouble. He ratted out Shaq. He tried to be a studio gangsta. Trust me, I get it all. But he's not being considered for Miss Congeniality."

• The Los Angeles Times' All the Rage blog passes along a recent photo of Bryant in a Giorgio Armani suit from an ad and talks to the designer of the clothing, who provides some interesting insight on dressing a man like Kobe Bryant.

• Tommy Beer of HoopsWorld.com goes over the MVP candidates at this point in the season and believes he can't get too far down his rankings before including Bryant. His placement on the list? Fourth place, although Beer seems to think only Chicago's Derrick Rose or Orlando's Dwight Howard have good shots at winning it:
"Not surprisingly, Kobe has been the driving force behind the Lakers surge of late," Beer writes. "Over his last four games, Bryant is averaging 34.3 ppg, 6 boards, and 6 dimes. It appears the demise of the Lakers and Mr. Bryant may have been greatly exaggerated."

• CBSSports.com's Ben Golliver takes recent comments from Bryant on ESPN's Pardon the Interruption on the unlikely return of Jackson next season and puts them into a little bit of context, going off of what we know about Kobe.
-- Pedro Moura