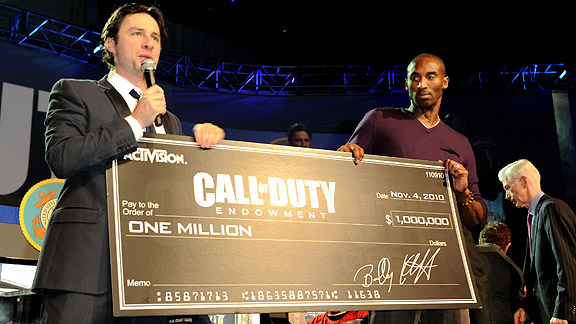 Jason Merritt/Getty Images/Activision Kobe and actor Zach Braff were at a benefit for the Call of Duty Endowment Thursday night in Santa Monica.
So now I guess we know why Kobe Bryant pulled up to the Lakers' season opener last month in a "Call of Duty: Black Ops" Edition Jeep Wrangler.
Bryant was featured in a commercial for the popular video game, which hits stores Nov. 9.
The 60-second ad, which debuts this week, is titled "There Is a Soldier in All of Us." It features every day folks such as a hotel concierge, nurse, businessman, as well as an NBA player (Bryant) and a late night talk show host (Jimmy Kimmel) shooting at each other as if they were playing the game in real life to the Rolling Stones' "Gimme Shelter." (Check the spot below)
"It was fun," Bryant said Friday. "It's like playing the video game. You're illustrating what it's like to actually play it."
Bryant was also at the "Call of Duty: Black Ops" premiere party, held inside a hangar at the Santa Monica airport Thursday night, where he helped present a $1 million check to the Call of Duty Endowment, a nonprofit organization which helps soldiers transition to civilian careers after their military service has ended.
"When I got the call to do it, it was always something I thought was paying tribute to those who protect us," Bryant said. "It was fun for me to do and it was kind of tipping my hat to everything they do for us. I had a great time."
The ad was filmed in a California desert this summer and Bryant was shown the proper way to fire his gun, which had "Mamba" written on it, by actual military personnel.
"It was very different," Bryant said. "It was like a movie set. I was out of my element quite a bit ... It was fun getting dusty and running around and getting trained by some of our country's finest."