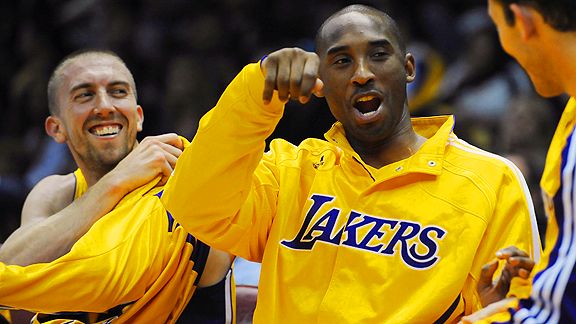 Christopher Hanewinckel/US Presswire Blake may be a Killer B, but Kobe ... he's his own club.
One of the biggest reasons Kobe Bryant is averaging just 31.8 minutes per game this season has been the stellar play of bench players Steve Blake, Matt Barnes and Shannon Brown, who have been nicknamed "The Killer B's."
Bryant wasn't familiar with the nickname when he was asked about the trio Tuesday.
"The Killer B's? Barnes, Blake and Brown?" Bryant said. "Sounds like a law firm."
Barnes and Brown are each averaging 9 points off the bench for the Lakers while Brown and Blake are both hitting 50% of their three-point shots. Blake and Barnes, who are each averaging 2.4 assists per game, have adapted to the Triangle offense quickly in their first season with the Lakers.
"They're playing really, really well," Bryant said. "Our bench is solid with the three B's. The Killer B's implies they're small in stature and I don't think any of them would be OK with that. Especially Shannon, he's got a small man complex."
If Phil Jackson decides to bring Andrew Bynum along slowly off the bench when he returns to the team next month, the Killer B's may have a new B on the team, but for now there are three coming off the bench and one in the starting lineup.
"Don't go grouping me in with them," Bryant said. "My B stands for 'Black Mamba.' No 'Killer B' over here."