Kobe Tracker, 11.11.10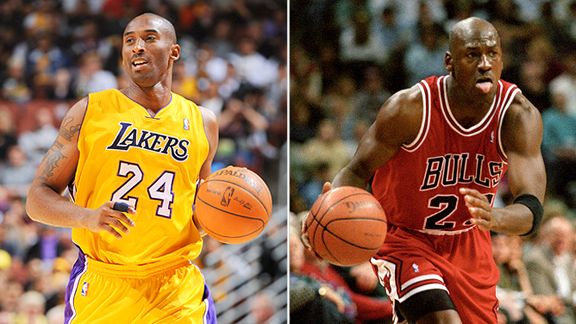 US Presswire, Getty Images MJ might not see them as peers, but George Karl does.
Our regular run-down of Kobe sightings in the digital sphere:

George Karl says Kobe is "the Michael Jordan of this era" (from the Denver Post):
His excellence and championship mentality is pretty obvious almost every night he plays. * Kurt Helin of ProBasketballTalk points to an NBA-produced video from a recent Lakers-Grizzlies game that shows Kobe's best plays in slow-motion:
But watching him in slow motion -- and the reactions of Mayo trying to stay with him -- gives you a real sense of just how difficult he is to defend.

* Timberwolves beat writer Jerry Zgoda details an interesting interaction between Bryant and Wolves forward Michael Beasley Tuesday; a sequence that was memorable to one of the two, at least:
What did Michael Beasley do to earn a slap on the rump from Kobe Bryant Tuesday?
"I was talking trash," Beasley said. "He hit a couple shots straight and I told him, 'You're not scoring no more.' Then he made the three and he just smacked me on the butt. That's Kobe, man. He's an amazing player."

* Nuggets beat writer Benjamin Hochman previews Thursday night's matchup against the Lakers with an eye towards the Arron Afflalo-Bryant matchup
Jackson complimented the L.A. native, saying that Afflalo makes it difficult for Bryant to get into a flow because Afflalo is quick to get his hand in passing lanes and in the shooter's face.

* AOL Fanhouse releases the first edition of its MVP Power Rankings, and Kobe comes in surprisingly low on the list:
Kobe is this low only because of the superlative performance ahead of him. If the season ended today, I have no doubt Bryant would win the MVP -- he's been good enough for me, a devout Kings fan, to say that without throwing up in my mouth or rolling my eyes in sarcasm. Kobe's been fantastic. It's worth noting that Bryant never deferred to Shaquille O'Neal the way he has deferred to Pau Gasol early on. Kobe and Pau are clearly on the same page (finally!), and the Lakers may have never been better.