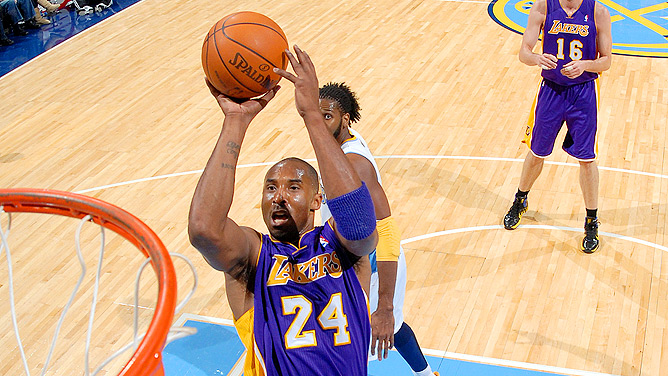 Garrett W. Ellwood/NBAE/Getty Image
Outside of three forgettable seasons from 2004 to 2007, Kobe Bryant has spent his entire career with Derek Fisher. They were both taken in the 1996 NBA draft and have shared the same backcourt on five NBA championship teams. Appropriately enough when Bryant became the youngest player in NBA history to score 26,000 career points in Denver on Thursday it was Fisher who fed him the ball.
Bryant had an inauspicious start to the game, missing his first six shots and hitting only four of 15 from the field in the first half, but he made his first two attempts of the second half, with his second bucket giving him 26,000 career points.
The record breaking basket came on a play you wouldn't have seen Bryant involved in early in his career. It was a play he worked on last offseason with Hakeem Olajuawon in Houston. He went down on the right block, backed down Arron Afflalo like a power forward and called for the ball from Fisher. After a couple of dribbles he shook Afflalo and knocked down a jump shot.
The end of the first half, however, provided two perfect bookend examples to the Bryant we remembered at the start of his career as a 17-year-old prodigy and the 31-year-old veteran we see today
With less than a minute left in the first half, Ron Artest swung a pass to Kobe Bryant who immediately called for a screen on Affalo from Fisher. As soon as Fisher set the screen, Bryant dribbled past Chauncey Billups, down the baseline and dunked over Al Harrington with two hands. He hung on the rim for an extra second longer and let go with both hands raised in the air. It was a play we had seen countless times from Bryant when he wore No. 8, let his hair grow and played nice with Shaquille O'Neal.
It's play we haven't seen much of in recent years and was Bryant's first power dunk of the season. That's for good reason considering Bryant quickly grabbed his injured right index finger after the play and grimaced as he ran back on defense.
A few seconds later we got to see the Bryant we've become more accustomed to over the past three seasons. After Bryant and Fisher forced Billups into a bad shot on defense, Bryant asked Fisher for the ball and dribbled the ball up the court with 29 seconds left in the half. Everyone figured Bryant would simply run down the clock before taking a long range shot.
Although Bryant milked the clock down some, he quickly flicked a pass to Fisher with six second left on the clock and Fisher nailed a deep three-pointer to give the Lakers a 64-57 lead. It was the kind of play and the kind of pass Bryant wouldn't have made earlier in his career but it was the kind of moment that has made the tandem five-time champions and continues to allow Bryant to re-write the record books.