Kobe Numerology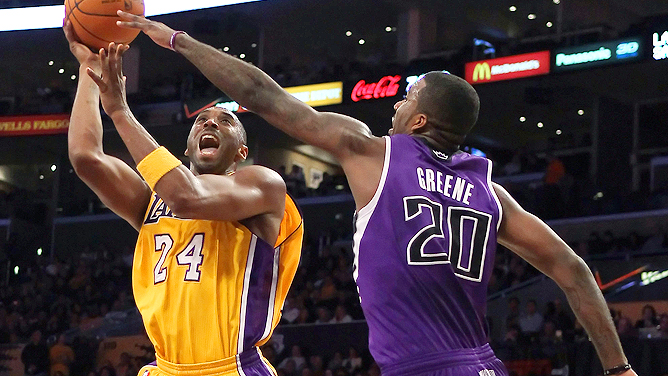 Jeff Gross/Getty Images
Each week we'll ask the Brothers Kamenetzky to do a quick read on the state of Mr. Bryant's game.
Kobe Bryant's legacy is full of numbers -- points scored, minutes played, games played, assist, blocks, MVPs, and of course titles. This week we take a look at the most important numbers in Kobe's life this year:
Without question, "33," the number of minutes Kobe is averaging this season. The number isn't merely a shade below seven minutes fewer than the 2010 campaign (although significant in and of itself). It's the lowest tally since the 1998 season, when Kobe didn't even start. The value of this reduced run can't be overstated. Kobe's now in his 15th season, only one of which didn't include a postseason. He's played in three consecutive NBA Finals, the first of which was topped off by a Team USA stint. He's also coming off knee surgery and a season where nearly everything head to toe got dinged. Kobe's conditioning and will can be stacked up against any athlete in history, but despite a reputation to the contrary, he's in fact a man and not a machine.
These cited factors have taken a toll (albeit one well-negotiated), and Kobe's clearly not the same player he once was. That doesn't mean he's necessarily worse, but he's a different athlete, one who'll continually need to make adjustments as the wear and tear builds. Sharply decreased minutes, however, are a fantastic weapon in Bryant's battle against the inevitable future. They've also come in handy during the present as a nightly 40+ minute load has worn Pau Gasol to a frazzle. Imagine how much the Lakers would be hurting if both All-Stars were logging such extreme minutes.
--Andy Kamenetzky
---
A
ndy hit on the most important number- nothing is more important at this point of the season than Kobe's workload, and to this point he's neither piling up minutes, nor games in which he's asked to throw the rest of the roster on his back and carry them to victory.
Both are extremely encouraging developments.
He's posted other numbers that matter-- on the season, his 44.2 percent shooting mark would be Kobe's lowest since the '03-'04 campaign. The figure, though, is on the rise thanks to a 45-for-88 run over his last five games. Eventually, he'll probably end up around 45 or 46 percent, as he tends to do every year. That he's averaging almost exactly the same number of rebounds and assists this year despite averaging almost six fewer minutes a night shows the floor game remains complete. But the number I like best is the 8.4 free throws he's averaging (or was, entering Wednesday's game), which if it held for the whole of the year would be the highest figure on a per-36 minute basis of his career, and a marked improvement over the last two seasons.
The free throws are encouraging first because they show he's finding ways to generate points despite making fewer charges to the basket from the perimeter, as he did in the days of yore. Now, he's able to create contact out of the post (a place that for him causes less strain) and put opponents in uncomfortable positions from a place of advantage. Second, even a modest improvement in Kobe's overall shooting percentages, when combined with the strong free throw numbers, will positively impact his productivity. They'll make him more efficient, and less dependent on tough jumpers to score.
--Brian Kamenetzky