Kobe Tracker, 03.01.11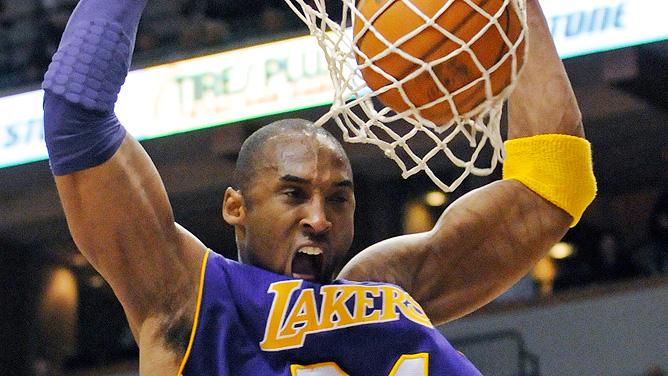 AP Photo/Jim Mone
Our regular run-down of Kobe sightings in the digital sphere:

• The Los Angeles Times' Mark Medina polls fans on the topic of the Sacramento Kings' possible move south to Anaheim and whether it could possibly affect their Lakers' allegiance. But first, he starts with an anecdote from Kobe on the topic:
"Kobe Bryant is not one to wax sentimental over his storied 15-year career, including his five NBA titles, four All-Star MVPs, two NBA Finals MVPs, one regular-season MVP and a current seventh-place standing on the league's all-time scoring list," Medina writes. "So he certainly wasn't going to be giddy for a preseason game last year against the Utah Jazz at the Honda Center in Anaheim, a homecoming of sorts for the Newport Beach resident."

• ESPNLA.com's Kamenetzky Brothers pass along a transcript of their interview with local soccer star Landon Donovan, including an exchange about Kobe and whether Donovan can see shades of soccer in Bryant's basketball game.

• The St. Paul Pioneer-Press' Ray Richardson talks to Minnesota's Wesley Johnson about his Bryant connection, and the former Syracuse star was ultra-complementary of his mentor of sorts. Johnson has been asked about Bryant a number of times now, but he always seems to throw out some new insight about their relationship:
"I can't put into words how much I appreciate the way he's looked out for me and shared things with me, but on the court, he still has that killer instinct," Johnson told Richardson. "That part of his game hasn't changed."
-- Pedro Moura