Kobe Tracker, 03.23.11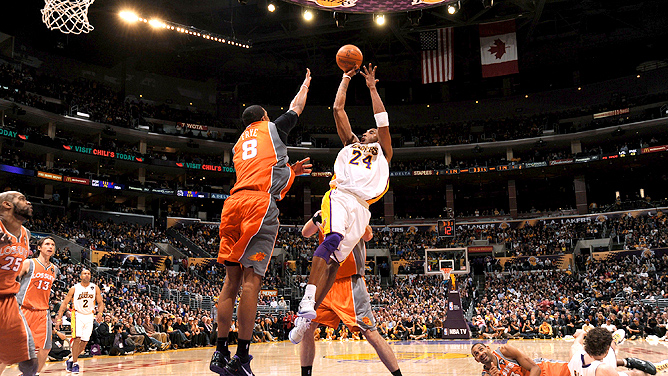 Noah Graham/NBAE/Getty Images
Our regular run-down of Kobe sightings in the digital sphere:

• Don't miss this piece from ESPN.com's Henry Abbott: In this piece for the TrueHoop blog, Abbott argues that, while Kobe was indeed successful in clutch situations of Tuesday's win over the Phoenix Suns, there were a lot of not-so-great things he did that have been largely glossed over because of what he did in the third overtime. To prove his argument, Abbott goes over each one of Kobe's late-game touches, before finally reaching the conclusion that you simply can't assume anything anymore:
"A great player, on a great team, who won yet another game with a big bucket. But also a player who was lucky enough to be able to fire away near the end of regulation and the first two overtimes and miss them all," Abbott writes. "A player who went about eight minutes, encapsulating the first overtime, without hitting a field goal. A player who had the ball in his hands most of the time as his heavily favored home team turned a seven-point lead into a cliffhanger."

• Janis Carr of the Orange County Register presents a slideshow of 15 potential candidates to fulfill the role as the next Kobe Bryant after considering Bryant's recent comments about having already had his time. Among Carr's choices: North Carolina freshman forward Harrison Barnes, BYU senior guard Jimmer Fredette, Oklahoma City's Kevin Durant and New York's Carmelo Anthony.

• The Los Angeles Times' Mark Medina recounts Bryant's postgame meeting with the media following Tuesday's game. It appears Kobe wasn't nearly as enthused to talk after the game as he was to play it, in typical Bryant fashion. He left unanswered questions about his sore ankle and a potential lack of communication between he and Phil Jackson.
"We're not having three overtimes with these damn questions," Bryant told the media. "Last one."

• NBA.com's Steve Aschburner uses Grant Hill's defensive performance against Bryant in Tuesday's thriller as the lead-in to his story on Hill's newfound prowess on defense, noting that only when Hill fouled out of the game in the third overtime did Bryant really begin to take over the game. It's an interesting observation.
-- Pedro Moura