Jon Weisman of ESPNLosAngeles.com's Dodger Thoughts blog
offers a player-by-player look at some of the key members,
best stories and biggest disappointments of the Dodgers' season.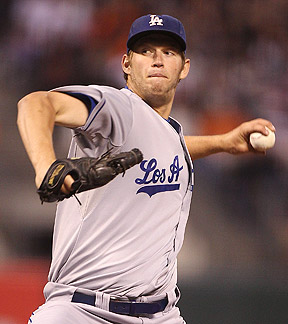 Getty Images
22
PITCHER
WT: 225 lbs. HT: 6-3
BATS: Left THROWS: Left
BORN: March 19, 1988
BIRTHPLACE: Dallas


Kershaw, 22, removed all doubt about his stature as one of the game's top pitchers. He improved his control, increased his durability and delivered 23 quality starts. ... Highlight: He outdueled Colorado's red-hot Ubaldo Jimenez over eight innings May 9, allowing two hits and striking out nine in a 2-0 victory. ... Lowlight: A seven-run second inning against Milwaukee at Dodger Stadium, five days earlier. ... Sidelight: Allowed more than three earned runs in a start only four times.
001
| SPLITS | G | IP | BB | SO | W | L | WHIP | ERA |
| --- | --- | --- | --- | --- | --- | --- | --- | --- |
| Career | 399 | 2570.0 | 626 | 2794 | 195 | 87 | 1.00 | 2.49 |