Thanksgiving and Black Friday are upon us, which means it's time for the postal service to deliver a very thick piece of mail filled with page upon page of glowing descriptions. No, I'm not talking about the Lands' End Christmas catalogue. I'm referring to the Hall of Fame ballot, which was mailed this week to voting members of the Baseball Writers Association of America.
There are 37 candidates on this year's ballot, including 19 first-timers. With the corresponding player bios, career highlights and lifetime stats included with the ballot, the envelope will be the thickest item in my mailbox until the credit card bill arrives in January.
At least six serious newcomers are joining an already significant backlog of candidates. Combine that with a 10-player voting maximum, and this year's ballot will be tougher than ever. Do I vote for Jeff Kent and Mike Mussina? Is there still room to vote for Jack Morris and Edgar Martinez? Will I be able to make up my mind before the Dec. 31 deadline? And if I'm still struggling then, will three or four glasses of New Year's Eve champagne help with my vote?
I'll write about my actual vote when I finally figure it out. (Perhaps after the second bottle on New Year's.) But for now, here is my annual look (check out last year's column here) at the new players on the ballot, in alphabetical order.
Moises Alou: The Hall of Fame vote is a nice reminder of how just good some players were. For instance, Alou had a career batting average of .303, hit 332 home runs, drove in 1,287 runs, made seven All-Star teams and had an .885 OPS. Unfortunately, some might remember him most for not being able to catch the Bartman ball. Well, that and urinating on his hands to toughen them up. (Cooperstown curators should definitely wear those white gloves when handling his bats.)
With so many other deserving candidates on the ballot, Moises has little chance of being elected this year. Which is kind of a shame. When you think about his career, along with those of his father Felipe and his uncles Matty and Jesus, Cooperstown could probably devote an entire wing to the Alou family.
Armando Benitez: And then there are the possible candidates who do not remind you of how good their careers were.
Sean Casey: Casey was nicknamed "The Mayor" -- not because of any resemblance whatsoever to Toronto mayor Rob Ford, but instead because of his extraordinarily friendly, outgoing personality. Casey didn't have a lot of power for a first baseman (130 home runs and 735 RBIs), but he did finish with a .302 career batting average. And he was so popular that if the Hall of Fame vote was purely up to former teammates, "The Mayor" probably would be the first unanimous inductee in Cooperstown history.
Ray Durham: He had a pretty good career for a second baseman who made only two All-Star teams, finishing with a .277 average, 1,249 runs, 192 home runs and 273 stolen bases. But he will only get into Cooperstown if he buys a ticket like everyone else.
Eric Gagne: He famously converted 84 consecutive save opportunities between 2002 and 2004, saving 157 games those three years and winning the 2003 Cy Young award. Then his career went so far south it was only witnessed by penguins. He saved just 35 more games over the rest of his time in the majors and was named in the Mitchell report for the use of HGH. Too bad. Those goggles of his would have looked awesome on a Hall of Fame plaque.
Tom Glavine I'm stunned to see some speculation that Glavine will not be elected this year. Glavine is a 300-game winner, a two-time Cy Young winner, a five-time 20-game winner, a 10-time All-Star and he allowed one hit to win the final game of the 1995 World Series. What more could anyone demand for election? That he mold his own bronze plaque?
Luis Gonzalez: Gonzo hit .325 with 57 home runs and 142 RBIs in 2001, but I'm tempted to vote for him just for that one bloop single in Game 7 that beat the Yankees in that year's World Series.
Jacque Jones: I first covered Jones when he was on the 1996 Olympic team. Then when he was a rookie with the Twins. And now he's on the Hall of Fame ballot. I feel old.
Todd Jones: Jones saved 319 games in his 16-year career, used the Christian rock song, "Last Man Standing," as his closer music and threw the last pitch at Tiger Stadium. But he probably won't get a vote unless he wrote enough columns for The Sporting News to qualify for the BBWAA and casts a ballot for himself. Or maybe he could short-cut the process and just buy a vote.
Jeff Kent: Forget his .290 career batting average, 377 home runs (most ever by a second baseman), 1,320 runs, 1,518 RBIs and his MVP award in 2000 (when he hit .334 with 33 home runs, 125 RBIs and 114 runs). The most amazing thing this notoriously bad-tempered player did was somehow NOT get voted off "Survivor: Philippines" last year until the ninth week. Obviously, Barry Bonds was not on the show.
Paul Lo Duca: He was a four-time All-Star, but that probably wouldn't have been sufficient to get him elected to the Hall of Fame. And admitting to PED use last winter probably didn't help his case, either.
Greg Maddux: With 355 wins, four Cy Young awards, nine top-five Cy Young finishes, a 3.16 ERA and more than 3,300 strikeouts, there is a case to be made that Maddux could be the first player unanimously elected to the Hall of Fame. But he won't be. Remember, we're talking about the votes of baseball writers. And if some baseball writers didn't vote for Willie Mays, Hank Aaron, Joe DiMaggio and Mickey Mantle, you can be certain there will at least one who won't vote for Maddux. And whoever that moron is should lose the right to vote forever. And that includes voting in local and presidential elections.
Mike Mussina: Mussina won 270 games, finished in the top five of the Cy Young vote six times (and also finished sixth twice) and regularly threw 200-plus innings. But he never won a major league World Series, despite pitching eight seasons for the Yankees. He signed with them after they won the 2000 World Series and retired the winter before they won the 2009 World Series. That might be the worst case of baseball timing apart from appearing on the Hall of Fame ballot the same year as Maddux and Glavine.
Hideo Nomo: What an amazing career. He had 78 wins and 1,204 strikeouts in Japan by age 25, plus an Olympic silver medal. Then he "retired" from the Japanese league, providing him a loophole to sign with the Dodgers before the 1995 season. Despite starting that year in the minors, he led the National League in strikeouts, started the All-Star Game and won the rookie of the year award. His success created Nomo-mania and sparked the signing of many more Japanese stars.
Nomo struggled after the 1997 season, changing teams seven times just between 1998-2001 and 11 times before he finally retired. He threw a no-hitter in each league and also hit Ichiro with a pitch.
He wasn't the first Japanese player in the majors (Masanori Murakami played for San Francisco in 1965); and with his so-so overall record (123-109 over 12 MLB seasons), he won't be the first Japanese player in the Hall of Fame, either -- that honor will go to Ichiro. But because of everything that resulted from his career, he is probably the most important.
Kenny Rogers: "The Gambler" pitched 20 seasons, won 219 games and five gold gloves, threw a perfect game, walked in the series-ending run in the 1999 NLCS, received a 20-game suspension for assaulting a cameraman and drew suspicions that he doctored the ball while throwing eight scoreless innings in the 2006 World Series. He also was the first player Billy Beane ever traded for as a general manager. All that makes him a strong candidate for a part in "Moneyball: The Prequel," but probably not for the Hall of Fame.
Richie Sexson: Sexson hit 309 home runs and struck out 1,312 times, including single-season totals of 178, 167 and 159. If he put up those number these days, he would be considered a contact hitter.
J.T. Snow: The son of former Los Angeles Ram receiver Jack Snow, J.T. played 16 seasons, won six gold gloves at first base and drove in nearly 900 runs. He is also the only position player to earn a save in the postseason, thanks to rescuing Dusty Baker's son, Darren, from getting run over at home plate in the 2002 World Series.
Frank Thomas: The most contentious part of the Hall vote debate nowadays involves PEDs. Thomas has loudly spoken out against steroid use, and I do not suspect him of taking anything against the rules. Yet, our PED suspicions are often based partly on body size and shape. So how is it that Thomas, one of the largest players of that era, has largely been given a pass?
I'll give you a couple reasons. One, we in the media can be frustratingly inconsistent. After all, we saw how incredibly huge Mark McGwire and Sammy Sosa were in 1998 and knew that McGwire took andro, yet we praised both of them as heroes anyway. Then we changed direction and slammed them as evil villains on par with Lex Luthor and telemarketers when our attitudes toward steroid use dramatically changed around 2003.
Another reason? Basing PED suspicion on body shape or size is foolish. Just because you're big like Thomas does not mean you're on the juice. And just because you're not built like a tight end doesn't mean you aren't taking something. (A reliable person told me about an ex-player who was on the juice despite looking rather flabby.)
That's why we should not rely on the eye test. It is unreliable and unfair. There has to be more evidence than physical appearance. Which is why I don't suspect Thomas of breaking the rules and will happily vote for "The Big Hurt."
Mike Timlin: He played 18 seasons and never made an All-Star team. Congratulations, Mike. You're this year's winner of the "What The @#% Is He Doing On the Ballot?" Award.
And that is the list of new players on the ballot. How many will get elected? How many will get the requisite 5 percent vote total to remain on the ballot next year? How bad will we BBWAA voters look? We'll have to wait until January. In the meantime, I need to start studying the Lands' End catalogue.
CSI: Box Score
Each week, I provide a fragment from an old box score and challenge you to determine what game it is from and why it's significant. I give this one a difficulty rating of 8. Answer below:
Baseball Card of the Week
This card (1956 Topps, No. 84) is of a player you've likely never heard of, but who had a remarkable life.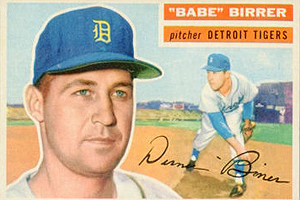 Born on the Fourth of July, 1928, Babe Birrer played 20 seasons of pro ball, 18 of those in the minors, including 10 in his native Buffalo. He played in parts of three seasons in the majors, pitching a total of 119 2/3 innings. His greatest game was July 19, 1955, when he pitched four scoreless innings of relief (he was later awarded a save) and hit two home runs. Yes, two homers! He is believed to be the only player who played in more than one season and had his entire career home run and RBI total come from one game.
Birrer also served in Korea and taught school for two decades.
So why do I bring this up? Sadly, Birrer died last week at the age of 85. Rest in peace, Babe.
Yeah, Well, That's Like, Just Your Opinion, Man
Change Is Needed, But Maybe We Should Stop Short Of Allowing Negative Campaign Ads. As mentioned in the Todd Jones item above, Deadspin is hoping to make a mockery of the Hall of Fame voting process by buying and selling a writer's vote. I'm not offended because the vote is already a mockery. The Hall vote desperately needs change -- have I ever mentioned that the 10-player maximum needs to be eliminated? -- including making sure that the core of voters actually are all baseball writers and not just general columnists/writers who rarely go to games or pay much attention to the sport. I also favor opening the vote to non-writers, such as broadcasters, respected stat guys, historians and some bloggers.
Can't Wait For Her Edgar Martinez-inspired Song, "Mariners." It's wild enough that New Zealand singer Lorde has such an amazing voice at age 17 -- or, to be more accurate, age 16, since that is how old she was when she recorded her current chart-topper "Royals." But it's even more amazing that the partial inspiration for that song was none other than … George Brett, the Kansas City Hall of Famer who retired three years before she was even born. Lorde told VH-1 that she "had this image from the National Geographic of this dude just signing baseballs. He was a baseball player and his shirt said, 'Royals.' It was just that word. It's really cool."
Then Again, TSA Agents Could Boost Attendance In Tampa Bay (As Long As You Count Them As Attendees). The strong indication last week that all major league teams will require fans to pass through security detectors to enter a ballpark next season is not promising. Yes, we all have security concerns, and such detectors make sense in certain places -- airports among them. But fans and their bags already are subject to search. Imagine the large disruption and annoyance that this additional security search will cause. And to the best of my knowledge, there isn't a history of threatening incidents at major league games, which have drawn more than one billion fans over the past 20 years. Should we have these security detectors everywhere there are large crowds and possible threats of violence? Must you pass through them to enter a movie theater? A shopping mall? A subway? A park? A church? When will there be an end to fear overwhelming everything we do? Rather than treat every fan as a potential terrorist, it is time we heed the words of a certain president who said, "The only thing we have to fear is fear itself."
A Better Way To Honor This Most American Of Holidays Is Getting Drunk And Arguing Over Who Belongs In The Hall Of Fame. Many Americans are rightfully disgusted by Black Friday encroaching ever further into Thanksgiving, with Macy's and Sears among the stores opening at 8 p.m. Thursday. But while it is appalling that we are repeatedly told to celebrate Thanksgiving and the start of Christmas by flocking to shopping malls to spend more money, is it that much worse than telling us we should watch a football or basketball game when the family is gathered together? Or go watch a movie? And perhaps that's part of the appeal of Black Friday becoming Black Thursday. It provides an excuse to get out of the house after what can often be a very long day.
CSI: Box Score Answer
The biggest clue here was the name Maddux followed by "pr-p." Yes, that was Greg Maddux. And this box score is from his major league debut on Sept. 2, 1986, when he entered the game for the Cubs as a pinch-runner for Jody Davis in the bottom of the 17th inning against Houston. Maddux then went to the mound in the top of the 18th and gave up a run to take the loss. Few could have guessed he would add 355 wins to that 0-1 record before his career ended 22 years later.
This would have been one heckuva game to attend. Not only would you get to see Maddux make his debut, you'd also get to see starts by Nolan Ryan and Jamie Moyer (no velocity difference there!) and a game that wound up going so many innings that not only was Maddux used as a pinch-runner, Rick Sutcliffe was used as a pinch-hitter. (And yes, that was Terry Francona who pinch-hit for Moyer.)
Oh, and not that many people can honestly say they saw Maddux make his debut. The announced attendance was 10,501. A great many of those fans undoubtedly left Wrigley Field before Maddux entered the game nearly five hours after Moyer threw the first pitch.