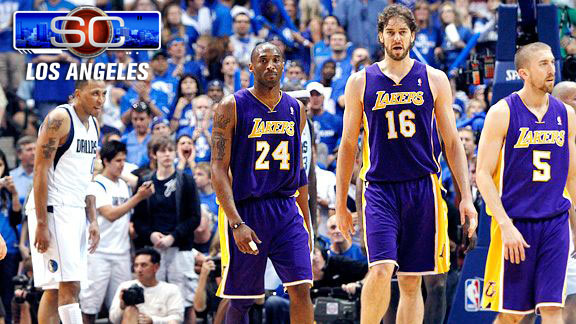 No Answers
A stunning, thorough defeat makes us question everything about these Lakers. Dave McMenamin »
Inexcusable exit »Season in a nutshell »Dallas 122, L.A. 86

Bynum, Odom ejected

AP Photo/Tony Gutierrez
COACH MILLER: WHY THEY LOST
Bryant

Did not run a consistent offense. No rhythm because they had no idea where shots were coming from.
Poor free throw shooting.
No one could stay between J.J. Barrea and the basket and no one could stop Dirk.
Defense. Defense. Defense. As Kobe said afterward: it was "atrocious" on the pick and roll.

--Coach Dave Miller, 710 ESPN basketball analyst
ANALYSIS
BRIAN KAMENETZKY'S GAME 4 REPORT CARD
OFFENSE

As it was throughout the series, when the Lakers needed to score, they couldn't. Kobe kept them afloat with 13 points in the first, but only 16 second-quarter points meant the Lakers couldn't withstand the Dallas assault. Shooting 38 percent for the game, and only 5 for 24 from downtown. Sixteen turnovers killed any comeback hopes.
DEFENSE

Credit Dallas for its hot shooting, but too many of their 20 3-pointers were born from shoddy defense. The Lakers were completely confused all afternoon, as Dallas spread them thin and forced rotations they couldn't make. The Mavs shot 60 percent for the game. It was total destruction.
STARTERS

Once Bryant cooled off following the opening quarter, nobody was there to pick up the slack. Derek Fisher was 1 for 8, Bynum 2 for 7 before his early exit for a shameful cheap shot on J.J. Barea, and Pau Gasol was, as he has been all series, a non-factor, shooting 4 for 10. Ten turnovers as a group.
BENCH

Odom made 4 of 5 shots, but came unglued in the fourth quarter and was ejected. The bench produced more points than previous games, but most came well into garbage time in the fourth. On a night when the Dallas bench produced 86 points, the inadequacy of L.A.'s reserves in the game and the series was made stark.