Kobe Bryant gave his 2013-14 debut performance an "F." Now, our panel gives their take on the Mamba's first 28 minutes, and what it means for him and the Los Angeles Lakers moving forward.
1. Fact or Fiction: Kobe looked good in his first game.
J.A. Adande, ESPN.com: Fiction. The first assist, to Robert Sacre, was as good a pass as he's ever thrown. But as it became obvious that he was looking to pass first, as minute after minute went by without him driving past his man to score, it was evident that he wasn't his usual threat. He knew it and the Raptors' defense knew it.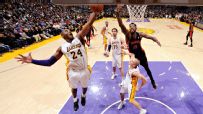 Larry Coon, ESPN Insider: Fact AND fiction -- as with many things in life, context is key. Was it the Kobe we were accustomed to preinjury? Of course not. Did he live up to the hype? No way. An All-Star performance? Nope -- he graded himself an "F." But that may have been the best performance ever from someone who suffered such a devastating injury just eight months prior.
Israel Gutierrez, ESPN.com: Fiction. But that's not to say he looked worse than expected. I'll always hold Kobe up to the standards in his own head. Kobe thought he could at least come in and be a facilitator while sprinkling in some scoring. But he was so rusty that he committed eight turnovers and didn't score nearly enough to make up for it.
Ethan Sherwood Strauss, TrueHoop: Total fiction. He looked heavy, slow and balky. I don't think it's just "rust" when Kobe plays like a Frankenstein Andre Miller. Even more concerning: His right leg appears to be much larger than his left one. We can rationalize this all away as "It's one game, he hasn't played in a while," but it's concerning to see Kobe trudge around on wholly different-sized appendages.
Justin Verrier, ESPN.com: Fiction. The hype had gotten so out of hand that the performance was never going to live up to the pregame welcome-back productions. Recovering from an Achilles tear, in eight months, at 35, is pretty tough. Still, seeing him next to Nick Young -- always something of a Kobe Frankenstein -- made Bryant, moving at Mesozoic speeds, look pretty old.
---
2. Fact or Fiction: Kobe will be back to normal in about a month.
Adande: Fact. Even if that normal is the new normal. The Toronto game was the most emotional and least physically prepared that Kobe has ever been for a game. As he joked afterward, he hadn't gone eight months without playing full-speed basketball since he was in the womb. Give him four weeks to get what he calls his "sea legs" under him and regain his sense of timing and he should look more familiar.
Coon: Let's replace "normal" with "his new baseline," and I'll call it fact. What's normal in circumstances such as these? He may not ever be the player he once was -- and that's the cold, hard reality for someone suffering an Achilles tear. But through continued recovery, getting his conditioning and timing back, and reacclimating with his teammates, he'll be a lot better in a month. Last night was just another step in a long process.
Gutierrez: Fact. Possibly less. Kobe likely won't be looking to take over games in the meantime. He'll try to utilize whatever skills necessary to make that rather successful Lakers offense even better than it has been. In doing that, he'll find a rhythm and work his way back to basketball shape.
Strauss: Fiction. I don't want to overreact to one game, but Kobe looked like he didn't belong on an NBA court. Perhaps he'll get a lot better as the season progresses, but I doubt it. I haven't seen many (any?) players go from moving like that to playing at an All-Star level.
Verrier: Fiction. He admitted that he doesn't feel like himself yet, but unbeknownst to Kobe, he can't simply will his way past the effects of time. Normalcy is a moving target at this point. He'll never be what he was, but he can still find success as some facsimile of it. With the Lakers intent on playing through him still, realizing that could be a process.
---
3. Fact or Fiction: The game was telling in terms of L.A.'s playoff chase.
Adande: Fiction. Just as it was jarring for Kobe, it was an unusual set of circumstances for his teammates, many of whom hadn't played with him before, or played in a game surrounded by so much hoopla. But it did serve as a reminder that a group that had begun to find a working formula lately will need to make major adjustments going forward. Kobe isn't a ripple guy; he makes big splashes.
Coon: Fiction. It was a loss at home to the now 7-12 Raptors, but that's barely a footnote in this story. Look at it this way: This was his first game EVER with Wesley Johnson, Nick Young and Shawne Williams (he didn't play at all with Xavier Henry). What you saw bore little resemblance to what they'll look like in April.
Gutierrez: Fact. The Lakers' chances of making the playoffs correlates with how long it takes Kobe to find a comfortable place in the offense (or, more likely, how the rest of the Lakers find a comfortable place around Kobe in that offense). If that takes a couple of weeks, the Lakers have enough time to recover and fight for a playoff seed. If it takes longer, the Lakers will likely be leapfrogged by too many teams in a deep conference.
Strauss: Fact. They had an outside shot at making the playoffs, but I doubt they do it with Kobe getting heavy minutes like this. But hey, if Kobe's play results in the Lakers getting Jabari Parker, he's worth $48.5 million and then some.
Verrier: Fact. The margin for error is slim when 11 other teams in your conference are at or a game below .500, and Kobe's comeback showed that this team's transition from plucky underdogs to alpha dog-centric will take time. Bryant was clearly trying to fit into the all-scrap-everything identity these Lakers have crafted, but even his teammates seemed perplexed by it.
---
4. Did Kobe's $48.5M extension cross your mind during the game?
Adande: It didn't. But if it had, I would have thought that the Lakers knew what they were getting into. They didn't give Kobe that money because they thought he had another 81-point game in him. They gave him that money because who else could turn a regular-season meeting with the Toronto Raptors into the most anticipated and discussed sports story of the day -- even on an NFL Sunday?
Coon: Of course -- I was asked about it something like 30 times! But it was in the context of the team's strategic direction -- its three- and five-year plans -- and not in the context of "the Lakers paid $48.5 million for this?" Just as this game had little bearing on the team's playoff chase, it said almost nothing about the wisdom of his extension.
Gutierrez: Not once. The Lakers' decision to extend Kobe at that price makes good business sense as long as he's healthy. And not once did I think "Kobe's done." There are too many other factors to consider when it comes to winning a title, but he's perfectly capable of working his way back into elite form.
Strauss: Certainly. It's just a bit amazing the Lakers didn't wait for Kobe to come back and play a bit before the deal was signed. Their haste to pay him far more than anyone else would is a bit confounding. It makes me wonder whether the Lakers now define themselves as an extension of an aging Kobe's cult of personality, as opposed to a team with future aspirations.
Verrier: Always. Both Bryant and the Lakers traded in possibility for certainty, and after months of discussing all the things they could do, it's going to take time to come to terms with what they'll be for two-plus seasons. "Who will play next to Kobe?" is the next Lakers Drama of the Week, and right now, Pau Gasol no longer seems physically capable of the task.
---
5. What should we expect from Kobe vs. OKC on Friday (ESPN, 8 p.m. ET)?
Adande: He'll be more aggressive and less winded. He'll also be unlikely to emerge victorious. The Lakers have lost seven of their past nine games against the Thunder, going back to the 2012 playoffs. I'm curious to see whether Kevin Durant will be just as eager to show his alpha dog status against a wounded Kobe Bryant as he was against the ascending Paul George.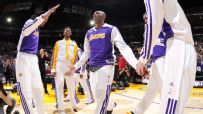 Coon: Fewer turnovers. It really bugged him that he coughed up the ball eight times. Many of those came off missed passes, which indicates that he and his teammates aren't used to each other yet. Bryant said he would probably be up all night watching film, and he and his teammates will work on cutting down the miscues this week in practice and on Tuesday night against the Suns.
Gutierrez: A struggle. Against the athleticism of the Thunder, finding the right passes will be even more difficult, as will trying to find his own shot. If the Lakers even stay competitive in this one, it will be a bonus. Mike D'Antoni may need to ride the second unit to find a way to win.
Strauss: Sadly, I expect more of the same. I hate to be so negative in this space because I've loved watching Kobe Bryant play basketball. But that love of Kobe's game means I know the difference between it and what we witnessed on Sunday. Perhaps Kobe will prove doubters like myself foolish, but this looks like the beginning of the end for him.
Verrier: That he'll either binge harder on facilitating or go the exact opposite route. It's always very clear, despite Mike D'Antoni's insistence otherwise, when Bryant is trying to look for others first, and this time it led to disjointed, predictable offense. I see Kobe continuing to ease back in by fitting in … or getting frustrated, saying "screw it" and hoisting.


ESPN.com and the TrueHoop Network
J.A. Adande and Israel Gutierrez cover the NBA for ESPN.com. Larry Coon writes for ESPN Insider. Ethan Sherwood Strauss writes for TrueHoop. Justin Verrier is an ESPN.com NBA editor.
• Follow the NBA on ESPN on Twitter | On Facebook | On Google+