Updated:
May 15, 2012, 12:32 PM ET
1. The Better Team Shows How It's Done
By J.A. Adande
ESPN.com
OKLAHOMA CITY -- It's not that the Oklahoma City Thunder won the series in Game 1, it's that they established the terms unequivocally. In case anyone had doubts -- and I guess that would be anyone who didn't watch the 2011-12 regular season -- the Thunder are the superior team, and the Los Angeles Lakers beating them four times would be a major upset. At this point the Lakers winning two games would be an accomplishment.
The striking thing about the Thunder's utter domination of the Lakers in Game 1 was how ordinary the individual stat lines were. Sure, their collective four turnovers was an eye-popping number for a team that sometimes struggles with ball control. Their 53 percent shooting was nothing like the way the Dallas Mavericks shot more than 60 percent overall and from 3-point range in the season-ending loss last year.
And no one's line in the box score made you say: "Wow, he went off!"
Kevin Durant and Russell Westbrook combined for 52 points. The season average for the duo was 51.6. James Harden scored 17 points, but made only four of 11 shots from the field. No other Thunder player had double-digit points. Not one of them had double-digit rebounds or assists.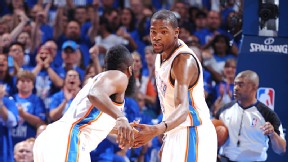 Andrew D. Bernstein/NBAE/Getty Images
Yep, the Thunder won 116-90 without any unheralded players busting out a Podium Game. Other than that, it was hard to flesh out the unremarkable aspects of this game for OKC.
I asked Thunder coach Scott Brooks what, other than the turnovers, was extraordinary about his team's performance. He shook his head, drew a blank as he stared at the stat sheet, then went to the one thing I asked him not to discuss.
"The four turnovers," Brooks said. "That's huge."
It was an aberration for a team that averaged a league-worst 16.3 turnovers per game. But let's not act as if the Lakers are equipped with defenders who harass ball-handlers or jump in the passing lane. Los Angeles was last in the league in steals, with six per game. They had all of one on Monday night. They can expect a few more turnovers to come their way in Game 2, but not many.
Their bigger focus will be keeping Westbrook from hitting shots at the rate he did Monday night, when he made 10 of 15, many of the pull-up jumper variety. At the morning shootaround Bryant said the biggest difference between this Thunder team and the version the Lakers beat in the 2010 playoffs is Westbrook's improved shooting, and Westbrook promptly exhibited just how much.
"I just feel a little more experienced," said Westbrook, who had 27 points, 9 assists and 7 rebounds. "I feel a lot more comfortable. My teammates do a great job of getting me open, getting me to the spots where I can be effective."
And the Lakers did a horrible job of covering it.
"Once they came off the screens they were raising up and getting great looks at it," Bryant said. "We have to do a better job on it."
Should they go to their last resort and put Bryant on Westbrook? They already went there. Quite early actually. And Westbrook either got by Bryant himself or had a teammate take care of him with a screen … with no Laker defender stepping up. Just to mix things up, one time Westbrook ran Bryant into a backscreen, then soared for an alley-oop pass from Durant with no one on the frontcourt coming over to help.
It had Bryant issuing what sounded like a call for Mike Brown to … Do Something!
"We're going to have to make our adjustments," Bryant said. "We'll talk about it today and tomorrow.
"I've been on the receiving end [of playoff blowouts]. I've also been on the end we're dishing it out. My experience is telling me to stay patient and think the game through. We can come up with a different strategy."
And where can the Lakers make up the difference on the offensive end?
They're not going to get much more from Bynum, who scored 20 in Game 1. Maybe Bryant, who scored 20 himself, can get to 30, but it's worth noting the Lakers are 2-2 in playoff games in which he has scored at least 30 points in 2012. They're better when he gets everyone involved the way he did in the Lakers' Game 7 victory over the Denver Nuggets.
Point guard Ramon Sessions is coming up smaller as the playoffs go deeper; he scored two points on 1-for-7 shooting Monday night. Pau Gasol showed he can't play every game like he did in Game 7 against Denver. (If he did, there wouldn't have been a Game 7 against Denver).
Their narrow victories against Dallas in the first round notwithstanding, the book on the Thunder is to see if they can beat you possession-for-possession down the stretch in a close game. The Lakers couldn't get anywhere near that point. It was so out of reach that in the fourth quarter they weren't giving the ball to Bryant, they were using a player who had Oklahoma City's brand-new public address scurrying to the Los Angeles media to ask the pronunciation of his name (FYI Andrew Goudelock's last name is pronounced "Gowd-lock").
Sad to say, the only time the Lakers have looked capable of competing with the Thunder was the time Metta World Peace knocked Harden out of the game with that vicious elbow. He had only a two-point takedown of Harden in Game 1, their only real interaction. World Peace had a decent shooting game, but couldn't keep Durant from scoring 25 points in 28 minutes, on only 16 field-goal attempts.
It left Durant to say, "At this point, it's about us."
The Lakers used to say that type of thing. Back when they were better than the Thunder.


ESPN senior writer J.A. Adande
• On Twitter @jadande | On ESPN.com | On TrueHoop | On e-mail
• Follow ESPN's NBA coverage on Twitter | On Facebook | On Google+
Dimes past: May 1 | 2 | 3 | 4 | 5 | 6 | 7 | 8 | 9 | 10 | 11 | 12 | 13
2. Around The Association
MVP: Russell Westbrook became the first player to accumulate totals of 29 points, 9 assists and 7 rebounds in less than 30 minutes in a playoff game. Kevin Durant was great, but Westbrook was truly special.
X factor: Though the Thunder led at the half, the Lakers had success in the paint through two quarters and showed signs of keeping pace until the Thunder outscored them by 15 in a dominant third quarter.
That was … impressive. While Oklahoma City can't expect to shoot that well every game and the Lakers looked gassed from a long series with Denver, the Thunder put together a performance for their fans to savor.
MVP: Sixers shooting guard Evan Turner hit two game-icing free throws with 12 seconds to put the Sixers up 78-75. Along with the freebies Turner also made a tough, acrobatic layup late to put the Sixers up one.
LVP: Celtics power forward Brandon Bass took 15 shots (six more than Paul Pierce) and made only five of them. Many were open jumpers he usually knocks down and could have helped to put the Sixers away early.
Defining moment: With 12 seconds left in regulation and the Celtics down by three, Kevin Garnett was called for a moving screen that ruined any hope of a Celtics comeback.
3. Monday's Best
Westbrook
Russell Westbrook, Thunder: Impressive Game 1 outing with 27 points, 9 assists and 7 rebounds in 27 minutes of action in the 119-90 rout of the Lakers. And if he wanted to draw a sartorial contrast to Kevin Durant, mission accomplished.
4. Monday's Worst

The weary Lakers: Let's looks at the half-full glass for the Lakers. No Laker played more than 32 minutes. Pau Gasol and Andrew Bynum got to have a nice chat after the game. Metta World Peace didn't earn another suspension. And 13 Lakers now can say they played in the 2012 Western Conference semifinals.
7. Quote Of The Night
"I think we did OK tonight."

-- Metta World Peace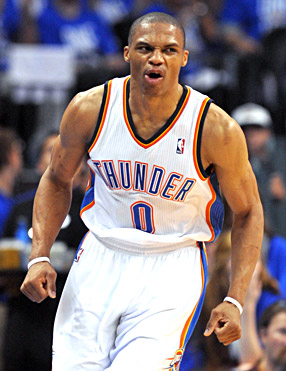 Mark D. Smith-US PRESSWIRE
Thunder guard Russell Westbrook was feeling good about success in Game 1 against the Lakers.
By Elias Sports Bureau

The Philadelphia 76ers defeated the Boston Celtics by one point on Monday after Boston won the first game of the series by the minimum margin. And Philadelphia won Game 6 of their first-round series against the Chicago Bulls by one point. The 76ers are the first team in the history of the NBA playoffs to play three consecutive games decided by a single point. The only other NBA playoff series in which the first two games were both decided by the minimum margin was the 2009 Eastern Conference finals, when the Orlando Magic and Cleveland Cavaliers split the first two games. (The Magic eventually won the series in six games.)
The 76ers held the Celtics to 24 points over the second and third quarters in their Game 2 win. That's the fewest points the Celtics have scored over consecutive periods in any playoff game in team history. The previous low was 26 points, in the third and fourth quarters of a pre-shot-clock 1954 loss to the Syracuse Nationals.