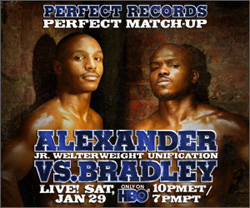 710 ESPN VIP Club members, click the "register now" button below to enter for your chance to win a signed Alexander-Bradley boxing glove.

Not a member of the 710 ESPN VIP Club? Sign up for free now to stay connected to 710 ESPN and make yourself eligible to enter all of our online contests!
The top two fighters in the junior welterweight division will go at it on January 29th in Michigan's Pontiac Silverdome. One of them will emerge as the undisputed king of the hill.
Timothy Bradley and Devon Alexander are both unbeaten, but there the similarity ends. With their contrasting styles this fight may very well come down to who can impose his will and control the ring. Will it be Bradley with his incredibly aggressive way of fighting or Alexander, the gifted boxer who likes to stick and run and use his multiple skill sets to frustrate opponents?
Make sure you catch all the action LIVE! Saturday, January 29 starting at 7 PM only on HBO! More details can be found at hbo.com/boxing
Deadline for entry in this contest is 1/28/2010