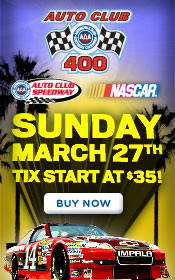 Don't miss an action packed weekend, full of music, a live performance by Good Charlotte, activities for the entire family, and of course, the excitement of NASCAR racing!
710 ESPN VIP Club members, click the "register now" button below to enter for a chance to win a pair of tickets for each day of races. That includes NASCAR Qualifying Day on Friday the 25th, the NASCAR Nationwide Series 300 on Saturday the 26th, and the Auto Club 400 on Sunday the 27th!

Not a member of the 710 ESPN VIP Club? No problem! Sign up for free now to stay connected to 710 ESPN and make yourself eligible to enter all of our online contests!
When NASCAR comes to Southern California's Auto Club Speedway March 27th, one thing's for sure: IT'S GO TIME.
An action-packed weekend kicks off Friday, March 25th with NASCAR Qualifying Day, then Saturday veteran drivers and young guns alike meet up in the NASCAR Nationwide Series 300. And finally on Sunday March 27th, Jimmie Johnson, Tony Stewart, Dale Earnhardt Jr. and all your favorite drivers face off at the home of 5-wide racing for the Auto Club 400.
Don't miss games, activities and a concert performance by Good Charlotte featuring hits from new album Cardiology!
You haven't lived until you've experienced NASCAR at your home track!
Click here to receive for more information and exclusive offers from your friends at the Auto Club Speedway!
Deadline to enter this contest is 3/24/2011