Every day, people complain about some guy on the radio. They say, "That guy doesn't know what he's talking about. I can do better than him!"
Well buddy, here's your chance to put up or shut up! Think you can talk sports on the radio? LA's Top Fan is looking for you -- earn a chance to host a show, or be a contributor or reporter for 710 ESPN Radio in Los Angeles. Throughout August we will be auditioning smart, funny folks who know their stuff, and at the end, we'll crown LA's Top Fan.
Find the 710 ESPN Street Team at the events listed below. They'll have what you need to record and submit a two-minute rant in the LA's Top Fan contest. You have to be smart, credible, and have a personality -- just knowing stats won't cut it. We'll pick four finalists to square off on the air at a later date, with one emerging as the winner of LA's Top Fan.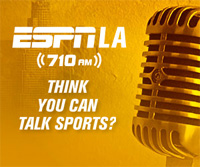 Think you're better than these guys?

Brandon Landry

Juan Ramirez

Vaugnm Butler

Michael Shiakallis

Daryl Miller
This could be the start of a big career in sports radio and TV! Check back here as we add new locations and events throughout the month of August where you'll have a chance to enter the LA's Top Fan Contest, brought to you by AT&T and Chase.
Locations, dates, and times are subject to change.