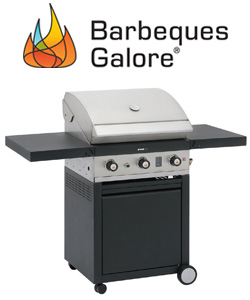 710 ESPN is celebrating Barbeques Galore's 31st Anniversary by giving away brand spanking new Grand Tech Grills!
Here's how YOU can win:
Tune in to Mason & Ireland this Wednesday, July 27th through Friday the 29th. At some point in the show, Steve and John are going to ask a sports trivia question involving the number 31 (in honor of, you guessed it, Barbeques Galore's 31st anniversary... genius, right?). It'll go something like this:
This #31 won the NBA Slam Dunk Contest in his rookie year with the Clippers in 1996. (Answer - Brent Barry)
If you know the answer, call in at 1.877.710.ESPN (3776). The first caller to get through with the correct answer will win a new Grand Tech Grill from Barbeques Galore! (pictured to the right)
---
Barbeques Galore's 31st Anniversary sale is this week only! Catch red hot deals on all of their Grand Tech Grills starting at just $399.00. Sale ends Sunday, 7/31.
More about the Grand Tech Grill
The Grand Tech® series is the newest line by GrandHall, maker of the famed Turbo® and Crossray® product lines. The Grand Tech series combines the latest grill technology with abundant features and modern design at an entry level price point. Every backyard chef deserves a premium grilling experience, regardless of your budget. Similarly priced grills found at "Big Box" stores can't compete with the features or grilling performance you'll get with a Grand Tech series grill. Available exclusively at Barbeques Galore.
Features
Stainless steel & powder coated steel construction

Patented Integrill® cooking system that provides intense direct heat without flare ups and requires less gas (fewer BTUs) to reach the same temperature as traditional gas grills the same size

Patented cast iron cooking grates that double as a griddle

Patented stainless steel burner system

LED lights on knobs

Folding shelves

Integrated fuel gauge

Built-in temperature gauge in hood

Retail value $499.00
Click here for more info on Barbeques Galore and the Grand Tech Grill.