Steve Mason and John Ireland recently went on a search for the Most Interesting Lakers Fan in the World, asking listeners across Southern California to email the show with a creative description of him/her.
Thanks to everyone who participated! Big shout out to our three finalists: Avedis, Gary, and Jairus. Check out their submissions below.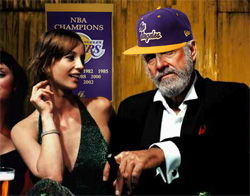 Avedis Adourian: (winner)
His initials are MVP, forwards and backwards.

He's never missed a Halftime Half-Court Shot, and uses the winnings to tip the ball boy.

His team never loses, and if they do, they weren't his team.

His good word and firm shake made the Kwame Brown/Pau Gasol trade too good to refuse.

The Fridge Chic Hearn used to put the games in was in his kitchen.

He's an ambassador to seven different fan nations.

His irrelevant comments on the Mason and Ireland Show are always relevant.

Teams have been known to overcome huge deficits when he's threatened to leave.

When he's shown on the Kiss-cam, three women instantly become pregnant.

Beer and Nachos actually speed up his metabolism.

He's never paid for a ticket, but that's because vendors are told to scan his hand.

He can palm a basketball with his teeth.

He is... the most interesting fan in the world
"I don't always root for teams, but when I do, I prefer the Los Angeles Lakers. Stay faithful my friends."
Gary Ganchrow:
When he arrives at the game, the parking lot attendant pays HIM $13.

He always picks the winning car in the electronic scoreboard race.

The players wear jerseys with HIS name and number.

He doesn't always leave the game before it ends, but when he does, the game is over.

Jerry Buss calls him for dating advice.

He is... the most interesting fan in the world.
"Stay boisterous my friends."
Jairus Lofton:
He taught Mark Madsen how to dance.

He once called Mason and Ireland and pretended to be Jeff in Tarzana, just to see what it felt like.

He and Adam Morrison have a secret plan to take over the world.

Mychal Thompson once offered to buy him lunch.

He has every Laker's jersey. Yes, even DJ Mbenga's.

He's the only one who knows what that thing on Rasheed Wallace's head is.

He is... the most interesting fan in the world
"I don't always watch basketball, but when I do, I prefer the Lakers."