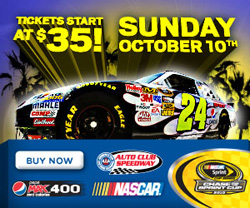 The Playoffs GO GOLDEN as The Chase for the NASCAR Sprint Cup returns to California. 4-time NASCAR Sprint Cup Champion Jimmie Johnson returns to his home track as he chases his fifth straight NASCAR Championship in the Pepsi MAX 400. Be there when Tony Stewart, Dale Earnhardt Jr. and your favorite drivers fight for the checkered flag!
710 ESPN VIP Club members, click the "register now" button below to enter for a chance to win tickets for all three days of this year's Pepsi MAX 400 at the Auto Club Speedway!

Not a member of the 710 ESPN VIP Club? No problem! Sign up for free now to stay connected to 710 ESPN and make yourself eligible to enter all of our online contests!
The Pepsi MAX 400 on Sunday, October 10th at Auto Club Speedway.

The race weekend starts with NASCAR Qualifying day on Friday, October 8th and continues with the Campingworld.com 300 on Saturday, October 9th.

Don't miss an action packed weekend, full of music, live performances, activities for the entire family, and of course, the excitement of NASCAR racing!

Auto Club Speedway - where the 10 and 15 freeways meet.

Tickets start at just $35! For tickets and information, visit autoclubspeedway.com or call 1-800-944-RACE.
Click here to receive for more information and exclusive offers from your friends at the Auto Club Speedway!