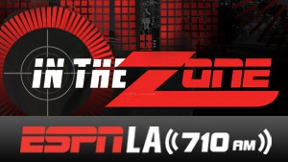 Host: ESPNLA
Weekdays 6:00 p.m. - 8:00 p.m.
E-mail: inthezone@710espn.com

In his career, A Martinez has been involved with the Lakers, Dodgers, Raiders, Clippers, USC and UCLA. As a Los Angeles native, he has kept close tabs on the passions of sports fans all over the city he loves.
About A Martinez
A Martinez was born in Downtown L.A. and grew up in Koreatown in the shadow of the Wiltern Theater. As a kid, he listened to Hall of Fame broadcaster Jaime Jarrin's Spanish radio play by play of Dodgers games before watching Vin Scully's televised broadcasts as he grew into his teens.
A graduated from Daniel Murphy High School in the La Brea area of L.A. and played baseball for Los Angeles City College before transferring to Cal State Northridge where he earned a bachelor's degree in journalism.
A's first job in radio was as the XTRA Sports 690 Los Angeles board operator/phone screener for The Big Show with Mason and Ireland in 1995. He evolved into a show contributor before becoming one of the original members of XTRA Sports 1150, doing weekday updates and a weekend show. While at 1150, A hosted pre and postgame shows for Bruins football and basketball, as well as the Clippers and the Dodgers.
In 2000, A began traveling with the Dodgers as the host of Dodgertalk, and he was a part of KCAL-9 TV's Think Blue pre-game show. He also hosted the annual Dodgers Caravan and conducted the Coca-Cola Fan Challenge, the on-field fan quiz broadcast in the middle of the 4th inning of home games on Dodgervision. A was embedded with the team, living all spring training long at the Dodgertown complex in Vero Beach, Florida, then traveling on the team plane and bus to and from the hotel to the ballpark, all while providing listeners and viewers an exclusive behind the scenes perspective on the club.
Since joining 710 ESPN in 2007, A has become the host of the Verizon Wireless Lakers Line postgame show and In The Zone, both broadcast nightly inside the ESPNZone at L.A. Live. A also contributes on USC Trojans football and basketball pre and postgame shows. Beginning in 2010, A began serving as the studio host for the Oakland Raiders radio network.
Download the latest podcast of In the Zone Follow A Martinez on Twitter
SHOW PODCASTS
Listen back to a podcast of the daily best from In the Zone.
LISTEN LIVE ON ESPNLA.COM
WEEKDAY LINEUP