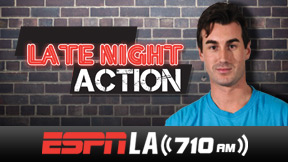 Thursdays 10:00 PM - 11:00 PM
E-mail: actionsports@710espn.com

Life is about more than ollies, double backflips, and full-throttle mayhem... just not here! With years of experience and deep connections in the industry, Brando keeps you up to date and entertained with the latest from the ever-expanding world of action sports.
Subscribe on iTunes

About Brando and Late Night Action
Late Night Action is Southern California's exclusive radio show dedicated to action sports - surf, skate, moto, and snow. Hosted by Brandon "Brando" Graham, the show dives into the X Games culture with athlete interviews and live in-studio musical performances. Some of the show's key features include: Late Night Stroll, the So Cal Surf Report, and Stupid Status Updates.
A Bay Area native, Brando grew up surfing in Santa Cruz and skating some of the hot spots around San Jose and San Francisco. After joining 710 ESPN in 2005, Brando quickly became an action sports correspondent covering every major event in Southern California.
Brando has reported live from every Winter and Summer X Games since 2006, covered all Maloof Money Cups, and was an insider with the inaugural Street League Skateboarding season.
Subscribe on iTunes
FULL SHOW PODCASTS
Come get some. Brando wants you to get Late Night Action every week.
LNA HOLIDAY GIFT GUIDE
Wanna buy a gift for Brando - or for yourself? Check out this hot list of action gear!
ENVIROSURFER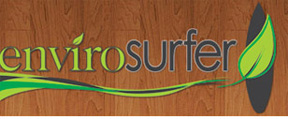 Brando says, "Check out my good friends over @ Envirosurfer. All the products on the site are eco-friendly. My pick? The Sanuk Donna Hemp Sidewalk Surfers." [greensurfshop.com]
LATE NIGHT ACTION SOUND BYTES
PHOTO GALLERIES

2010

2009

2008

2007
LISTEN LIVE ON ESPNLA.COM
BRANDO'S BURNING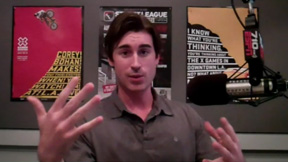 Brando softens his stance on Dane Reynolds' perceived apathy when it comes to competition surfing. Watch