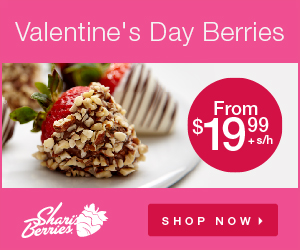 Get in the Valentine's Day spirit with a Shari's Berries $50 Gift Card! All you have to do is LISTEN to Max and Marcellus this week from 3-7 p.m. for your chance to call in and WIN!
Get that special someone covered strawberries for only $19.99 or double the berries for just $10 more! To get this amazing deal, just to go to www.berries.com, click on the microphone on the top right and type in the code 710AM. Hurry before it is too late!
Valentine's Day - it's the one day when romance rules over anything else, so instead of frantically looking for last-minute gifts, look to Shari's Berries delicious gourmet collection today with Cupid approved treats. Whether you're shopping for romantic gifts for your girlfriend, boyfriend, husband or wife, they've got the perfect selection of Valentine's Day treats ready to enjoy.