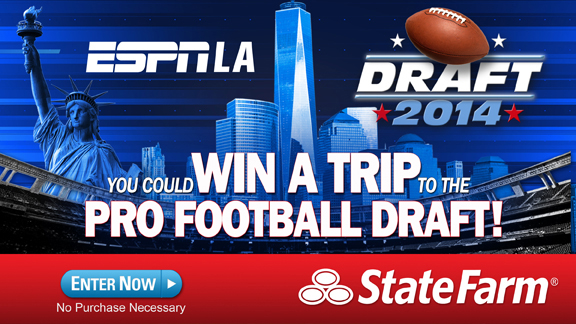 With the first overall pick, State Farm® selects......... YOU!
Football fans! ESPNLA is teaming up with State Farm® to give YOU an experience like no other! One lucky winner will WIN an all expense paid trip to New York City from May 8th-10th to attend the Pro Football Draft! The trip includes: airfare for two, hotel accommodations, tickets to the pro football draft on both days and spending cash.
To enter simply visit winwithstatefarm.com/espnla and fill out the entry form.
Don't miss out on your chance to be in the middle of the action when your team is announcing its future stars! Get to a Better State®... with State Farm® and the Pro Football Draft Sweepstakes!

2014 Pro Football Draft Sweepstakes Rules
Deadline for entry in this contest is 3/31/2014 at 11:59pm PT