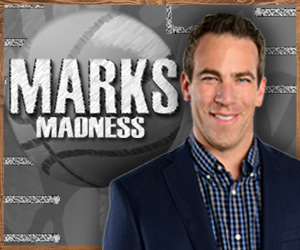 Let the madness begin! We're challenging YOU to take the "Mark's Madness" college basketball bracket challenge!
The top 3 listeners with the highest score will be part of Mark's foursome to play a round of golf!
SIGN UP FOR MARK'S MADNESS NOW: Mark's Madness
The person with the highest-scoring bracket wins a BIG SCREEN TV from MIR Audio Video!
That's not all! The three highest-scoring contestants at the end of the tournament will also win a one night stay at Morongo Casino, round of golf at Tukwet Canyon with Mark Willard and other great prizes from Roger Dunn Golf Shop, Barbeques Galore and Langers Delicatessen!
Presented by
Deadline to enter contest is the beginning of the first game of the tournament, March 18, 2014.