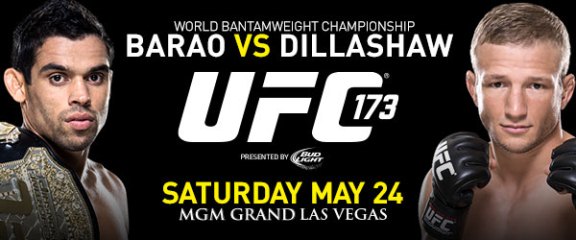 Listen to ESPNLA Now on Thursday and Friday from 10 a.m.-12 p.m for your chance to WIN a pair of tickets to UFC 173 at the MGM Grand in Las Vegas on May 24th!
Bantamweight titleholder Renan Barao has stepped up to headline the May 24 card at the MGM Grand Garden Arena in Las Vegas against top contender TJ Dillashaw.
Brazil's Barao (34-1, 1 NC) is the owner of a remarkable 35 fight unbeaten streak that includes 22 straight wins. Winner of the interim bantamweight crown in 2012, the 27-year-old was elevated to undisputed champion in January, and he didn't skip a beat, halting Dillashaw's teammate, Urijah Faber, in a single round at UFC 169 in February.
Looking to separate Barao from his championship belt will be the 28-year-old Dillashaw, an ultra-talented contender currently ranked fifth in the world at 135 pounds. A TUF 14 finalist, Dillashaw has won five of his last six bouts, most recently winning a unanimous decision over Mike Easton in January.
To purchase tickets visit www.ticketmaster.com