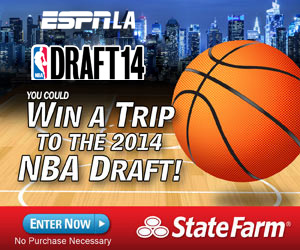 With the first overall pick, State Farm® selects......... YOU!
Basketball Fans! Just because the season is coming to an end doesn't mean you can't still be part of the action! Pack your bags and get ready to bounce into the Big Apple because State Farm® wants YOU to be a part of the ESPNLA NBA Draft Promotion. Make sure you enter now so you and a guest can win a trip to New York, hotel accommodations, tickets to the NBA Draft on June 26 and $500 in spending cash!
To enter simply visit winwithstatefarm.com/espnla and fill out the entry form.
Don't miss out on your chance to be in the middle of the action when your team is announcing its future stars! Get to a Better State® ... with State Farm and the ESPNLA NBA Draft Promotion!