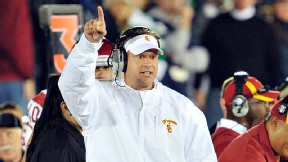 "Number One",Lane Kiffin said without hesitation, sitting in his upstairs office at Heritage Hall.
Yes, he was talking about rankings. But no, not about the fact that USC is ranked #1 in ESPN's
early pre-season Top 25 Poll.
Kiffin was declaring where he would rank last season in his coaching career, as the Trojans
bounced back from one of the worst seasons in recent memory (8-5 in 2010), to have one of
the best (10-2 in 2011).
"They almost did the impossible", Kiffin said. "I believe that before last year, USC was the most
hated football program in America. I've been outside of here to know what people think about
it. I really feel like the nation kind of fell in love with them."
What a difference a year makes.
As USC gets set for it's first spring practice on Tuesday, I caught up with 'Memory Lane'
right before one of the Trojans winter conditioning workouts. Last year at this time, the
mood was pretty somber, to say the least. Kiffin, on going (8-5), "It was obviously not up
to 'SC standards. It was really discouraging for me because of the way we lost. We just played so bad on defense.... just horrible."
But Kiffin says what happened afterward is the reason USC is where it is today. In fact,
Kiffin says the work that he and the coaching staff were able to do off the field in December of 2010,
and January of 2011, was even more special than what happened on the field last season.
"It was very apparent to me the morning of the (2010) UCLA game," Kiffin says, "regardless
of what happened in the game, we had to somehow make this bowl ban to our advantage. So in
the post-game press conference I went right to it. We signed 30 guys. If that didn't
happen, we wouldn't be here today."
And so with that momentum, the Trojans went through spring practice. But the "dark clouds"
as Kiffin says, were still around when fall-camp opened up in August. "We were just dealing
with non-stop negativity. Whether it was stuff that happened when we got here with the NCAA
and the view of our program which had nothing to do with us, or stuff that had to do with things
we said at Tennessee that were still following us."
As if the (8-5) season, and another year with a bowl ban wasn't bad enough, USC had a lot of
young players, especially on offense: four Offensive Lineman that had never played their position,
two Tight End's that had never played a down in college football, and a freshman starting at
Tailback and Wide Receiver in D.J. Morgan and Marqise Lee. "I thought we would play really,
really well on defense, and that our QB (Matt Barkley) wouldn't make many mistakes," Kiffin
said. "We were committed to play inexperienced players."
USC started off (3-0) before losing at Arizona State in it's first road game. That was followed
by a 48-41 win the following week over Arizona at the Coliseum; a game that had fans calling
into 'Post-Game Trojan Talk' crying out that Assistant Head Coach, Monte Kiffin (Lane's dad), had 'lost it' and could no longer coach at the collegiate level like he had done in the NFL.
Lane said, "I felt it even more because I'm related to him, but it was very disappointing
because I thought the defense was going to carry us through the year."
Perhaps the pain of those two performances set the tone for the second half of the season, as the
Trojans would respond by winning 6 of their final 7 games, including 4 in a row as a finale.
After a solid first road win against Cal, USC had what most agree was the season turning victory
over Notre Dame. It was the first night game in South Bend between the two schools, and when all
was said and done, the Trojans started as 10-point underdogs, and left with a 14-point win.
Kiffin recently watched the television broadcast of the game, and said it was nothing like
any USC – Notre Dame game he had ever experienced before.
"Sometimes when you watch a game on film, like I do, you don't understand the personality of a game.
To go into that environment... it was never like that before. They were still blaring music when we
came up to the line of scrimmage. I won't comment on that. It was crazy! Just good 'SC football!"
USC played pretty good the next week, before losing a thriller to Andrew Luck and Stanford in
triple overtime 56-48. Lane Kiffin would eventually incur a fine from the Pac-12 for criticizing
the officials over a disputed time-out that the Trojans did not receive at the end of regulation.
When I asked Kiffin if the matter was ever resolved in a satisfactory way, he quipped, "I'm trying not to lose any more money, but you learn from those things."
After back to back blow-out wins over Colorado and Washington, with some payback for
Steve Sarkisian, USC faced it's biggest test of the season on the road in Eugene, Oregon.
Lane Kiffin watched as his team shocked the 4th ranked Ducks 38-35, snapping their 21-game home
winning streak at Autzen Stadium, while knocking them out of the picture for the BCS
title game.
"That was a huge win for our program on so many fronts," Kiffin recalled with a smile.
"They were staring at a birth in the National Championship Game, while we couldn't go to a bowl
game. Lebron James was there. Everything was pointing to a 28-point loss. All of those things
made it such a big win for our program. You'll never create those factors again. That's why it
was so cool."
After closing out the season with the 50-0 shutout win over UCLA, Kiffin would then get
the good news a month later, that Matt Barkley will be coming back for his senior season. And that
brings us to USC being ranked #1 in ESPN's early pre-season Top 25 Poll. Like everything else,
Kiffin doesn't seem too phased by it, saying, "It has nothing to do with how we will play this year,
but it is satisfying. I believe that it is the perception of the program right now in the off-season, and
that's very good." Kiffin adds, "to know that 19 months ago, with basically what was termed as a
death penalty handed down here, I don't think anybody would ever expect they would be saying
that's where your program is at. It's very good for our future here."
And what about the perception of Lane Kiffin as USC's Head Coach? Kiffin admits there was a
time when he was 'cocky', but says emphatically that he has grown.
"I better have. If you're going to be good at your profession, you'd better learn from your mistakes;
try not to repeat them; grow and get better; that's what I've tried to do. I was really young. I still am ."
Kiffin says. "Somebody joked the other day they expect me to be a 20-year head coaching veteran
when I'm still the youngest head coach in Division 1".
But Kiffin is quick to point out that there will be no 'cockiness' from him, or his players heading into this season. "Everybody is asking, what are you going to do now with the expectations"? To which Kiffin replies, "The game is about the prep, not the hype. It's not about any of all that. It's all about the preparation."
The prep is underway.
---