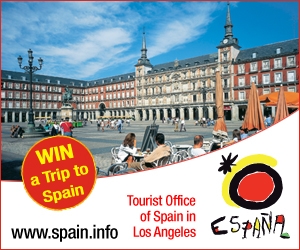 Tourism Spain and ESPNLA want to give YOU the memorable trip of a lifetime to the beautiful land of Spain! Listen to Mason & Ireland for your cue to call-in to (877) 710-ESPN to win an entry for a five-night roundtrip for two to Madrid, Spain.
This priceless getaway package includes airfare and four-star hotel accomodations for five nights, courtesy of the Tourist Office of Spain in Los Angeles.
BONUS: If you missed your cue to call, click the "register now" button below for your chance to win an entry for the trip to Spain!

If you're not already a member of the 710 ESPN VIP Club, click here to sign up now. It's free and easy to join, and once you're a member, you're just one click away from every contest we have at ESPNLA.com! One phone entry and one online entry will be selected each weekday till Friday, March 30. The grand prize winner will be selected during the 3 p.m. hour on Monday, April 2!
---

Experience Spain in Style:
Spain's popularity with sports lovers keeps growing. What draws them to Spain? Spain is a world renowned potency known for tennis: Rafael Nadal, Formula 1: Fernando Alonso, soccer- currently the World Champion - and above all, basketball - the number one in the world with well-known players that currently play for the NBA such as Pau and Marc Gasol, Ricky Rubio, Jose Calderon, and Rudy Fernandez. Visitors are also attracted to its world-renowned art and stunning architecture, its inventive cuisine and the high quality of its accomodations.
Madrid is a true art lover's paradise with the Museo Nacional del Prado, the Museo Nacional Centro de Arte Reina Sofia and the Museo Thyssen-Bornemisza having doubled their size a few years ago and ten minutes from each other. However, Spain's capital isn't just about serious artistic pursuits. Lately, the city has seen a boom in trendy new boutique hotels offering cutting-edge design along with all the latest technological amenities.
Barcelona was home to Dali, Gaudi and Picasso. A cosmopolitan Mediterranean city, it offers Roman ruins, medieval districts and arguably the world's most beautiful Modernist architecture. The vibrant Catalonian capital has fabulous dining and entertainment.
Valencia has always been known for its gastronomy and as the birthplace of paella. Calatrava's futuristic City of Arts & Sciences and its new Bioparc are also welcoming visitors.
So this year come to Spain and be ready for a warm welcome. Just follow your hosts' relaxed approach to life and feel free to be yourself wherever you go. Visit the Tourist Office of Spain in Los Angeles at www.spain.info or call them at (323) 658-7195.