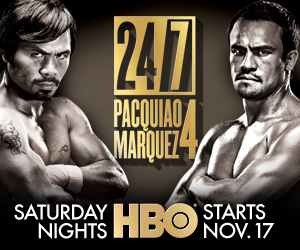 One of boxing's biggest rivalries returns - Manny "Pac Man" Pacquiao enters the ring against Juan Manuel Marquez for a FOURTH time on December 8 in Las Vegas. HBO's 24/7 goes inside the training camps of Pacquiao and Marquez for their Pay-Per-View Showdown! Don't miss 24/7 Pacquiao/Marquez 4, Saturday nights starting this Saturday!
Click the "register now" button below to enter for a chance to win a HBO 24/7 warmup jacket featuring Manny Pacquiao and Juan Manuel Marquez!

If you're not already a member of the ESPNLA 710 VIP Club, click here to sign up now. It's free and easy to join, and once you're a member, you're just one click away from every contest we have at ESPNLA.com!
Plus, HBO's World Championship Boxing returns with rising star, Adrien Broner, moving up in weight to challenge Antonio DeMarco for his Lightweight belt. See it LIVE! Saturday, November 17 at 7 p.m. only on HBO.

24/7 Pacquiao/Marquez 4 Preview
---
Deadline for entry in this contest is 11/17/2012 at 11:59pm PT