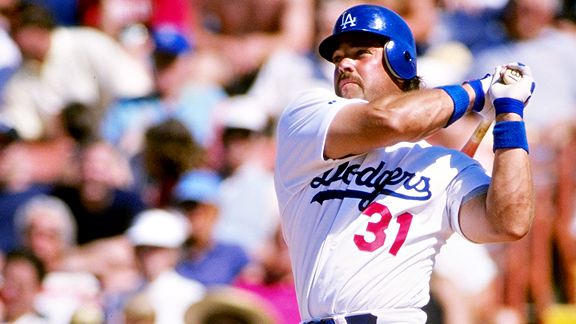 PLAYERS OF THE GAME
M. Piazza
R. Perranoski
Leaky 'pens set stage for Piazza in 12th
Editor's note: Last month we asked ESPNLA.com users to select the All-Time Dodgers team. Now we pit your legendary Blue Crew against the best of New York, the All-Time Yankees squad, as selected by readers at ESPNNewYork.com.
It's not often that Mariano Rivera blows a save. But how about Mo, Mike Marshall and Eric Gagne all blowing saves in the same game -- with Sparky Lyle coughing up the game winner in the 12th?
As far-fetched as that sounds, that's exactly what happened in Game 1 of our simulated series between the all-time Yankees and Dodgers, which ended with a walk-off base hit by Mike Piazza -- the only Met to do much damage when the all-Amazin's and Bombers faced off in June.
Here's how it happpened: Dem Bums tagged Whitey Ford for four runs in the first inning, then managed to hold on to a slim lead as the Bombers bounced back with single runs in the second, third and fifth off starter Sandy Koufax. It was 5-3 Dodgers heading into the seventh when Marshall, the first bullpen goat of the game, was summoned. Granted, he had to face the top of the Yankees' lineup -- but he coughed up the lead almost immediately on a Derek Jeter leadoff single, followed by a two-run Mickey Mantle home run.
The Dodgers tied it in the bottom of the inning on a Piazza homer off his rival Roger Clemens, and the score held until the ninth, when Gagne gave up a pair of runs that put the Yankees ahead, seemingly for good. Enter "Sandman" for the bottom of the inning, although this time the opposing team's bats woke up against Mo, pushing across a lone run to send the game into extra innings.
That's when the bullpens settled down for a time, as Ron Perranoski (1-0) pitched three scoreless and Rivera remained in the game to put up goose eggs in the 10th and 11th. But once Mo exited for a pinch-hitter, Casey Stengel turned to Lyle (0-1) with disastrous results. Lyle loaded the bases with two outs -- and Piazza drove one to left for a walk-off single.
With L.A. looking to take a 2-0 series lead at Dodger Stadium, Tommy Lasorda will send out Don Drysdale to face Ron Guidry in Game 2.
-- Matt Marrone, ESPNNewYork.com
NYY: Munson inserted at c in the 8th; Nettles inserted at 3b in the 9th; Rizzuto inserted at ss in the 9th; Williams,Be batted for Rivera,M in the 12th
LAD: Wheat inserted at lf in the 8th; Lopes ran for Wheat in the 9th; Gibson,K batted for Gagne in the 9th; Lopes moved to lf in the 10th; Guerrero,P batted for Lopes in the 11th; Guerrero,P moved to lf in the 12th; Garvey batted for Perranoski in the 12th
E-DiMaggio,J, Rodriguez,Al, Reese. 2B-Jeter, Piazza. HR-Mantle(1), Ruth(1), Piazza(1). SB-Jeter(1), Mantle(1). CS-Mantle. K-Mantle 2, Ruth 2, Rodriguez,Al, Gehrig 2, Lazzeri, Rizzuto, Reese, Hodges, Snider, Piazza 2, Ethier, Davis,W, Koufax, Marshall,M, Gibson,K. BB-Mantle, DiMaggio,J, Ruth, Lazzeri, Munson, Hodges 2, Snider, Cey. SH-Ford,W, Robinson,J. SF-DiMaggio,J, Ford,W. HBP-Robinson,J. HB-Ford,W. WP-Lyle. GWRBI: Piazza Temperature: 67, Sky: clear, Wind: in from left at 4 MPH.
Play by play
Top of the 1st inning, Yankees batting
-- Jeter grounded out to second
-- Mantle walked
-- Mantle was caught stealing second
-- DiMaggio,J walked
-- Ruth walked, DiMaggio,J to second
-- Rodriguez,Al lined out to first
Bottom of the 1st inning, Dodgers batting
-- Reese grounded out to first
-- Robinson,J was hit by a pitch
-- Hodges reached on an infield single to the pitcher, Robinson,J to second
-- Snider flied out to right, Robinson,J to third
-- Piazza lined a double to right center, Robinson,J scored, Hodges to third
-- Ethier grounded a single up the middle, Hodges scored, Piazza to third
-- Cey grounded a single between third and short, Piazza scored, Ethier to second
-- Davis,W grounded a single between third and short, Ethier scored, Cey to second
-- Koufax grounded to short, forcing Davis,W at second
Top of the 2nd inning, Yankees batting
-- Gehrig struck out
-- Lazzeri reached on an infield single to third
-- Berra grounded a single between first and second, Lazzeri to third
-- Ford,W hit a sacrifice fly to left, Lazzeri scored
-- Jeter grounded a single up the middle, Berra to second
-- Mantle struck out
Bottom of the 2nd inning, Dodgers batting
-- Reese grounded out to third
-- Robinson,J to first on an error by the center fielder DiMaggio,J
-- Hodges lined a single to shallow center, Robinson,J to second
-- Snider struck out
-- Piazza lined out to center
Top of the 3rd inning, Yankees batting
-- DiMaggio,J grounded out to second
-- Ruth homered deep down the right field line
-- Rodriguez,Al struck out
-- Gehrig struck out
Bottom of the 3rd inning, Dodgers batting
-- Ethier grounded out to short
-- Cey walked
-- Davis,W struck out
-- Koufax grounded to short, forcing Cey at second
Top of the 4th inning, Yankees batting
-- Lazzeri struck out
-- Berra grounded a single between third and short
-- Ford,W sacrifice bunted to first, Berra to second
-- Jeter grounded out to first
Bottom of the 4th inning, Dodgers batting
-- Reese to second on an error by the third baseman Rodriguez,Al
-- Robinson,J sacrifice bunted to the mound, Reese to third
-- Hodges walked
-- Snider reached on an infield single to second, Reese scored, Hodges to second
-- Clemens now pitching
-- Piazza flied out to right
-- Ethier struck out
Top of the 5th inning, Yankees batting
-- Mantle lined a single to shallow center
-- Mantle stole second
-- DiMaggio,J flied out to left, Mantle to third
-- Ruth grounded out to second, Mantle scored
-- Rodriguez,Al flied out to left
Bottom of the 5th inning, Dodgers batting
-- Cey grounded out to second
-- Davis,W popped out to first
-- Koufax struck out
Top of the 6th inning, Yankees batting
-- Gehrig flied out to center
-- Lazzeri grounded out to short
-- Berra grounded a single between third and short
-- Clemens grounded out to second
Bottom of the 6th inning, Dodgers batting
-- Reese grounded out to third
-- Robinson,J flied out to left
-- Hodges grounded a single up the middle
-- Snider grounded out to second
Top of the 7th inning, Yankees batting
-- Marshall,M now pitching
-- Jeter grounded a single between first and second
-- Jeter stole second
-- Mantle homered deep down the right field line, Jeter scored
-- DiMaggio,J grounded out to short
-- Ruth grounded out to short
-- Rodriguez,Al grounded out to short
Bottom of the 7th inning, Dodgers batting
-- Piazza homered deep to right center
-- Ethier grounded a single up the middle
-- Cey grounded into a double play, Gehrig to Jeter to Clemens
-- Davis,W lined a single to left
-- Marshall,M struck out
Top of the 8th inning, Yankees batting
-- Wheat now playing left field
-- Gehrig flied out to center
-- Lazzeri grounded out to third
-- Berra grounded out to second
Bottom of the 8th inning, Dodgers batting
-- Munson now playing catcher
-- Gossage now pitching
-- Reese grounded out to first
-- Robinson,J lined a single to right center
-- Hodges struck out
-- Snider flied out to center
Top of the 9th inning, Yankees batting
-- Gagne now pitching
-- Munson walked
-- Jeter doubled deep down the right field line, Munson to third
-- Mantle reached on an infield single to short, Munson scored, Jeter to third
-- DiMaggio,J hit a sacrifice fly to left, Jeter scored
-- Ruth struck out
-- Rodriguez,Al flied out to right
Bottom of the 9th inning, Dodgers batting
-- Nettles now playing third base
-- Rizzuto now playing shortstop
-- Rivera,M now pitching
-- Piazza struck out
-- Wheat lined a single to right center
-- Lopes pinch running for Wheat
-- Cey lined a single to right center, Lopes to third
-- Davis,W grounded a single between third and short, Lopes scored, Cey to second
-- Gibson,K pinch hitting for Gagne
-- Gibson,K struck out
-- Reese struck out
Top of the 10th inning, Yankees batting
-- Perranoski now pitching
-- Lopes moved to left field
-- Gehrig grounded out to second
-- Lazzeri walked
-- Nettles lined a single to right center, Lazzeri to third
-- Munson popped out to third
-- Rizzuto struck out
Bottom of the 10th inning, Dodgers batting
-- Robinson,J lined out to first
-- Hodges lined a single to left
-- Snider flied out to right
-- Piazza struck out
Top of the 11th inning, Yankees batting
-- Mantle struck out
-- DiMaggio,J grounded out to third
-- Ruth struck out
Bottom of the 11th inning, Dodgers batting
-- Guerrero,P pinch hitting for Lopes
-- Guerrero,P grounded out to short
-- Cey grounded out to short
-- Davis,W flied out to left
Top of the 12th inning, Yankees batting
-- Guerrero,P moved to left field
-- Williams,Be pinch hitting for Rivera,M
-- Williams,Be grounded out to first
-- Gehrig to first on an error by the shortstop Reese
-- Lazzeri grounded into a double play, Cey to Robinson,J to Hodges
Bottom of the 12th inning, Dodgers batting
-- Lyle now pitching
-- Garvey pinch hitting for Perranoski
-- Garvey lined a single to shallow right
-- Reese grounded to short, forcing Garvey at second, Reese to first
-- Robinson,J flied out to right
-- Hodges walked, Reese to second
-- Lyle threw a wild pitch, Reese to third, Hodges to second
-- Snider walked
-- Piazza lined a single to left, Reese scored, Hodges to third, Snider to second