Editor's note: 5-on-5 was published before a source said that Mike Brown has been fired as head coach of the Lakers.
Offseason optimism has quickly waned in Los Angeles, where the retooled and revitalized Lakers are currently scraping the bottom of the Western Conference.
Is head coach Mike Brown the problem? Is a trade necessary? Our panelists try to figure out what the trouble is in Tinseltown.
1. Fact or Fiction: Mike Brown is the right coach for the Lakers.
J.A. Adande, ESPN.com: Fact. Right, as in right now. For this team to switch to a drastically different coach would mean another adjustment period, and time's starting to get precious.
Gonzalo Aguirregomezcorta, ESPN Deportes: Fact. Brown is having trouble tuning the most precise Lakers machine in years. A new system and new players make for confusing play and deficiencies that must be solved immediately. Any other coach would be having similar problems. At the moment, he has the support of the front office and, above all else, Kobe Bryant, who stands behind him. But the clock is ticking.
Ramona Shelburne, ESPN Los Angeles: Fiction. Brown walked into an impossible situation last season, following Phil Jackson in a lockout-shortened season, when there was little to no time to install much of anything he wanted to do. I thought having a full training camp would make a big difference this season, but in the beginning here, it looks like he's almost over-coaching and trying to do too much. Either way, he hasn't struck the right chord and you wonder how much time he has to find it.
Darius Soriano, Forum Blue and Gold: With every game that passes, this looks more like fiction. Even when accounting for health issues, this team is underperforming to their talent level. Mismanagement of minutes and questionable rotation decisions have them playing to a level less than the sum of its parts and one has to question if Brown, based on what he's shown in L.A., will change that.
Ethan Sherwood Strauss, HoopSpeak: Fact. If not him, then who? There's so much talk of firing Mike Brown, as though there are a bunch of fantastic replacements ready to go. I've heard Jerry Sloan mentioned. Really, is he going to mesh with Dwight Howard, a capricious, cameraman-mooning candy obsessive? Brown is just the fall guy for a roster that sounds better than it is. He should stop squinting with his mouth open, though.
---
2. Fact or Fiction: Health is the Lakers' biggest issue.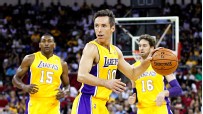 Adande: Fact, over the long term. The short-term issues such as Steve Nash's absence and Dwight Howard's recovery aren't as important as the season-long concerns over Nash's ability to hold up or the threat of injury to another starter. Will there be payback later for Kobe grinding out long minutes on a bad wheel in a desperate push to get early Ws?
Aguirregomezcorta: Fiction. Injuries are still not their biggest concern, at least for the moment. Bench production, however, remains a giant red flag. Nash is 38, Bryant is 34 and Gasol is 32, and all three can't be counted on to play maximum minutes. There is risk down the road, especially if you consider the bench doesn't offer much of a safety net should one of the Lakers' starters fall.
Shelburne: Fiction. Even with Steve Nash out and Dwight Howard still not at full strength, the Lakers have more talent than almost any other team in the league, certainly all of their first five opponents they've faced so far this season. Yes, injuries are a major concern for an older team, but they are still learning to play together. Right now, they are less than the sum of their parts.
Soriano: Fiction. Health is certainly affecting them, with Nash injured and Howard still not looking 100 percent. However, the Lakers also go long stretches looking listless and failing to consistently execute on either side of the ball. These issues go beyond health.
Strauss: Fiction. Depth is their biggest issue. And it's not just that the bench is bad, it's that awfulness deprives the Lakers of any versatility. In the past, they could switch from their bigger lineup into something a little more small-ball friendly with Pau Gasol and Lamar Odom. Now they really have nothing in terms of depth.
---
3. Fact or Fiction: The Lakers will be over .500 by Dec. 1.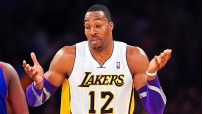 Adande: Fact. The schedule gets favorable from here, with eight of the next 11 games at home and only two outside of California for the rest of the month. If the Lakers aren't above water by then, they might as well scrap the season.
Aguirregomezcorta: Fact. The Lakers will rebound. They have games that they can win in the immediate future. I expect them to beat Golden State and Sacramento, games that could give them enough momentum to provide chances against the Spurs and the Nets.
Shelburne: Fact. Based simply on watching them play, it's hard for me to come up with a reason why they'll get it together, but it's just so unfathomable that a team this talented gets worse before it gets better, especially with all those winnable home games coming up. The one thing I can say, though, is if they aren't over .500 by Dec. 1, Lakers brass will already be making changes.
Soriano: Fact. Even if Nash misses more time than expected, the Lakers' schedule over the next several weeks is home-heavy and includes several weaker opponents. If Nash's recovery stays on the projected schedule and he returns soon, his addition will add an even greater boost.
Strauss: Fiction. They would need to win eight of the next 11. It's possible, but it's also an order taller than their lumbering frontcout. At this point, it wouldn't be too shocking to see L.A. go 0-5 against San Antonio, Houston, Dallas, Memphis and Denver.
---
4. Fact or Fiction: The Lakers will make the NBA Finals.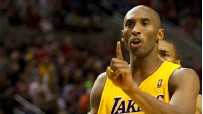 Adande: Fact. At the risk of sounding like Karl Rove, I'm going to stick with my projection despite the early evidence to the contrary. I don't want to bail on my preseason pick five games in. Also, there's the historical precedent of their 1-4 start in Mike Dunleavy's first season, 1990-91, that ended with a trip to the Finals.
Aguirregomezcorta: Fiction. I don't see the Lakers in the Finals. While their record will get better as the season progresses, they don't have the necessary depth on their bench. It's an essential peice for championship-caliber teams, and it will weaken them against stronger teams.
Shelburne: Fiction. Five games is a little soon to back off my preseason pick, but that's how bad the Lakers have been thus far. They aren't losing close games, they're getting worked. And not all their problems are fixable with time. The bench has once again been a huge disappointment. It doesn't appear they have any way of stopping dribble penetration from the quicker point guards in the Western Conference, and Dwight Howard looks like he's only 70 percent of himself thus far.
Soriano: Fact. This team may look substandard now, but there's still a lot of season left for them to find their stride and identity. Plus, with the talent at the top of their roster and veteran experience, the Lakers are still better built for the playoffs than the regular season.
Strauss: Fiction. People cite Miami's early 2010-11 struggles, but that team was a plus-78 after five games. We're in the "small sample size" realm, in which conclusions mustn't be drawn, but it's hard to see this roster winning a title. It is difficult to find offensive spacing with two big men, and their bench affords them no different looks. Defensively, a fast, 3-point shooting power forward can dominate Gasol. Does this sound like a recipe for ultimate success?
---
5. Fact or Fiction: The Lakers need to trade one of their core four.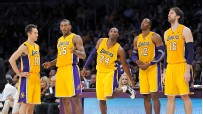 Adande: Fiction. The Princeton offense has worked for three of the four, and there's room for modification to accommodate Steve Nash. There are economic reasons to trade Pau Gasol, but on the court his combination of size and skill set make him a good fit for this group and the offense they're running.
Aguirregomezcorta: Fiction. No way! While it is true that they have one of the largest luxury tax burdens in their history, the Lakers can afford to keep their four core players thanks to their television deal. Their bet has the potential to pay off, but not this season.
Shelburne: Fiction. I still believe these four can play together. Their skill sets mesh well and, if they can ever get on the same page, L.A. has the makings of a championship squad. The question that remains, however, is how far will the Lakers fall until they can figure it all out. If they keep losing at this rate, management might not have a choice to move a peice or two.
Soriano: Fiction. This team needs to better maximize their talent through more practical rotations and lineup combinations before even considering a trade. Having more capable depth would be nice, but getting more out the players they currently have is possible through more palatable personnel groupings.
Strauss: Fact, and Kobe's no trade clause is so restrictive that they shouldn't probably trade that guy. Kidding aside, Gasol for Ryan Anderson (or someone like that) would make a lot of sense. Los Angeles needs a more flexible, floor-spacing forward. If they can get some bench support for this kind of deal, all the better.


ESPN.com and the TrueHoop Network
J.A. Adande is a senior writer for ESPN.com. Ramona Shelburne is a columnist for ESPN Los Angeles. Gonzalo Aguirregomezcorta covers the Lakers for ESPN Deportes. Darius Soriano and Ethan Sherwood Strauss are part of the TrueHoop Network.
• Follow the NBA on ESPN on Twitter | On Facebook | On Google+