Phil Jackson vs. Mike Brown and Mike D'Antoni.
Let's debate 5-on-5 style.
1. Phil or Mike (Brown):
Who got more of a raw deal from the Lakers in the past week?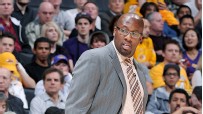 D.J. Foster, ClipperBlog: Mike. Should I pity the poor sap who gets dumped from a relationship he poured his heart into or the guy who gets turned down by an ex he suddenly finds attractive? Right.
Dave McMenamin, ESPN Los Angeles: Phil. Yes, Mike Brown is the one whose job status changed, going from gainfully employed to fired, while Jackson went from retired to, well, retired. At least Brown will get close to $11 million -- the remainder of his guaranteed contract -- as a parting gift. All Jackson got was lies from the Lakers' front office, which agreed to a Monday follow-up meeting to his initial interview for the job and then went back on its word by hiring Mike D'Antoni in a rush late Sunday night.
Daniel Nowell, Portland Roundball Society: Mike. The coach who was actually manning the Lakers' sideline did not even get the benefit of one game with a full roster. Shown the door even before games against the Warriors and Kings would have naturally turned back some of the panic, Brown seems the no-brainer answer.
Darius Soriano, Forum Blue & Gold: Mike. Even though I agreed with his being let go, I'll pretty much always say the guy who lost his job -- especially five games into the season -- got the shorter end of the stick in comparison to the guy who simply got passed over for the opening.
David Thorpe, Scouts Inc.: Mike. By a mile. I have no sympathy for Chief 11 Rings; he'd have had the job if he wanted it without asking for all that he did (I strongly suspect). Brown is wrongly knocked for issues that existed when he started coaching. With that roster and a stronger backing from management and ownership, he could have done at least as well as anyone not named Jackson.
---
2. Phil or Mike (Brown):
Who will coach again sooner?
Foster: Mike. I'll take the less selective and less needy coach to land a job first. Brown still has an impressive resumé as a strong defensive mind, and a coach from the Popovich tree with a strong winning history won't last long on the market. I would be surprised if Phil Jackson coached again.
McMenamin: Mike. I've had several people around the league tell me that Brown will bounce back and get another head-coaching job rather quickly. One place to look is Atlanta. Larry Drew is in the last year of his contract with the Atlanta Hawks, and Brown and general manager Danny Ferry are extremely close. As for Phil, he's not clamoring to come back. I'm sure the Lakers' fiasco was a staunch reminder that he doesn't need the NBA's drama back in his life.
Nowell: Mike. Can this guy catch a break? He has been put exclusively in no-win situations, and from where I'm sitting emerges from this situation with his youth and solid reputation intact. Phil, on the other hand, was no guarantee to find his way back to regular work anyway, and after this situation may decide to keep to the ranch.
Soriano: Mike. Another GM will recognize Brown is a good coach who didn't succeed in a tough situation and give him a chance. But I think this specific Lakers job was Phil's last best chance to actually return to the sideline. The enticing combination of roster, salary and market simply won't come along again.
Thorpe: Mike. If only because Jackson probably will ask for too much whenever he is called.
---
3. Phil or Mike (D'Antoni):
Whose offensive philosophy is better? Triangle vs. 7 Seconds or Less.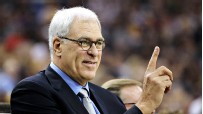 Foster: Mike's. 7 Seconds or Less is an easier system to adapt and understand because it just amplifies what most players naturally want to do -- run and score. The triangle requires a true post threat, while 7SOL runs on floor spacers who can shoot the rock. Which type of player do you think is harder to find in today's NBA?
McMenamin: Phil's. Eleven titles to none. That's a clown question, bro.
Nowell: Mike's. Neither coach has a philosophy that is perfectly suited to this weird, top-heavy roster, but then I can't imagine either wouldn't have been smart enough to make some tweaks. All told, it seems more likely that the franchise's youngest, best player -- Dwight Howard -- will be maximized under D'Antoni's guidance.
Soriano: Phil's. While it seems the league is moving more toward D'Antoni's philosophy, the triangle's versatility and ability to counter any defensive style translates to a superior system.
Thorpe: Neither. It's a trick question. Both require certain personnel, and if the right pieces are in place, they can be exquisite offenses. Though truth be told, I prefer Rick Adelman's sets to either of these because they do not need as much roster quality to execute beautifully.
---
4. Phil or Mike (D'Antoni):
Who would be a better coach for the Lakers in the short run?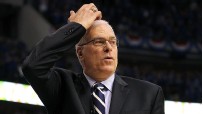 Foster: Phil. Although the Lakers' roster may not be a perfect fit for the triangle offense, the big, slow frontcourt is much better suited for half-court play rather than running and up down. There's also this: When Jackson coaches, he wins a title more than 50 percent of the time.
McMenamin: Phil. The Lakers are all-in on a championship now not just because they're the Lakers and that's what they do but also because Kobe has only two years left on his contract. Plus, the lethal luxury tax restrictions of the new CBA kick in next season, and Lakers owner Dr. Jerry Buss is struggling with health issues and would love another ring while he can still enjoy it. If you're a title seeker, there has been no better man in the history of the NBA than Philip Douglas Jackson to help you get there.
Nowell: Phil. I disagree with the notion that a Platonic offense exists, and I'm tired of Jackson for several reasons as a fan, but I have a hard time imagining he couldn't have inspired or cajoled a maximum effort from this roster.
Soriano: Phil. But by a smaller margin than many are saying. D'Antoni is a great coach and should do a fantastic job with this group. But Phil is the most decorated coach of all time and has proved he can take teams on the verge of winning it all and put them over the top. That describes this Lakers team to a tee.
Thorpe: Phil. Without a doubt. D'Antoni is mostly a one-trick pony, and this pony is OLD. That is going to have a huge impact going forward. Jackson would have helped elevate Dwight Howard to another level mentally and emotionally. Let's face it, that is the most important thing as we look ahead -- he is the world's best big, and L.A. needs him happy and playing at elite levels nightly.
---
5. Phil or Mike (D'Antoni):
Who would be a better coach for the Lakers in the long run?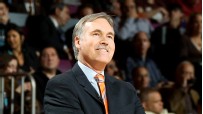 Foster: Phil. This is all about Dwight Howard, who essentially is the entire future for the Lakers. Still in image damage control, Howard couldn't possibly walk away from a Phil Jackson-coached team in 2013-14. Leaving D'Antoni? That's a little easier.
McMenamin: Phil. There is no long run in this league. Just look at the rampant upheaval for the Lakers in the past year alone. So really, the question becomes, who would be a better coach for the Lakers, period? And the answer is Phil. Nobody knows how to take a collection of individual talent and make it a cohesive, victorious force quite like he does.
Nowell: Mike. I don't know that either coach can win a title with this roster. The core is an odd, aging mixture, and the bench is woeful. That said, D'Antoni, proven to maximize offensively otherwise average players, seems better positioned to have the Lakers -- whoever is suiting up for them in a few seasons -- competing for the longer window.
Soriano: Mike. Phil would be a one- or two-year hire, while D'Antoni can potentially be the coach to transition this team from the Kobe to the Dwight era. The prospect of Howard staying long term combined with the Lakers' ability to reload their roster around him means they need a coach who sees that transition through.
Thorpe: None of the above. Jackson, due to his age and impatience, if the Lakers have to reset for a season or two, and D'Antoni, because this team will struggle to rebuild its personnel to meet his wishes (but if it does pull it off, he'll be great). The best coach to turn solid players into contenders is, gulp, Stan Van Gundy.


ESPN.com and the TrueHoop Network
David Thorpe writes for ESPN Insider. Dave McMenamin writes for ESPN Los Angeles.
Darius Soriano, D.J. Foster and Daniel Nowell write for the TrueHoop Network.
• Follow the NBA on ESPN on Twitter | On Facebook | On Google+