Four NBA title contenders take the national stage Wednesday night: Grizzlies-Thunder (ESPN, 8 p.m. ET) and Heat-Clippers (10:30 p.m. ET). Let's break 'em down:
1. Fact or Fiction: LeBron James is better than ever.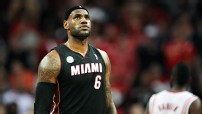 Israel Gutierrez, ESPN.com: Fact. He hasn't even spent as much time in the post as he did in the playoffs, yet his efficiency is better than ever. He's rebounding like a 7-footer. And Ray Allen has rubbed off on him, because he's shooting the 3-ball amazingly well. Most importantly, he knows he's the best now, so playing like it is coming easily.
Tom Haberstroh, Heat Index: Fact. I guess we shouldn't be surprised anymore. At 27 years old, he's still evolving as a player, which is terrifying for a player with his exceptional talent and basketball intellect. He might not boast the per-game scoring numbers that he once did (lower minutes), but at current rates, he's shooting like Ray Allen and rebounding like Dwight Howard. I'm half expecting he'll play blindfolded for his next act.
Charlie Widdoes, ClipperBlog: Fact. Having developed all the necessary skills, his new trick seems to be a heightened sense of when to do what. His scoring is down so far, but he has been hitting the boards (10 rebounds a game) to allow the Heat to play smaller lineups.
Royce Young, Daily Thunder: Fact. In terms of traditional statistics, he's scoring and assisting less often. But he's more dominant than he has ever been. James completely controls the game, and he has been set free to play how he wants to play after winning a title.
Alex Dewey, Gothic Ginobili: Fact. Small-sample-size caveats all around, but LeBron looks possibly more athletic than he ever has, and what's scary, he looks comfortable. For the first time in his career, LeBron has finally found an offensive system that truly utilizes his skill set to the fullest.
---
2. Fact or Fiction: The Clippers are title contenders.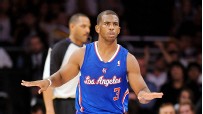 Gutierrez: Fact. Not only have returning Clippers (DeAndre Jordan and Blake Griffin) improved, but the team is significantly deeper, with Jamal Crawford taking over at times. And what teams out west can you really say are clearly better? They've beaten the Spurs, the Lakers remain a question mark and the Thunder still aren't sure whether they're as good as they were last season.
Haberstroh: Fact. Why not? As long as Chris Paul is on the team, I'm not worried about DeAndre Jordan and Blake Griffin being liabilities in crunch time. With a knack for delivering under pressure with limitless creativity, Paul is a basketball-wielding James Bond. The question is, will the Clippers go far in the playoffs because of Vinny Del Negro or despite him?
Widdoes: Fact. Chris Paul, Blake Griffin and an emerging DeAndre Jordan make them a top-five offense, and now that they've crept into the top 10 in defensive efficiency, they have a chance. They also have the three keys for playoff success: great size, depth and Eric Bledsoe.
Young: Fact. For this type of question, I always ask, "Could they beat the Thunder/Lakers/Spurs in a seven-game series?" And with a healthy Chris Paul, a better-than-ever DeAndre Jordan, Blake Griffin and a highly capable bench, the Clippers are built to beat anyone. They have a slimmer margin for error than some of their top Western Conference competitors, but Paul is fully equipped to make up the difference.
Dewey: Fact. Chris Paul has vastly increased the Clippers' defensive communication. They've actually got a top-10 defense right now, and they actually look like one. Eric Bledsoe looks like a star sixth man, and Jamal Crawford looks great, too. It's a valid question whether this will hold up until May, but the outline for a contender is there.
---
3. Fact or Fiction: The Thunder miss James Harden.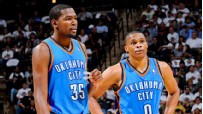 Gutierrez: Fact. Of course they miss him. Kevin Martin isn't the multidimensional player that Harden is. But how much they miss him will only be decided in the playoffs. The Thunder need a bit more from Kevin Durant and Russell Westbrook, but both of those guys are entirely capable of being better than they were last season.
Haberstroh: Fact. And not just in the Thunder's official store, where they no longer have $10 fake beards on the shelf. What a gut-punch to merchandise revenues. Although Kevin Martin has been downright sensational off the bench, he won't be able to rescue Russell Westbrook on a bad night and take over playmaking duties like Harden. Then again, that could be Kevin Durant's role soon enough.
Widdoes: Fact. Didn't you hear? They were BFFs! His absence is felt on the court, too. Oklahoma City has been just above average offensively, and is 24th in the league in assists and second to last in turnovers. Kevin Martin has been good, but he's no Harden.
Young: Fiction. Through eight games, one thing has struck me: Kevin Durant and Russell Westbrook play better with Kevin Martin than they did with James Harden. Now, that's not to be confused with who the better player is -- Harden is, hands down. But in terms of fit, Martin provides a new dimension. The Thunder are no longer a three-headed isolationfest. Their spacing is better, they move the ball more and they get better looks. Will they miss Harden in crunch time in the postseason, though? That's to be determined.
Dewey: Fact. They do, but with the gigantic context that if two unknowns happen, they won't miss him long. If Kevin Martin can deliver 85 percent of what James Harden did for them and they manage to resign K-Mart on a contract far below the max? They're sitting pretty in salary cap terms and in terms of a stable, potent contending core.
---
4. Fact or Fiction: The Grizzlies are title contenders.
Gutierrez: Fiction. The only reason is they still lack that one player who can consistently take over a game. Rudy Gay is shooting less than 40 percent so far but taking the most shots. Zach Randolph remains a beast, but he won't carry you to a title.
Haberstroh: Fact. Dirty little secret: the Grizzlies are doing it on both ends of the floor now. Gone are the days when Memphis only won pitchers' duels. Mike Conley looks like he's taken the leap, Marc Gasol is averaging more assists than Stephen Curry and Zach Randolph isn't playing on one leg anymore. Oh, and they can space the floor now with Wayne Ellington.
Widdoes: Fiction, but this is very close. They are in the top five in both offensive and defensive efficiency through six games, but I don't trust them to score enough to win the Western Conference.
Young: Fiction. The Grizzlies have been one of the more excellent teams early in the season, but they still lack the pieces that got them eliminated from the playoffs the past two seasons. They don't have shooters to play inside-out with Zach Randolph and Marc Gasol and teams can still create mismatches against them with small-ball lineups. They're tough and physical, but that doesn't often beat superior talent.
Dewey: Fact. The Grizzlies are one of the deepest teams in the league with a core that can compete with any of the other contenders in the West. I don't think it's even fair to call them a "dark horse" given how good their core looks. Gigantic "if they're healthy …" caveats apply, but not more so than any other contender.
---
5. Fact or Fiction: Two of these teams will meet in the NBA Finals.
Gutierrez: Fiction. I'm still trusting that, with time, health and the Mike D'Antoni offense, the Lakers will run through the Western Conference and meet the Heat in the Finals.
Haberstroh: Fact. If Kevin Durant continues to terrorize opponents at the 4 like he has, your Christmas Day matchup will be the Finals one, too. Heat versus Thunder: The Rematch.
Widdoes: Fact. The Heat should win the East. The other three should all finish in the top five, so odds favor one of them over, say, the Spurs or Lakers. The Clippers and Thunder, especially, have matchups in their favor against most of the West.
Young: Fiction. It's very likely the Finals will be represented by two of those four, but there's simply too much depth and uncertainty to write them in with permanent ink now. The Lakers, Knicks, Celtics and Spurs all will be in the conversation with teams such as the Nuggets and Pacers remaining extremely relevant.
Dewey: Fact. The Spurs and Lakers are legitimate contenders and the Heat should dominate the East, to get that out of the way. Still, I'll take the field in the West right now as the Clips, Thunder and Grizz all look solid, deep, gritty and dangerous so far. The Spurs need defense and the Lakers need to show results.


ESPN.com and the TrueHoop Network
Israel Gutierrez is a senior writer for ESPN.com. Tom Haberstroh writes for the Heat Index and ESPN Insider. Alex Dewey, Charlie Widdoes and Royce Young are part of the TrueHoop Network.
• Follow the NBA on ESPN on Twitter | On Facebook | On Google+