LAKERS WILL DO THE RIGHT THING

By Ramona Shelburne
ESPNLA.com
Archive
Yes, I'm supposed to write around 250 words on this topic, but all I can really think of is one: Duh. Shaq may have left on bad terms and probably failed to live up to his potential. But for eight wonderful seasons, he was a monster. The most feared, dominant and entertaining player in the NBA. O'Neal won three NBA titles as a Laker and was the Finals MVP all three times. He probably could have won more, which is why this question is even being asked.
I'll never forget the headline on the front page of the LA Times the day O'Neal signed with the Lakers on July 19, 1996: SHAQPOT! Jerry West compared signing O'Neal to the birth of his children: "I've often thought that the birth of my children was something I'll never forget and just the excitement of this, for us to sign him, really ranks right there with it."
The Lakers had to move heaven and earth to sign O'Neal, but he was worth it. There were five long years between Magic Johnson's retirement in 1991 to Shaq's signing in 1996. In between there were players like Nick Van Exel, Eddie Jones and Cedric Ceballos. Good players, but those were not good times. Not in Lakerland, where success is only measured in championships. In time, that's what will matter about O'Neal's time in Los Angeles. It's sad he didn't leave on better terms. The Lakers can and will cleanse that sour aftertaste by retiring his number.
You've heard our takes; now give us yours. DISCUSS
SHAQ WILL HAVE TO WAIT IN LINE

By Arash Markazi
ESPNLA.com
Archive
First things first, Shaquille O'Neal will eventually get his jersey retired at Staples Center. The Lakers' rule for retiring a player's jersey is that the player must be a Hall of Famer, and there is no question that O'Neal will be a first-ballot inductee. The difference between O'Neal and other Lakers greats is O'Neal will have to wait five years until he is officially inducted in the Hall of Fame to have his jersey retired. Magic Johnson, Kareem Abdul-Jabbar and James Worthy all had their jerseys retired within months of their retirement; then again, they all retired with the Lakers.
If O'Neal had left the Lakers on good terms this wouldn't even be a discussion, but he did everything in his power to burn every bridge he had on the team. He took public shots at Jerry Buss, Kobe Bryant and Phil Jackson and, of course, performed that infamous rap in 2008 in which he asked Bryant a shall we say "indelicate question," while blaming him for his divorce and saying he would be unable to win a championship without him.
If you don't think that still irks Bryant, you didn't see the look on his face after winning the championship in June and saying, "I just got one more than Shaq … You guys know how I am. I don't forget anything."
Speaking of the NBA Finals, if O'Neal plays an integral role in the Celtics beating the Lakers in the NBA Finals in June, you might as well add another 5-10 years to his wait list.
Either way, by the time O'Neal gets his jersey retired, Bryant and Jackson will have likely joined him in retirement, Buss will have given full control of the team to his kids and enough time will have passed to heal the wounds of O'Neal's departure to finally celebrate his memorable time in Los Angeles.
LISTEN LIVE!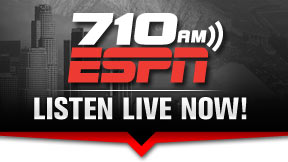 Want to sound off on today's Hot Button topic? Give us a call at 877.710.ESPN. Listen Live »